Grand Cayman Scuba Diving -
Top Dive Sites
Grand Cayman scuba diving, like in the rest of the Cayman Islands, is wonderful and there are alot of dive sites for you to explore. While it's hard to narrow down, here are some of the top dive sites to consider for your Grand Cayman scuba diving trip:
Trinity Caves

I loved this dive. We swam through about 5 tunnels/chutes and at the end of one tunnel we popped out at 100 feet. Lots of fun.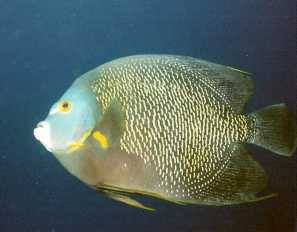 This site is located on the north end of Seven Mile Beach and is a series of 4 coral canyons. The canyon trails start in about 60 feet of water and go down to 100 feet. We averaged about 80 feet on this dive with 102 feet being our max. Among alot of other things, you'll see black coral, gigantic barrel sponges and sea anemones.
As far as marine life, expect to find lots of French angels, huge groupers, eagle rays, lobsters and schooling fish.
Visibility is usually well over 100 feet and the water is generally calm at this site. Even so, this site is best suited for experienced divers. It's Grand Cayman scuba diving at its best.


Big Tunnel
This site is located north of Seven Mile Beach. The big attractions here are a huge coral arch and big tunnel which exits on the wall at about 130 feet. There are alot of tunnels, ledges, crevices and swimthroughs to explore here. You'll see sponges, sea fans, gorgonians and alot more. Eagles rays are often spotted along with pufferfish and tarpons to name a few.
The top of the archway starts at just over 100 with depths averaging around 100-110 feet on this dive. Visibility is typically excellent (100+ feet). Given the depth of this dive, it is best for experienced divers.
Aquarium
This site lives up to its name. You feel like you are swimming in an aquarium here with all the marine life around. You'll see parrotfish, pufferfish, trunkfish, snappers, butterflyfish and angelfish to name just a few. While almost secondary, there are also some nice coral formations at this site.
Aquarium is located near the middle of Seven Mile Beach. With the calm water here and shallow depth, this is a good dive for beginners. We averaged about 35 feet here during our Grand Cayman scuba diving trip. Visibility again is superb here at about 100 or so feet. A nice, easy dive. What Grand Cayman scuba diving is all about.
Stingray City
How could any list of dive sites in Grand Cayman not include Stingray City? Probably the most famous and most photographed of all the dive sites in the Cayman Islands. It is also right up there as one of most famous and photographed in all the Caribbean, if not the world.
Stingray City is located in the North Sound and is billed as the world's greatest 12 foot dive. This spot is popular for both divers and snorkelers alike. If you dive this spot, you kneel on the bottom and feed the rays out of your hand (your divemaster passes out the food).
These southern stingrays are like vacuums and suck the food out of your palm. Last time I was there, they were more aggressive than our previous visit and I left with a couple stingray hickeys, as they're known. Not the most pleasant experience but not too bad. During a visit here, a couple dozen or so stingrays usually show up to be fed.
When the cruise ships are in, it can get crowded but it's still one heck of an experience (albeit a somewhat controversial). They are one of the most graceful animals underwater and one of my favorite to watch. To be able to see them in such large numbers up close and to be able to pet them is something you will never forget.
A Grand Cayman scuba diving classic.
These are just a few of the great dive sites that Grand Cayman has to offer. We've been there a few times and we plan on going back. Not that we'll ever be able to dive anywhere near all the sites, but it sure will be fun trying! You can never have too much of Grand Cayman scuba diving.

Additional Information on Grand Cayman Scuba Diving
You might find some of these pages helpful as you plan your dive trip to Grand Cayman:
Also, here are some books and maps you might find useful in planning your trip:
Have a great trip and beautiful dives!

---
---
 Want to stay down longer and improve your buoyancy control and other diving skills? Our free report "Increase Your Bottom Time" along with our practical, weekly actionable tips will have you looking like a seasoned diver in no time. So come join us and see improvement on your very next dive!
(Click on the photo to join us now!)
---
---