Grand Cayman Map
Maps of Grand Cayman Island to Help Plan Your Trip
If you're heading to the Cayman Islands and need a Grand Cayman map to help plan your trip - lucky you! Wish I was going too.
Nevertheless, we have several maps for you, including an interactive map of the island.
The Cayman Islands are beautiful with powder white beaches and great diving. Grand Cayman itself is a great place to get away from it all and relax while enjoying the sun, sand and some cool tropical drinks.
In addition, scuba diving in Grand Cayman is often rated as one of the top dive destinations in the world. I know it made our short list of one of the best places to scuba dive in the Caribbean (See all our picks for best places to dive.)
However, even if you don't dive, there's plenty to keep you busy - especially if you're a beach bum. Nothing beats 7 Mile Beach. OK, I'm ready to go back. But let's get on with planning your vacation to Grand Cayman. First stop - the maps of the island.
The first map shows the location of the island on a world level.
The second Grand Cayman Island map we have pinpoints where the Cayman Islands are located in the Caribbean, just in case you are not sure. Good news, it's a short plane ride from the U.S.
The third map of Grand Cayman Island shows where it is located in relation to the other two Cayman Islands, Little Cayman and Cayman Brac.
The next map of Grand Cayman is one of the island itself, showing the towns and the major points of interests. I have highlighted some of them for you so you can get a feel for where things are located.
Then we get to the interactive GC map. This is the fun one. You can zoom in on the area you are interested in and get a good satellite view.
So let's get started.
Grand Cayman Maps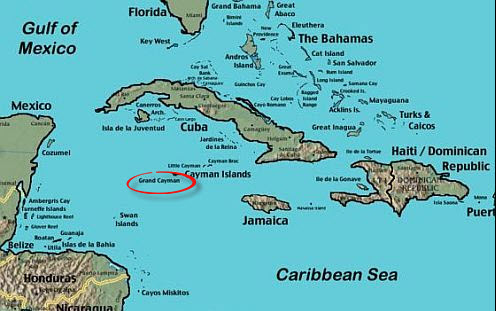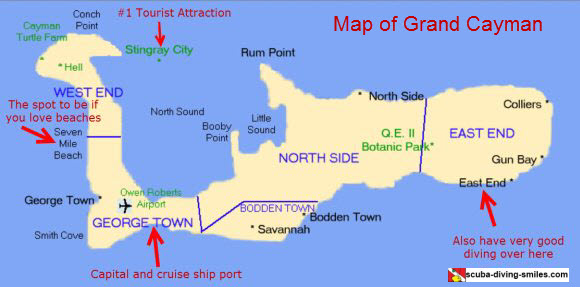 Now comes the fun part. Just click on the arrows to zoom in on the area you want to see. If you put your mouse over the white squares, it will give you the place names. Try it, it's alot of fun.
For more help planning your vacation to Grand Cayman, see our other pages on:

So have fun planning your trip and enjoy Grand Cayman to it's fullest.
Here are some books and maps on the Cayman Islands which you may also find helpful for your upcoming trip:
---
---
 Want to stay down longer and improve your buoyancy control and other diving skills? Our free report "Increase Your Bottom Time" along with our practical, weekly actionable tips will have you looking like a seasoned diver in no time. So come join us and see improvement on your very next dive!
(Click on the photo to join us now!)
---
---