Cayman Brac Diving:
Reefs, Walls and Wrecks
Cayman Brac diving is right up there with its more famous sister, Grand Cayman. There's a variety of Brac dive sites to choose from, from reefs to walls to wrecks. It is close enough to Little Cayman that you can also dive the world famous Bloody Bay Wall.
Each of the Cayman Islands have their own personality. Cayman Brac is in between Grand Cayman and Little Cayman as far as size, population, development, etc.
Which one is best for you depends on what you are looking for. I loved both our Grand Cayman and Cayman Brac diving vacations but they were very different.
I haven't been to Little Cayman yet so that is where our next dive trip to the Caymans will be. I need to dive the spectacular Bloody Bay Wall again.
Wherever you choose, you're bound to have a great trip. So let's tell you about Cayman Brac and Cayman Brac scuba diving.


Lay of the Land
As far as size, Cayman Brac lies in between Grand Cayman and Little Cayman.
Cayman Brac is 14 miles long and just over 1 mile wide. So it doesn't take long to explore this island. 
Cayman Brac has impressive limestone cliffs that run along the middle of the island from west to east. At the eastern tip, the bluff ends in a dramatic 140 foot drop.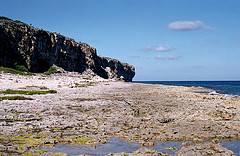 The island got its name from these cliffs since "brac" is the Gaelic word for bluff. In recent years, the island has started to become a destination for experienced rock climbers who want to take on the challenge of climbing these cliffs.
Believe it or not, Cayman Brac has the highest elevation in the Cayman Islands - all of 152 feet.
The island is dotted with many caves which are carved out of these rock formations. Island legend has it that pirates hid treasures in these caves. We didn't find any though. You may find bats, though, in the infamous Bat Cave (or any cave for that matter) on the island. Honestly, not a highlight for me - bats are not my thing.
Cayman Brac does not have high-rise hotels, lots of restaurants or shopping. If you are looking for this, Grand Cayman would be a better bet. A Cayman Brac vacation is also not the place to come if you are looking for beautiful beaches, IMHO. Much of the shoreline is rocky and coral strewn. One of the best beaches is probably the one at the Brac Reef Resort.
Cayman Brac has a population in the neighborhood 2,000 people. 
Location
Cayman Brac is located 480 miles south of Miami, 90 miles to the northeast of Grand Cayman and 5 miles from Little Cayman. The island is the most easterly of the Cayman Islands. For a good overview of where it is located, take a look at our Cayman Brac maps.
You will have to go to Grand Cayman first to get to Cayman Brac. With the popularity of Grand Cayman, many airlines now operate flights there. I believe American Airlines offers the most flights.
Once you get to Grand Cayman, Cayman Airways and Island Air operates flights between Grand Cayman and Cayman Brac.
Cayman Brac Hotels
We stayed at the Brac Reef Resort while on Cayman Brac. We were happy with the dive operators and had no problems. We were there awhile back so I can't vouch for current events, but as I said above, I have read many good reviews of both the resort and Cayman Brac diving.
Another option would be to go the rental route.
Besides other hotels/resorts there are some good options for renting a house or a condo during your dive vacation.
Airbnb has quite a few good looking listings. We use Airbnb all the time (both as guests and hosts) when we travel and absolutely love it. We love getting an apartment/house with a kitchen so we can at least have a refrigerator and have breakfast before we go diving. Depending on how long we are staying we will cook quite a few meals also.
If you go this route, it could end up saving you a fair amount of money. Not to mention how much more comfortable you are in an apartment or house versus a hotel room.
If you want to check them out, you can use this link for $40 in Airbnb travel credit when you sign up (for new accounts only). I will get $20 credit if you complete a trip - so thanks if you use it :). It doesn't change the price you pay.
I haven't had a bad experience yet and I wish the same for you if you use them!
Weather

The weather in Cayman Brac is pretty much the same as Grand Cayman, with pleasant temperatures year round. In the summer expect a high in the 90F range during the day with temperatures falling to a low in the low 80's at night.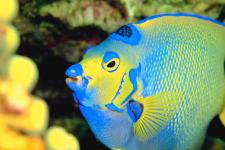 In winter, it is milder with daytime highs in the high 70's to low 80's. It cools off at night during the winter to around the high 60's to low 70's.
The rainy season is from May to November with the beginning (May/June) and end (October/November) of the this period typically seeing the most rain. February and March are usually the driest months. Absent a tropical depression/hurricane, rain usually comes in bursts of a couple hours so your whole day shouldn't be ruined.
Hurricane season in the Caribbean is from June 1 to November 30. The Cayman Islands are in the hurricane belt and has been hit by a few major hurricanes. The most active months are in the fall - September through November.
The last major hurricane to hit the islands was Hurricane Paloma in November 2008. There was significant damage to the island. 

Water Temperature
Water temperature is pleasant year round averaging 80-82F in the summer and 77-80F in the winter. We don't tend to get cold when diving so we were comfortable in just a skin during our Cayman Brac diving trip. If you tend to get cold, a shorty 2mm thick wetsuit would probably be sufficient.


Cayman Brac Diving
One of the pleasures of Cayman Brac diving is that is doesn't involve very long boat rides. Most of the Cayman Brac dive sites are within a 20 minute boat ride, with many rides less than that.
If you go to Little Cayman (and you should) to dive the Bloody Bay Wall the ride there is about 45 minutes or so.

There are about 40 dive sites to explore on Cayman Brac (not counting those on Little Cayman). Diving is the main attraction here and it is easy to keep busy checking all the sites out. While I didn't do any shore diving is also possible on Cayman Brac.
Cayman Brac diving is a combination of reefs, walls and wrecks. Most 2 tank dive trips do a wall dive first, followed by a shallower dive on the reef. One of the most famous sites for Cayman Brac diving is actually a wreck dive, the 330 foot Captain Keith Tibbetts.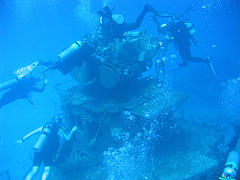 Cayman Brac diving differs from Little Cayman as diving at Little Cayman is mostly wall diving at the infamous Bloody Bay Wall. I absolutely loved diving this wall. Truth be told, I thought it was the best diving we did all week.
Not that the Cayman Brac diving was bad (far from it), but this wall was spectacular. When we go back to the Caymans it will be to Little Cayman so we can spend more time on that wall. (We have a Little Cayman dive trip review from one of our readers here).
Visibility is typically very good, in the 100+ foot range. Unfortunately when we were there, the seas were fairly rough in the beginning of the week and visibility was probably closer to 60-70 feet. When things calmed down, visibility improved to about 100 feet.
Here are some of the more popular Cayman Brac dive sites for you to explore:

Bloody Bay Wall

I had to start with this one - it made our list of top dives ever. Even though it is off of Little Cayman, you can reach it from Cayman Brac also (the islands are 7 miles apart). The boat ride is about 45 minutes or so. This dive is often rated as one of the top dives of the Caribbean and it is easy to see why.

We did 2 dives on the Bloody Bay Wall. We had great conditions - sunny, no wind and calm seas. The first dive we went to a spot called Donna's Delight. It is a sheer wall and you could look down into the abyss. Saw a lobster hanging out at 94 feet - which was our deepest depth on this dive. Visibility was about 100 feet.

Our second dive we did part of the wall first ant then up to the shallow reef portion. Lots of fish on this dive along with thousands of garden eels. Really neat formations too. Our deepest depth was 55 feet and visibility was again in the 100 foot range.

It was a great day of diving. We are definitely going to go to Little Cayman so we can do more diving on that wall.

MV Keith Tibbetts

Another popular Cayman Brac scuba diving site. This is a Russian warship from Cuba (according to the divemaster) that was sunk in 1996. The wreck is 330 feet long and sits in about 100 feet of water. It has a radar tower and guns which are in shallower water. The wreck is now broken in thirds due to hurricanes and part of the wreck is laying on its side.

You can penetrate the wreck in a couple of different spots. This was a really interesting wreck and is one of my favorite wreck dives.

Take a look at the video below. It is really well done and you will see all of the wreck. Enjoy!



East Chute

This dive site is located on the north side of the island and is both a wall dive and a wreck dive. This is another wall where you can look down into the abyss.

The chute cuts through the wall and begins at about 50 feet. After diving on the wall you can go and check out the wreck - the Cayman Mariner which is in about 60 feet of water. This wreck was sunk in 1986.

We saw rays, groupers and eels, among other things on this dive. Our deepest depth was 80 feet and visibility was about 70 feet. Overall, a good dive and a popular Cayman Brac scuba diving site.

Inside Out

A nice section of wall on the south side of the island. You'll see sand chutes here and large sponges. You can do this as a shallower dive or a deeper dive.

The mooring is in a coral head in about 50 feet of water. You can stay around here and dive in about 50-80 feet of water. You can also go to the wall and do a swim-through to a deeper depth.

We opted to do this as deeper dive and our deepest depth was 96 feet. The seas were pretty rough when we were there and at one point the boat was airborne getting to the site. Not a relaxing ride, I'll say that. Neverthesless, the dive itself was good and worth doing.
Topside

Topside, it's all about relaxation. It's a quiet island and there is not alot of activity. The most popular activity is probably caving.
There are lots of caves to explore and it makes for an interesting afternoon and/or day. Some caves have ladders to make exploring them easier. Just keep an eye out for those bats!
The island also has many bird species if this is an area of interest to you. Just grab a pair of binoculars and go.
When we were there, we rented a car for a day and drove around and explored the island, including several caves. It was a nice relaxing day. No great shakes, but nice. We don't require alot to keep us entertained.
We hope you enjoy your Cayman Brac diving trip if you decide to go. It is pretty hard not to.   
Here are some books and maps you can use to help you plan your trip:
Have a great trip!
Thanks to Breanna and hazybluedot for the use of their photos.

Go to main Cayman Islands Diving page
---
---
 Want to stay down longer and improve your buoyancy control and other diving skills? Our free report "Increase Your Bottom Time" along with our practical, weekly actionable tips will have you looking like a seasoned diver in no time. So come join us and see improvement on your very next dive!
(Click on the photo to join us now!)
---
---