Bimini Bahamas:
A Great Little Island with Some Wonderful Scuba Diving
Bimini Bahamas is pretty much a unique island. Even though it is located in the Bahamas, it gets alot of boaters from the U.S. since it is only about 50 miles off the coast of Florida.
In fact, this is how we have gotten to Bimini island every time. We have gone over in our brother-in-laws boat, leaving out of Pompano Beach, Florida. We would have a nice leisurely ride over (usually - except for the rainstorm during one trip), stopping to fish on the way over.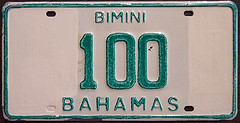 Bimini Bahamas attracts people for both scuba diving and fishing.
We usually did both during our trips to Bimini island. I will say that we were much more successful diving than we were fishing. For us poor fisherman, it wasn't the "Big Game Capital of the World" as it is known (our fault entirely).
Even though we had a great meal of freshly caught yellow tail snapper on the boat, I will admit that it was given to us by another boater at the marina. I guess he took pity on us. What the heck, we'll take it whatever way we get it.
So here's some info so you can start planning your Bimini scuba diving vacation.
Lay of the Land
Bimini Bahamas is comprised of 2 main islands and some smaller cays (pronounced "keys") laid out across the Gulf Stream. The two main islands in the chain are North Bimini and South Bimini which are separted by a small channel.
The islands are very flat so you won't be doing any mountain climbing here. In fact, a "sandbar" has been used to describe Bimini. It's mangroves help to protect it somewhat.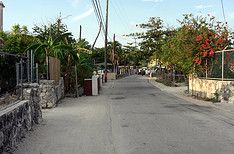 North Bimini is the most densely populated and is the location of the main tourist town, Alice Town. North Bimini is pretty small at 7 miles long and a few hundred yards wide.
Alice Town has one main street, Kings Highway, which is where you will find most of the bars, restaurants, marinas and hotels. You'll get to know this strip very well!
A new high end development has opened on the northern tip of Bimini, Resort World Bimini including a marina and casino. This is the total opposite of what Bimini has been about and I just hope it doesn't change the feel of the island.  (don't we have enough of this type of development on other islands? Why just go and destroy Bimini? OK, now I have that off my chest).
South Bimini is about 4 miles long and 1 mile wide. It has one home community, Port Royale, a small airport and a couple of hotels. You can go between North and South Bimini via a small ferry. The ride probably takes all of 2-3 minutes.

Location

The islands of Bimini Bahamas are only about 50 miles to the east of Miami, making them the closest of the Bahamanian islands to the US coastline. This makes Bimini nice and easy to get to from Florida.
You can take a look at our page of maps of Bimini and map of Caribbean for more info.
Flights land in South Bimini Bahamas. You then take a short bus ride to the ferry to cross the channel and reach North Bimini.
Years ago, Chalks Airline used to fly a seaplane directly to North Bimini but it is no longer in operation (the US DOT revoked its flying charter in September 2007 stemming from a crash enroute to Bimini in 2005).

An old Chalks seaplane landing in Bimini
Airlines flying to Bimini Bahamas include Bahamas Air, Silver Airways, Continental Connection. They fly from Miami/Fort Lauderdale to Bimini in about 20 - 30 minutes.
Obviously things can change quickly these days in the airline industry so you'll have to see who's still flying when you want to go there.
(You might want to check out our #1 tip for cheap airfare to the Caribbean as well as our other tips for cheap airfare to help make your trip more affordable.)


Weather

Bimini Bahamas has the same subtropical climate and weather as the coast of Southern Florida.
Winter temperatures range from the low 70s to mid 80s and night temperatures in winter are generally in the 60s but can drop to the 50s if it is windy.
Summer temperatures range from mid to high 80s. And let me tell you, it can get very hot and humid. Forget about that hair. Sometimes I would step out of the shower and feel like I had never taken one. The price you have to pay.
Most people come across in boats during the summer as that is when the Gulf Stream is at its calmest.
The Bahamanian summer is from May to November with hurricane season being from 1st June to 30th November.
The Bahamas are prone to hurricanes, like all of the Caribbean basin. The area around Bimini usually gets affected (brushed by or hit) by hurricanes/tropical storm every 2 1/2 years or so and it was last affected in 2017, by Hurricane Irma.
We have had to cancel 2 trips to Bimini Bahamas because of storms when we planned to boat over (during the summer). So it can be touch and go, like most of the Caribbean. You never know when a storm will be brewing.
Average rainfall is 44 inches per year.

Water Temperatures

From May to October, water temperatures are generally in the mid to high 80s. Unless you get cold while you are diving, wetsuits are generally not needed between June and the end of November.
February is the coolest month for water temperature with lows of 72 – 75ºF.
Visibility is usually wonderful due to the Gulf Stream, and can be up to 100 feet in places.


Bimini Bahamas Diving
Dive sites in Bimini can pretty much be split into 2 geographical areas - those closer to shore around North and South Bimini and those further out beyond the Bahama Bank.
The sites clustered around North and South Bimini are a short boat ride away - probably 15-25 minutes tops. If you dive further south and away from the Bahama Bank boat rides will be closer to a 45-50 minute ride.

If you are going over to do some Bimini diving, you shouldn't be disappointed. We had one of our top dives of all time while we on Bimini. I can't wait to go back and find that spot again.
I also rate Bimini Bahamas as one of our best places to go scuba diving taking into consideration both underwater life and topside atmosphere.
The best time to dive Bimini Bahamas is in the summer months when the water is at its calmest. Other times of the year, the seas can get quite choppy and a bit cool. Nothing like the northern US of course, but it's all relative.
Sites closer in to shore are primarily patch reefs. You will also find Bimini wreck dives in this area. The highlight of diving these sights are usually the abundance of fish.
We would see lots of schools of fish on pretty much every dive. Some of the fish we saw included snappers, angel fish (my favorite), butterfly fish and many more.
I would rate the diving in this area to be good to very good. I am most impressed with the amount of fish. The coral formations weren't the best but I guess you can't have everything.
Diving further out is really where Bimini diving really shines (IMHO). This is where I enjoyed the diving most.
We did these dives as drift dives and had alot of fun. On the one, we were flying. Out here you will see more pelagics such as turtles and sharks. We saw lots of marine life and some good coral formations. The coral seemed more colorful out here and was more abundant.
Of course, making it to the sites further out is weather dependent so hope for the best.
When we went diving on Bimini, we brought our own equipment with us on the boat and got air refills in town. If you don't have your own stuff and/or your own boat, there is a dive shop called Bimini Underseas and a shop associated with the Bimini Big Game Club.
Topside
Topside in Bimini Bahamas is mostly about hanging out and relaxing. Of course, you could go to the supposed "Fountain of Youth", which is said to be in the sea between North and South Bimini. I haven't been there yet, but the older I get, the more appealing it sounds.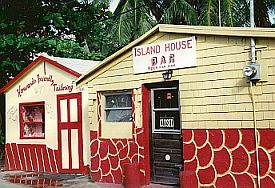 There is also the supposed "Lost City of Atlantis" which clairvoyant Edgar Cayce believed to be off the coast of Bimini Bahamas. Large megalithic stones have been found off Bimini and these are now called The Bimini Road. It's a shallow sight and we snorkeled, hung out on the boat and generally just lazed around out there along with a resident barracuda.
Unfortunately, one of the prime attractions in Bimini, the Compleat Angler, burned down in 2006. Ernest Hemingway stayed there and the building was chock full of Hemingway memorabilia and pictures. There were some spectacular pictures of him with gigantic fish. It really is a loss. Hemingway wrote two of his novels, "Islands in the Stream" and "To Have and Have Not", on the islands.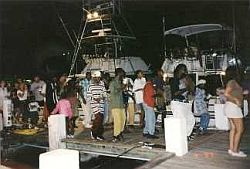 You might be lucky and catch a "junkanoo" on the docks or in town. We had a memorable time in one. Otherwise, head to the End of the World Bar and create your own party.
Whatever you do, you are sure to enjoy Bimini Bahamas. I know I always do and I'm looking forward to going back.
Here are some books and guides you might want to check out to help plan your Bimini vacation:

Photos courtesy of woody1778a (license plate), 'ol Florida boy (Bimini wreck, boat at Blue Water dock, Alicetown main drag). Thanks!
Go to Main Bahamas Scuba Diving & Islands Overview page

Return to Scuba Diving Home
---
---
 Want to stay down longer and improve your buoyancy control and other diving skills? Our free report "Increase Your Bottom Time" along with our practical, weekly actionable tips will have you looking like a seasoned diver in no time. So come join us and see improvement on your very next dive!
(Click on the photo to join us now!)
---
---