Nassau Scuba Diving:
Review of our Nassau Bahamas Diving Trip
I have wanted to do some Nassau scuba diving for quite a while now. I finally got the chance this winter. Unfortunately, I didn't think that Nassau Bahamas diving was on par with the rest of the dives we have done in the Bahamas.
(Note: This dive trip was quite a few years ago but I am leaving it here for informational purposes.)
As you may know, if you read our pages and reviews of
We love the Bahamas. We have done alot of diving there but it has always been in the out islands. We had never had the chance to dive Nassau before. That all changed when we stopped at Nassau during a sailing trip to the country.
Bahama Divers Dive Shop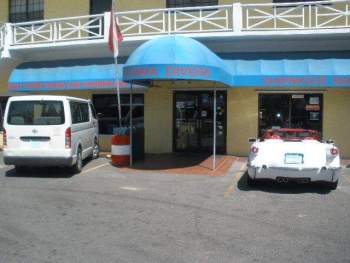 The downside to this and what I have to preface my review with is that I was only able to do two dives while in Nassau.
There are quite of few other dive sites in Nassau (including the famous Stuart Cove's shark dive) but we weren't able to fit more than one day of diving. But I will take what I can get. It's always good to get wet no matter what the dive!
We signed up with Bahama Divers since they were the closest dive shop to the marina where we were staying. They were helpful in the shop and have a list of dive sites they go to each day. Since we were diving on a Friday, the itinerary was the Shipyard Wrecks and the Lighthouse Wreck & Reef.
We paid $109 for the 2 tank dives and got them to throw in all the equipment at no extra cost (would normally cost $27). Nassau diving is not cheap as you can tell.
The seas were rough once we left the protection of the harbor. It was really rolly and getting on and off the boat was a bit of a challenge. Especially getting back on with the ladder and boat bouncing. It made our Nassau Bahamas scuba diving trip all the more memorable.
Nassau Scuba Diving Site #1: Shipyard Wrecks
This site has 3 different wrecks close to each other. They are about 15-20 years old and were sunk to create a dive site. It was a short 15-20 minute ride to this site from the dive shop. The water temperature was a cool 72-73 degrees so I wore a shorty wetsuit.
Getting ready on the dive boat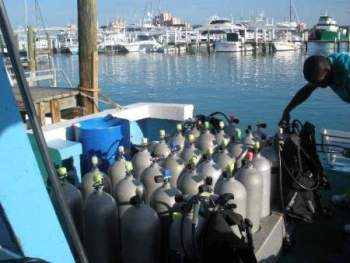 One girl had a bit of a panic attack and also had trouble clearing her ears (for tips on clearing your ears click on link).
We waited for them on the bottom but they took forever coming down. Luckily there was a videographer with us and she took over and led the dive.
The wrecks lie in about 85 feet of water (my max depth was 86 feet). There is one big wreck with 2 other smaller wrecks nearby. You cannot penetrate the wrecks, just swim around them.
We really didn't see a whole heck of alot of life on this dive. Unfortunately what we saw the most of was lionfish, an invasive species that is eating much of the life down there.
Probably the highlight of the dive as far as life goes was a big moray eel in the crow's nest part of the shipwreck.
Since the surface was so choppy, I stayed underwater until most of the other divers had gotten back on the dive boat. No sense getting beat up while waiting to get on the boat.
Nassau Scuba Diving Site #2: Lighthouse Wreck and Reef
The second dive in Nassau was very close to the first site. It is located just at the entrance to the harbor. A lighthouse sits on the peninsula, hence the name.
Lighthouse at the entrance to Nassau harbor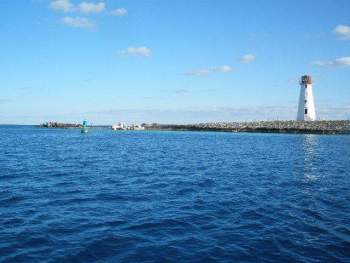 The reef is actually a manmade reef that you dive (see picture). It is interesting to look at underneath but once you see that for a few minutes, you've had enough.
I was pretty disappointed in this dive. Again, there really wasn't much life to see down below. The highlight was a huge grouper that was at a cleaning station. Other things we saw included a muttonsnapper and a school of yellowtail. Really nothing that memorable.
Of course, like all dive sites, it all depends on the day you are doing your Nassau scuba diving. One day there could be little life, while the next day could prove to be a dive with alot of life. It's not Disneyland.
Artificial reef dive site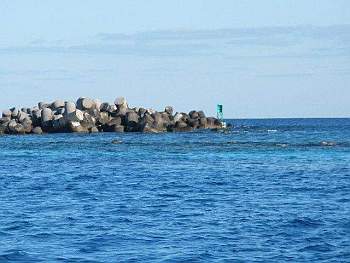 The wreck on this dive was smaller than the previous dive and again, there is nothing to penetrate. This wreck lies in about 35 feet of water. My max depth was 36 feet.
A Really Really Big Ship
I was in the water waiting for the other divers to get in the boat when the world's largest cruise ship, The Oasis of the Seas, went by as they entered the harbor. This is one monster of a ship.
Look how Oasis of the Seas makes the other cruiseships look tiny
I think it can hold 6,000+ passengers and is absolutely enormous. Imagine all of them trying to do some Nassau scuba diving! There's probably not enough tanks in the whole of the Bahamas to cover them.
It was an incredible experience to see that ship go by while you are in the water. Talk about feeling small. Just another little tidbit to remember our Nassau Bahamas diving by.
Reader Review of Nassau scuba diving
If you want to read more about Nassau diving, you can read a review sent in by one of our readers. He went diving with Stuart's Cove and tells about his experience.
Go to Main Bahamas Diving & Island Overview Page

Return to Scuba Diving Home

---
---
 Want to stay down longer and improve your buoyancy control and other diving skills? Our free report "Increase Your Bottom Time" along with our practical, weekly actionable tips will have you looking like a seasoned diver in no time. So come join us and see improvement on your very next dive!
(Click on the photo to join us now!)
---
---