Scuba Diving Bahamas:
San Salvador Dive Sites
Scuba diving Bahamas - no matter where you do it, you really can't go wrong. As I've said on the main
Bahamas scuba diving page (see below), we have gone diving on many of the Out Islands and have always had a good experience.
San Salvador was one of our favorite places to dive in the Bahamas. While we were there we stayed at the Riding Rock Inn, a dive resort and one of only two hotels on San Salvador at the time we were there.
There are lots of great dive sites to choose from and the visibility is fantastic. Here are some of the top dive sites, and some of our favorites, on San Salvador :
Great Cut

This is one of the deeper dives and is done as a first dive of the day. There is about a 200 ft long section of the wall that separated from the main wall. So you go from one ridge, over the big gap and then to the other part of the wall.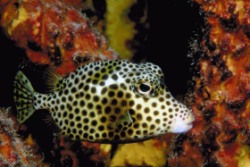 There is a tunnel in the second section of wall which leads you to the vertical outside wall. Once you go through the tunnel you emerge at the end at about 110-120 feet. I exited from the swim-thru at 116 ft. and saw black coral at the tunnel exit. Lots of nice coral and quite a bit of marine life. This is one of the further dive sites and is about a 20-25 minute ride south of the resort.
Telephone Pole
This is usually one of everyone's favorite dive sites. One of those sites that makes scuba diving in the Bahamas so pleasurable. It got its' name from a telephone pole that used to be wedged in the sand marking a ravine. The pole has since been destroyed in a storm. There is a nice cut which you swim thru and which leads out onto the wall. I came out on the wall at 75 ft. There was a nice friendly grouper which stayed with us for a bit. Saw a couple of rays and a turtle. My deepest depth here was 76 feet. A short 5 minute boat ride from the resort.
Double Caves
At the southern end of the island so also one of the longer boat rides from the resort - about 25 minutes or so. The caves/tunnels start out at about 50 feet and you emerge at about 100 feet, depending on which tunnel you go through. You can swim up or down the tunnels. We a a turtle eating a sponge here which is one of my favorite things to watch. Also saw a small nurse shark and a big school of jacks. My max depth on this dive was 111 feet. A nice, fun dive while scuba diving Bahamas.
Dr. Johns
This is the dive I will never forget while scuba diving Bahamas. Another great wall dive with a swim thru. You descend and go through a great swim thru and emerge on the wall. Look down in the abyss. This is what we did and saw a scalloped hammerhead circling up toward us. It was my first (and thus far, only) sighting of a hammerhead. I started backing up out of instinct. The hammerhead eventually stopped circling up and swam away, allowing my heartbeat to get back to normal. My max depth on this dive was 114 feet.
Runway 10
This is one of the shallower dives and is literally at the end of the Runway on San Salvador. We did this site twice, once during the day and once as a night dive. We pretty much hung at the top of the wall here. During the day we saw lots of grouper, a trumpetfish hanging out on top of a grouper, large crabs and a spotted moray. On our night dive we saw starfish, sleeping grouper and a big crab out in the open, among other things. This site is just a couple minutes from the resort.
This is a great place to try scuba diving in the Bahamas. Especially if you like wall diving, this is the place for you. Scuba diving Bahamas - I'm ready to go again.
For more information see our main San Salvador Bahamas general overview page with info on lay of the land, locations, weather, hotels, diving and more.
Enjoy your San Salvador dives!
---
---
 Want to stay down longer and improve your buoyancy control and other diving skills? Our free report "Increase Your Bottom Time" along with our practical, weekly actionable tips will have you looking like a seasoned diver in no time. So come join us and see improvement on your very next dive!
(Click on the photo to join us now!)
---
---