San Salvador Bahamas:
A Wonderful Bahamas Scuba Vacation
We weren't even supposed to be in San Salvador Bahamas, as we explained in our story on the main Bahamas scuba diving page.
There are not alot of hotels in San Salvador but we found a dive resort that fit the bill. So things worked out great and we did some wonderful scuba diving.
Visibility was fantastic, there was lots of marine life and some great wall dives, not to mention short boat rides. There were lots of dive sites in San Salvador to choose from too.
So if you don't like crowds and don't need nightlife, San Salvador is definitely an island worth checking out.


San Salvador Bahamas: Lay of the Land
San Salvador is a fairly small island at 12 miles long and 5 miles wide.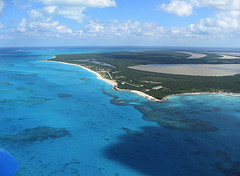 The island itself is actually an exposed peak of a submerged mountain that goes down about 15,000 feet. The coastline consists of both rocky shores and miles of secluded beaches.
The island is very laid back and largely undeveloped with a permanent population of approximately 1,000 people. This is a place to get away from it all.
The island consists largely of dune ridges. There are also quite a few brackish (hypersaline) lakes on the island which comprise a significant part of the terrain (nearly one third of the total area; Source: Unesco.org). The island is surrounded by fringing reefs, making it an excellent dive location.
The main town on the island is Cockburn Town. This town is located right about in the middle of the west coast of the island.
You can check it all out on our page of San Salvador Island maps. Check out the interactive satellite map - it's alot of fun.


San Salvador Bahamas: Location

San Salvador is one of the Out Islands of the Bahamas. It is near the southern end of the Bahamas chain, on the east side. The island is only 400 or so miles from Florida and is less than a 1 1/2 hour flight.
You can take a look at our map of Caribbean to see where the Bahamas are located.
You can now get direct flights from Florida into San Salvador Bahamas. One example of this is Spirit Airlines out of Fort Lauderdale. More frequent flights generally connect through Nassau.
(You might want to check out our #1 tip for cheap airfare to the Caribbean as well as our other tips for cheap airfare to help make your trip more affordable.)


San Salvador Bahamas: Hotels and Resorts
There are not alot of hotels or resorts on the island to choose from. However there are couple that are probably of interest to the diver.  Click here to read our page on what is available. 

San Salvador Bahamas: Weather
Like the rest of the Bahamas chain, San Salvador has a moderate and pleasant climate. Average daytime temperatures are typically in the high 80's during the summer and the high 70's during the winter months.
The island receives about 40 inches of rain per year with the major rainy season being in the fall (roughly around September-November).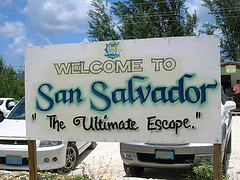 The Bahamas chain is in the hurricane belt and the hurricane season is from June 1 until November 30. According to hurricanecity.com, San Salvador gets hit or brushed by a hurricane about every 3 years. The last major hurricane to hit the island was Hurricane Joaquin in October 2015.
Joaquin devastated the island and was probably the worst hurricane the island has ever experienced.

San Salvador Bahamas: Water Temperatures
Water temperatures range from 73F to 80F in the winter and around 80F to 85F in the summer. We went scuba diving in San Salvador in February and the water temperature was 73-74F. In the winter months most divers wear full scuba diving wetsuits. I had on my skin and a shorty in the beginning but soon changed to a full wetsuit for the duration of the trip.


San Salvador Bahamas: Reefs and Rides


The island is surrounded by reefs and spectacular vertical walls. We stayed at Riding Rock Inn and the majority of the dive sites in San Salvador are only a few minutes ride from the resort. It is such a pleasure to get on the boat and, literally, 3 minutes later you are at some of the sites off the island.
You can actually see some of the reefs on our interactive San Salvador satellite map. Have a look, it's pretty cool.
A few of the deeper dives are further out (about a 25-35 minute boat ride) but it was no big deal and you didn't have the longer rides every day (we were there for a week).


San Salvador Bahamas: Scuba Diving
There are over 50 dive sites to choose from off of San Salvador. The island is also known for its wall diving. Since San Salvador is the exposed top of an underwater mountain, you can imagine the walls.
There are lots of dramatic dropoffs to keep the blood pumping. We did several 100+ foot dives while we were there. Of course, there are shallower reefs to dive also.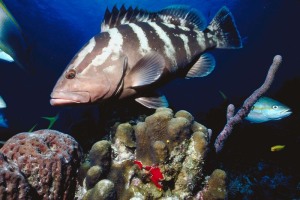 Since the resort is on the lee side of the island, the water is usually calm. When we were there, there were no rough seas at all. The scuba diving sites also have little to no current so it is nice, easy, relaxing diving.
The water visibility is normally in the 100-150 foot range. Absolutely perfect. When we were there, I would say the typical visibility was around 100 feet.
The area had good marine life at the dive sites. Some very friendly fish, especially grouper, that aren't afraid of you and you could probably touch if you wanted to.
One of the highlights of our diving in San Salvador was seeing a hammerhead circling up from below after we emerged from a swim through.


San Salvador Bahamas: Topside
It really is all about the diving here. While there are a few things to do topside, it really isn't anything you would make a special trip for. We toured around the island a bit and there are some ruins, churches, monuments, etc. to occupy your time. Of course, there are those beaches to visit if you just want to relax.
As far as history on San Salvador Bahamas, its' claim to fame is that Christoper Columbus supposedly made first landfall in the "New World" there on October 12, 1492. There is a simple white cross to commemorate the event. Of course, I've seen other islands claim this distinction, so who knows?
If you go, we hope you have as good a trip as we did.
Here are some books you might want to take a look at to help plan your Bahamas vacation:


Here's to meeting that friendly grouper!
(Photos by 4rst and reginador. Thanks!)
---
---
 Want to stay down longer and improve your buoyancy control and other diving skills? Our free report "Increase Your Bottom Time" along with our practical, weekly actionable tips will have you looking like a seasoned diver in no time. So come join us and see improvement on your very next dive!
(Click on the photo to join us now!)
---
---