Turks and Caicos Diving -
Popular Dive Sites

In my opinion, Turks and Caicos diving is some of the best in the Caribbean. Visibility of over 100 feet is typical with over 150 feet not unheard of.
While more and more divers have been coming to these islands, the diving remains excellent with most sites suitable for beginner divers.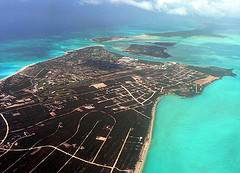 When we stayed in Provo during our trips, all of our diving was off of Grace Bay, Northwest Point and West Caicos.
When the weather was bad off of Grace Bay, we did our diving off of West Caicos since it is more protected. A northern wind can kick up large waves in front of Grace Bay (especially during the winter months) making these sites less suitable for diving.
Grace Bay sports around 20 dive sites with a reef starting from 25-65 feet and going to about 100 feet. Most of the sites have mooring buoys and are a short 15-20 minute ride from shore.



West Caicos (picture shows part of the shell of the proposed Ritz-Carlton on West Caicos which halted construction in 2008)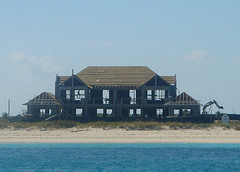 is a longer boat ride from Provo. Depending on the dive operator, rides can be as long as an hour. West Caicos offers a wall which runs parallels the island and has around 25-30 dive sites. The wall is only about 150 yards from shore and starts at 30-40 feet then goes into infinity.

Here are some of the more popular Turks and Caicos diving sites:

The Crack

This site is located off of Northwest Point. The wall starts in about 45 feet of water with a ledge at about 130 feet. After that, who knows? One thing I do know, you don't want to go down and find out! There is a crevice you can swim in that exits the wall at 75 feet.

The site gets its name from the crack that runs the height of the wall (about 50 feet). You can usually spot grouper and other fish in the crack along with grunts and other fish on top. The crack is also home to sponges, gorgonians and black coral. Sharks and rays are frequently found here.

Grouper Hole

Located off of Grace bay so it's a nice short boat ride. The site gets its names from a long narrow crevice in the middle of a sand chute. You'll come upon a large coral head in the middle of the chute.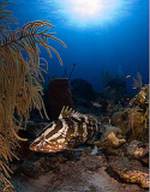 This is a pretty easy dive with the sand chute leading to a sloping wall. As you would expect from it's name, chances are very high you will see some groupers hanging out. Before the marine park was formed, grouper feedings took place at this site. You can also expect to see some barracudas, tangs and lobsters among others. Depth at this site ranges from about 50 feet to just over 100 feet.

Aquarium
This Turks and Caicos diving site is located off of Grace Bay, not too far from Grouper Hole. You'll find spur and groove formations here with sand chutes going through the reef to about 90-100 feet. The wall starts at around 60 feet and slopes to 150 feet or so.

As it name implies, you will see lots of fish here. This is a great spot to see schooling fish including grunts and snappers. With all the crevices at this site, lobsters are usually a sure bet here. Typical depth is 50-80 feet.
Whiteface
This site is located off of West Caicos so it's a longer boat ride from Provo than the other sites. The white cliffs on shore give this site its name, not anything underwater. There are some nice corals and sand when you get off the boat and nurse sharks are not uncommon.
After that you'll find a wall whose visitors usually include barracuda, grouper and angelfish among others. A highlight of the dive is an old anchor which is embedded in a crevice at about 75 feet. The depth of this site is approximately 35-100 feet.

This is just a sampling of some of the dive sites you can pick from during your Turks and Caicos diving trip. Whichever sites you dive, I hope you enjoy them. Let me know, I'd love to hear from you.

Have a great Turks and Caicos diving trip!
For more information, check out our other pages on Turks and Caicos:
Flights to Providenciales

Photos by Janet Wasek, gerb and Pauldub. Thanks!
---
---
 Want to stay down longer and improve your buoyancy control and other diving skills? Our free report "Increase Your Bottom Time" along with our practical, weekly actionable tips will have you looking like a seasoned diver in no time. So come join us and see improvement on your very next dive!
(Click on the photo to join us now!)
---
---