Map of Turks and Caicos Islands
The Turks and Caicos are a beautiful island chain. But where the heck are they?
We have a map of Turks and Caicos (actually several maps) to show you the way. 
I love these islands with their beautiful beaches and wonderful scuba diving. But whether you are going there for a dive vacation or not, you are bound to have a good time.
After all, how can you have a bad time with powder soft beaches, turquoise blue water, sunshine and cold beverages? So let's find that place.
The first Turks and Caicos Island map is to pinpoint their location in the world. Then we hone on in its location within the Caribbean.
Then we move on to a map of the islands themselves. The last Turks and Caicos map is the fun interactive one. You can zoom in on any area you want to see. It's a pretty neat feature that you should give a try.
OK, let's get on with it and show you our Turks & Caicos maps.
Turks and Caicos Maps 
Here we just give the big picture of the island chains location:
Showing the Turks & Caicos within its Caribbean/Atlantic Ocean location:
Showing its location just south of the beautiful Bahamas and its' distance from the US.
A map of Turks and Caicos highlighting the most popular tourist destinations.
Here is an aerial view of the Turks and Caicos (shot taken from Google maps). An interactive map of the islands follows.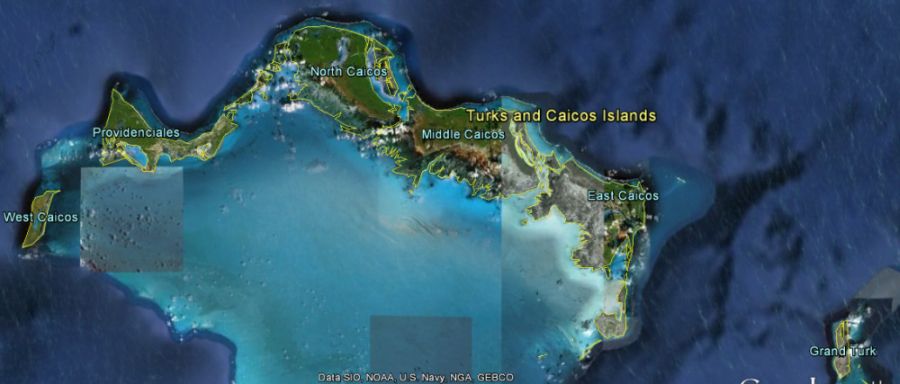 Interactive Map of Turks and Caicos
This is the fun interactive map I talked about earlier. Just click on the +/- arrows to see the area you are interested in. When you zoom in on it it will give you the place name. Give it a try, it's alot of fun. I have found myself spending WAY too much time on these maps. See where you are going before you get there!
This is my favorite map - an interactive satellite map of Turks & Caicos. Set a timer so you don't get too caught up in it. LOL.
We hope you have a great time in the Turks & Caicos!

For more information, check out our other pages on Turks and Caicos:
General Overview of Turks and Caicos, including scuba information
---
You might find these guides useful on your trip:
---
---
---
 Want to stay down longer and improve your buoyancy control and other diving skills? Our free report "Increase Your Bottom Time" along with our practical, weekly actionable tips will have you looking like a seasoned diver in no time. So come join us and see improvement on your very next dive!
(Click on the photo to join us now!)
---
---