Map of Bahamas
Are you going to the Bahamas? Lucky you! With all those islands, you'll probably need a map of Bahamas to pinpoint where you are going.
The two most populated and most visited of the Bahamian islands are New Providence (where Nassau is located) and Grand Bahama. There are also quite a few "out islands" that form the Bahamas Islands chain. Wherever you are going, and whether you are going scuba diving or not, you will be having a good time.
But just where are those islands located? We have a few maps to help you out.

The first map of the Bahamas I have below, shows you where all the islands of the Bahamas are located in relation to one another. If you're not familiar with the Bahamas, you might be surprised at how many of them there are.
The second map of the Bahamas is interactive and is alot of fun to use. You can zoom in on the view of the island which you are interested in. Give it a try, it's pretty cool.
Next comes my favorite - the satellite interactive map of the Bahamas. 
For the last map, I zoomed in on the Nassau Bahamas map to make it easier for you. I start on the far view, but just zoom in and you will get a nice map of Nassau, Bahamas. The city of Nassau is located on the eastern part of the island so zoom in there if you want to see details down to the city streets.

Maps of the Bahamas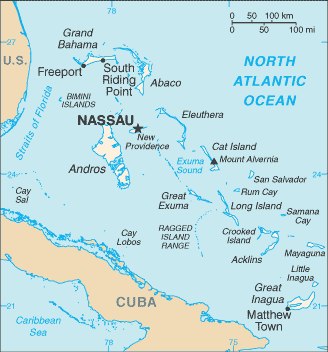 Interactive Map of Bahamas
Here is the interactive map of the Bahamas I talked about above. Just click on the arrows to zoom in a location. 
This is the most fun map of the Bahamas. An interactive satellite map. Just zoom in on the area or island you are interested in and you will see where you are going before you get there. Have fun with it!
Now for the last map, the interactive close up map of New Providence and Nassau.
I hope you enjoyed these maps of Bahamas. Have a great time on your trip!
For more information on the Bahamas and to help you plan your trip, take a look at our Bahamas overview page.
You might also find these helpful for planning your trip:
---
---
 Want to stay down longer and improve your buoyancy control and other diving skills? Our free report "Increase Your Bottom Time" along with our practical, weekly actionable tips will have you looking like a seasoned diver in no time. So come join us and see improvement on your very next dive!
(Click on the photo to join us now!)
---
---