Dive Computer Battery
Replacement Issues to Consider
Your dive computer battery. It's not something you think about alot - but when you have to replace it you sure notice it!
After all, that piece of dive equipment that is the divers best friend - the dive computer - is useless without it.

We were on a dive trip and another diver's computer battery died. His computer didn't keep the memory when he changed batteries (something to consider when you purchase a dive computer) so he had to sit out for 24 hours to be safe.
We were at a dedicated dive resort (Coco View in Roatan, Honduras) and he seemed to be in the water 24/7. That was one unhappy diver!
And you really can't blame him when you think of the limited time he had and the price he paid.
Here are some things to consider about a dive battery before you purchase a dive computer - and may yours never die during a dive trip!
(For a complete list of pages in my free guide to buying a dive computer click here.)

Dive Computer Batteries: Things to Consider
When you choose your scuba computer, you want to check on the batteries.
Ask what type of battery the dive computer takes and how long that battery is expected to last. While some computers use a common type of lithium (usually) battery, other dive computer batteries are not readily available and can get expensive.
So if that's important to you be sure to check as it may make a difference in what scuba computer you choose.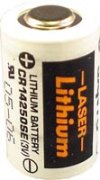 Another factor to check is how to change the battery on the computer. Is it user friendly - ie, are you able to easily change it yourself?
Some makers/models of dive computers require that the unit be returned to a factory service center for battery replacement. Most dive computers are made so the user can change the batteries themselves.
However, check if the battery case is easily made watertight again so there is no chance of flooding after you change the battery. If you change the dive computer battery yourself and the case floods, the warranty is most likely voided.
For this reason, even if you have a user replaceable dive computer battery, many manufacturers recommend sending the unit to an approved service center to get the job done. Of course, this costs more than changing it yourself (what else is new?) and you will have to wait for the service to be performed.
An advantage is that if the service center changes your battery and the unit floods, it is (or should be, be sure to check) covered by a warranty.
Our computer has one battery in a screw down compartment. It is very easy to change and it has never flooded. We also normally take the battery out after we are finished using the computer or are traveling so if something happens to dive computer battery, it doesn't affect the computer.
One last tip for dive computer batteries: Always travel with a spare! It could save your scuba dive vacation.
For more information, check out our other pages on scuba dive computers:
Our Picks for Best Dive Computers//Scuba Diving Computer Introduction //Basic Info on Dive Computers //Types and Styles od Dive Computers //Scuba Dive Computer: Log, Software, Price and More
Looking for other scuba equipment and accessories? Check out our picks for best dive gear.
May your battery be like the Energizer Bunny!
---
---
 Want to stay down longer and improve your buoyancy control and other diving skills? Our free report "Increase Your Bottom Time" along with our practical, weekly actionable tips will have you looking like a seasoned diver in no time. So come join us and see improvement on your very next dive!
(Click on the photo to join us now!)
---
---