Best Scuba Mask:
High End or Top End Category
Choosing the best scuba mask can be difficult. There are so many choices out there for diving masks, how can you make a decision?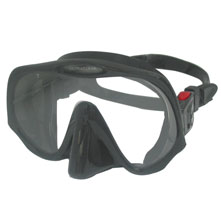 To this end, I have done the research for you. I have chosen what are considered to be the best scuba masks at various price points - entry level or budget, mid range and high end.
I have read many ratings and reviews of various diving masks (good for snorkeling also). I have only chosen those models which have received many top reviews from lots of different users. If it has universal good marks, chances are you will be happy with it too.
(If you need more general information on what to look for when buying a diving or snorkel mask, see our guide to scuba diving masks.)
As an aside, some reviewers for these masks said that the mask fogs but it was fine after scrubbing with toothpaste, using antifog, etc. You know the drill.
Actually you would probably be hard pressed to find a mask where some reviewer didn't say it fogged. Just clean that mask well once you receive it and you should be good to go.

Note: To decide which category the top diving masks would go into, I based it on price. We have 3 different categories (and pages) of picks for you. Just click on the link for the price category you are interested in.

Best top end/high end level dive masks ($70+; this page)
Best moderately priced dive masks ($30-$70)
Best budget/inexpensive scuba masks (Under $30)

---
Best Scuba Mask: High End or Top End ($70+)

---
Choice #1:
Our first pick for best scuba mask this year is a new entrant - it is a Hollis model. This earned an impressive rating of 4.8 out of 5.0.
The construction on this pick is a frameless single lens design.  This gives it a low internal volume and makes it easy to clear.
It also makes it easy to store in a BC pocket making it a good backup mask (though I think this is too nice a mask to be a backup).
This mask also has a double edges feathered skirt made of silicone which makes getting a good seal easy.
However the main feature of this mask which gives it extra high marks is the special tempered glass which makes the lens distortion free and gives you crystal clear vision. Lots of reviewers commented on the excellent clarity and field of vision in this mask. A clear winner (pun intended).
An overall great mask with many happy users. The pros and cons of this mask are:
Pros:
Excellent vision/clarity


Great field of vision/viewing angle

Tight seal, no leaks

Good fit, very comfortable

High quality

S

traps easy to adjust

Lightweight
Cons:
---
Choice #2:
Our second choice for best scuba mask is an Atomic model. This gets great reviews earning a 4.7 out of 5.0.
It was a close call between our first and second pick but this mask just got squeezed out by our first pick.
Like our first pick this is a single lens frameless design.  This gives the mask a low internal volume and makes it easier to clear.
This also has a double edged feathered silicone skirt for a more comfortable fit and better seal.
The tempered glass in this mask is specially manufactured to get out iron impurities so there is no color distortion and increased clarity. Reviewers did comment on the clarity of this mask so it has worked.
This model is available in 2 sizes so you can get a better fit. The pros and cons of this mask are:
Pros:
Great visibility/peripheral vision

 Excellent clarity

Good fit, no leaks

Comfortable

Easy to clear/low volume

Good quality construction

Doesn't fog

Lightweight
Cons:
Leaked (4 reviewers)


Fogs (3 reviewers)
Note: This is the mask that I purchased after my old mask of about 15 years bit the dust. I have quite a few dives with it now and am very happy. The field of vision is to die for! I don't think I could ever go back. It is like a movie down there now. I did experience some small leaks on the first dive but it now seems to have corrected itself. I will be sticking with this one for sure. A best scuba mask winner in my opinion.
---
Choice #3:
Our third choice for best scuba mask in the high end category is a Cressi model.
This mask is at the very low end of the price range for this category (actually 5 cents below but who is counting:) ?) making it a great value.
The design on this mask is an upside down tear drop which is designed to give a wider view and a better downward view. After reading through all the reviews, the design has accomplished that.
Lots of positive comments on the view and the downward visibility.
Like the other picks this dive mask has a tempered lens and a double feathered silicone skirt for a comfortable fit. And lots of reviewers did comment on the comfort of this mask, probably a higher percentage than the other picks.
With this mask there is also the option to order corrective lenses for it; at an additional price of course.
The pros and cons of this scuba mask are:
Pros:
Cons:
Leaked (2 reviewers)


Fogs (1 reviewer)
---
Hopefully, these picks will make your search for the best scuba mask a little easier. If you do purchase one of these, please let us know how it goes. We would love to hear from you.
If you are in the market for other pieces of scuba diving gear, you might want to check out all our picks for best scuba diving gear.
Have a great, clear dive!
How is your current dive mask? Tell us about it in the comment section below - or ask any question you may still have.

---
---
 Want to stay down longer and improve your buoyancy control and other diving skills? Our free report "Increase Your Bottom Time" along with our practical, weekly actionable tips will have you looking like a seasoned diver in no time. So come join us and see improvement on your very next dive!
(Click on the photo to join us now!)
---
---