Best Diving Mask:
Moderate or Mid-range Category
Choosing the best diving mask for you can be a challenge. There are alot of choices and brands out there, good for both diving and snorkeling.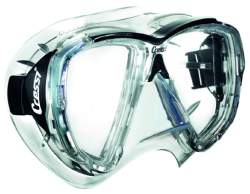 I know when I went to buy a new piece of scuba diving equipment, the task seemed daunting because there was just so much available. I have literally spent hours reading through comments/reviews, etc. to get the best available.
And I figured I wasn't the only one doing this. There had to be a better way. That is where our choices for best scuba gear come in.
To help make your job easier, we have read through the reviews and ratings and picked the top rated dive and snorkel masks that are moderately priced. All have received the highest ratings and positive reviews from many users.
We figure that if the product gets universal great marks, chances are that it will work for you too.
(If you need more general information on diving masks and how to fit a mask, see our guide to scuba diving masks.)
Note: We have broken our picks for best diving masks into 3 categories based on price. So the best top end/high end level dive mask is defined as masks over $70, the moderate or mid-range masks on this page are priced between $30-$70 while the best budget/inexpensive dive masks are those priced under $30.
So let's check out our choices (links will open in our partner's window)...

---
Best Diving Mask: Moderate or Mid-Range Price Point
---
Choice #1:

Our first pick for this category is a Tusa model. It features an oversize single lens and is a low volume mask, increasing your range of vision. The mulitiple position strap adjuster lets allows the correct fit and snugness on many face types.
It gets top marks for range of vision, lens quality and snug fit. User reviews of this best diving mask choice include: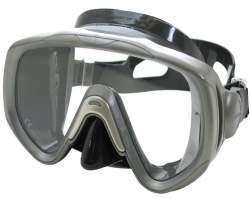 "I bought this item last year and have used it since. The mask fits well, lets in light well, and has high quality construction. The mask has a medium to low volume, and that is important. The fit is good for my fairly wide face. I highly recommend."
"I purchased & reviewed this mask almost 2 years ago to the date and it's still the best mask I have. I had some fogging issues in the beginning, but they cleared up with use. Back in September 2008, I went diving in Cozumel and I took this mask along as a backup to a 3 window frameless mask I bought. What a life saver! The frameless fogged up like crazy and I was having small leak issues. I ended up doing 6 dives and some snorkelling with the M14 without a single problem. This year for the Bahamas, the M14 is running primary and I'm purchasing another one as backup. Still the best mask I have found since the old Dacor."
"I already own one of these, i baugh a second as a spare, i tried many masks before this one, they all leaked or did not fit my face properly. I got one for my diving budy also. If you have problems fiding the right mask, spend a few more bucks and get this one!"
---
Choice #2:

Our next pick for top moderately priced diving mask is a Scubapro model. This well known brand has a winner here.
This dive mask has a purge in the skirt which allows for easy mask clearing and equalization. If you have any problems in these areas, this may be the mask for you.
This Scubapro mask also features a single lens and swivel buckles for easy fit and adjustment.
User reviews include: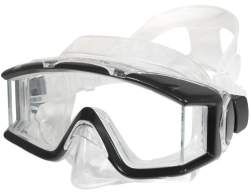 "Very comfortable with a nice view of the diver beside you. Truly the best choice when it comes to recreational diving."
"I liked it so much that I bought a new one when my old one got crushed. Then when that one got stolen I bought another."
"I just purchased 3 to use as backups. The working visibility of the mask exceeds most The purge valve is protected by a silicone flap. I have put this mask through He@@ and back. It is not expensive which is good because I have bought many masks for more money and had far less quality. Try it out."
---
Choice #3:

Our next pick for best diving mask is a Cressi model. This model has a unique feature in that lenses are not parallel to the face. Rather they are raked and have an "inverted drop" shape which allows improved all around visibility (+30%) - especially in the downwards direction.
Many positive reviews on the downward angle field of vision. Sounds great to me too.
It is a two lens mask with a very low internal volume.
User reviews include: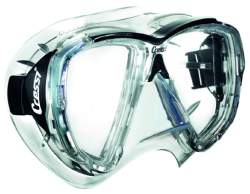 "Mask fits well and was a definite improvement over my first mask. Better field of view and snug, comfortable fit - no leaks."
"Bought a second mask after using the first one for 5 years. Outstanding field of vision. Have several friends that have bought this mask too."
"Purchased as a replacement for my old mask, also purchased one for my girlfriends son, new to diving. We both found this mask very comfortable. I especially like the lense design, I dove in Cozumel found I had a much better view of the reef as well as of my computer. Great budget mask highly recommended."
---
We hope these recommendations for best diving mask will make your search easier. Please let us know how you like your new mask if you do purchase one.
You might also want to check out our picks for best top end/high end level dive mask and our picks for best budget/inexpensive dive masks.
If you are looking for a different piece of scuba equipment, you may be interested in taking a look at all of our picks for best scuba diving gear.
Have a wonderful dive!
---
---
 Want to stay down longer and improve your buoyancy control and other diving skills? Our free report "Increase Your Bottom Time" along with our practical, weekly actionable tips will have you looking like a seasoned diver in no time. So come join us and see improvement on your very next dive!
(Click on the photo to join us now!)
---
---