Best Dive Mask:

Budget or Inexpensive Categories
(we may even say cheap!)
Buying the best dive mask that fits your budget (and your face) can go a long way to improving your scuba diving or snorkel experience.
After all, who hasn't had a dive mask leak on them occasionally? It sure isn't a fun experience and it can even ruin a dive.
I know I have had dives where all I can remember is clearing my mask upteen times; I was too distracted trying to keep water out of my eyes (and my contacts) to really enjoy the scenery.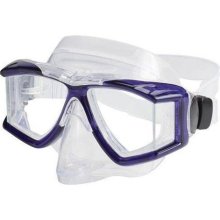 If you need a new dive mask, to help make your choice a bit easier we give you our picks for the top rated and reviewed masks in the budget or inexpensive category (you could even call them cheap - in price, not in quality. An important distinction).
There are a ton of choices out there for scuba diving and snorkeling masks. It can get overwhelming. So we searched through all the choices and have picked the top rated and reviewed products that won't bust your budget.
(If you need more general information on what to look for when buying a diving mask, see our free guide to scuba diving masks.)
All of our choices get high marks from the vast majority of users. We figure if it works for most people, it should have an excellent chance of being a good choice for you too.
As an aside, some reviewers for these masks said that the mask fogs but it was fine after scrubbing with toothpaste, using antifog, etc. You know the drill.
Actually you would probably be hard pressed to find a mask where some reviewer didn't say it fogged. Just clean that mask well once you receive it and you should be good to go.

Note: To decide which category the top diving masks would go into, I based it on price. We have 3 different categories (and pages) of picks for you. Just click on the link for the price category you are interested in.

Best top end/high end level dive masks ($70+)
Best moderately priced dive masks ($30-$70)
Best budget/inexpensive scuba masks (Under $30)


So here are our top picks for the best scuba masks in the budget or inexpensive category. The links will open in a new window at our partner's website.
Let's get to it...
---
Best Dive Mask: Budget or Inexpensive
---
I had to change our first pick in this category since our choice is now over $30. I guess prices of dive masks are going up like everything else.
But I have stuck to the under $30 since there are still some very good choices available.
Choice #1:
So now our first pick for best dive mask in the budget category is a Genesis model.
This model is designed to give you a panoramic view with the one front lens, 2 clear side lenses (all lenses are made of tempered glass) and low profile.
In fact quite a few reviewers stated that it took a little while to get used to the side view lenses but once they did, they loved the view it gave them.
This mask also features a feathered silicone skirt to give you a comfortable and leak proof seal.
Several reviewers stated that this mask was at least as good, if not better, than their old masks which were 2-4x the price of this one.
Now that is an endorsement!
This mask comes in different colors. The pros and cons of this model as I see it are:
Pros:
Great range of vision/great side views


Lets in lots of light

Well made, solid construction

Good fit, seals well/no leaks

Comfortable skirt

Great value
Cons:
Fogs when new


Glass chipped (1 reviewer)

Mask leaked (2 reviewers)



---
Choice #2:
Our number two pick for the budget category is a Mares model.
This mask also features tempered glass and has a feathered edge silicone skirt for a better seal.
The mask has a 2 window construction, is designed for a wide field of vision and is a medium internal volume mask.
This mask also has an option to order corrective lenses for it (at an additional charge of course).
Of note, a few reviewers that purchased the all clear mask option had a problem with the glare. Others did not or got used to it. Just something to consider when deciding on the color.
The pros and cons of this model are:
Pros:
Good seal, doesn't leak


Good field of vision

E

asy to clear

Fit different face sizes

Comfortable

Good quality
Cons:
---
Choice #3:

Our third and last pick for best dive mask in the budget or inexpensive category is another Genesis model.
This mask has a 2 window construction and is a low profile design.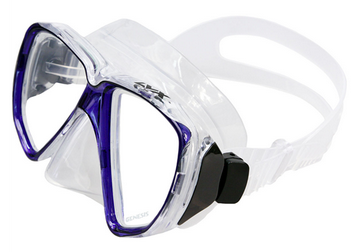 The glass is tempered and the skirt is made of silicone with a feathered edge for a more comfortable fit.
The tear drop design of the window on this mask is designed to give the wearer and expanded downward vision. And according to the reviews, it does have a good range of vision.
The pros and cons of this model are:
Pros:
Good seal, no leaks


Great range of vision

Great value

Comfortable fit
Cons:
---
Hopefully these recommendations for best dive mask or best snorkeling mask will make your choice a little easier. It's alot to wade through, we know. Let us know how these masks work for you.
If you are looking at another piece of scuba gear, take a look at our picks for best overall scuba equipment.
Have a great dive or snorkel!
---
---
 Want to stay down longer and improve your buoyancy control and other diving skills? Our free report "Increase Your Bottom Time" along with our practical, weekly actionable tips will have you looking like a seasoned diver in no time. So come join us and see improvement on your very next dive!
(Click on the photo to join us now!)
---
---