Scuba Watches and Straps
Care and Maintenance Tips
Scuba watches are one of the most popular pieces of scuba equipment. After all, we can use them out of the water too - double duty is good.
And let's face it, sometimes a dive watch can have a pretty "cool" factor too - especially when worn out of the water.
So should you make a huge investment or a more modest one in your timing device?
Obviously it is up to you. There are dive watches out ther to suit every budget and taste.
But whatever you choose, you should take proper care of your watch so it will be good for many dives to come.
Here are some tips on how to protect your investment:
(For more information on dive watches, you may want to read our Scuba Diving Watches Buyer's Guide. It includes our picks for best watches at various price points.)

Dive Watch Care and Maintenance Tips
It doesn't take alot to properly maintain your scuba watches. Here are some easy steps to follow to ensure your dive watch will last you for years:
Rinse after each dive - Thoroughly rinse your watch in fresh water after each dive. You should also rinse it after getting out of a pool to get the chlorine off.


Turn the bezel - While you are rinsing your dive watch, if you have a bezel, turn it to get rid of any grit, etc. that may have gotten under the dial.


Check gaskets - Scuba watches are waterproof due to rubber or plastic seals inside the watch. These gaskets will eventually deteriorate and affect the water resistancy of your watch.
Manufacturers suggest that these be changed and/or inspected anywhere from every 18 to 36 months. If you dive frequently, it is recommended that the watch be pressure tested and the gaskets be changed/inspected annually.


Don't wear in sauna, Jacuzzi or hot tub - Extreme changes in temperature may affect the sealing capabilities of your dive watch. To be safe, take off your watch when you are enjoying yourself in these places. Lucky you!


Screw/Push Crowns - If you have a screw down crown make sure it is screwed all the way down before getting in the water.
In the same vein, push in crowns should be pushed in all the way before going in the water. Do not use the crowns or push down devices while you are underwater.


Avoid chemicals - Do not expose dive watches to aerosol sprays, strong chemicals or solvents. They may damage or dry out parts of dive watches.
Dive Watch Strap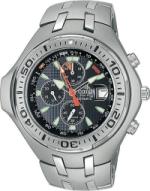 The strap on a watch can sometimes be an afterthought but they need to be maintained also. And once they get worn looking, it can ruin the whole look of the watch.
The band on scuba watches can be rubber or metal (stainless steel or titanium). Rubber bands on dive watches should last a long time but they will eventually start to deteriorate. Just make a habit of checking it periodically to make sure it has no tears or other flaws.
If you have a dive watch strap made of metal, it should be stainless steel or titanium since they are resistant to corrosion from salt water. (Read more about titanium watches here). Other metals may start to rust and deteriorate fairly quickly.
In addition, if you are going to be wearing a wetsuit, decide where you want the band on the dive watch to go - on top of or under the wetsuit. If you like to wear your scuba watches on top of your wetsuit, check to make sure the dive watch strap will fit around the wetsuit or that there are extensions available to enlarge your strap.
---
For more information on dive watches, check out our other pages:
Scuba Diving Watches Introduction //Best Dive Watches: Luxury and High End//Best Scuba Dive Watches: Mid-range and Budget//Best Scuba Diving Watches For Females //Scuba Dive Watches: A Primer //Scuba Dive Watches: Types //Cheap Dive Watch //Dive Watch Repair
Have a great dive!
---
---
 Want to stay down longer and improve your buoyancy control and other diving skills? Our free report "Increase Your Bottom Time" along with our practical, weekly actionable tips will have you looking like a seasoned diver in no time. So come join us and see improvement on your very next dive!
(Click on the photo to join us now!)
---
---