Scuba Dive Watches:
A Buyers Guide To Water Resistance,
Bezels, Crowns And More
Scuba dive watches are one of the few pieces of scuba diving equipment that is useful both in and out of the water. You see all types of dive watches around.
And some people actually use them to go diving!
Many people wear dive watches as a fashion statement and other people add them to their watch collections.
It's all good, but if you are diving with this watch you have to know what you are buying since you are depending upon it to keep track of your dive.
Here's a guide to help you shop for dive watches and hopefully make the task a little easier.
(For much more information on watches take a look at our Dive Watch Buyer's Guide including our picks for best dive watches at various price points.)
Scuba Dive Watches: A Primer
The importance of a dive watch varies, depending on if it is your primary or secondary source of timing.
If this is your primary source of timing your dive, you need to get a high quality, dependable watch.
If you have a dive computer and the watch is serving as your secondary timing device, it is not as critical if the watch fails underwater. Of course, you don't want this to happen but it won't endanger you if it does.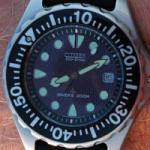 When you shop for dive watches, two of the most important aspects you need to consider are the following:
Water Resistance: First off, you do not want a "waterproof" watch. These will not stand up to the pressure of diving (literally).

It's OK if you splash it in the pool, but that's about it. The type of scuba dive watches you are looking for will be rated in either depth (feet or meters) or pressure.

As a recreational diver, even though you will not be going below 130 feet you should get a watch that is rated to at least 200 meters (660 feet) to be safe.

This is the recommendation by most guidelines. The reasoning behind this is that the watch is tested under controlled circumstances. That is, the watch and the water are both static. If there is any movement, be it the watch or the water, the pressure on the watch increases.

Having a higher rating allows for movement of the diver and any bumps, jarring, etc. that may occur. Scuba diving watches rated for 200 meters should be dependable under all normal diving circumstances.

If this is your primary timing device, try getting one with the higher water resistance rating. Seiko provides the following chart to determine what type of water resistance you need.



Water-resistant: OK for accidental splashes; should not be worn while swimming or diving.
Water-resistant to 50 meters: Suitable for normal swimming.
Water-resistant to 100 meters: Suitable for swimming,snorkeling and other water sports (except scuba diving).
Water-resistant to 200 meters: Suitable for all of the above and for scuba diving if it complies with international standards for divers watches (Seiko's watches are marked divers watch).



Type of Bezel: When you shop for dive watches, pay attention to the type of bezel. You want one that has a unidirectional (one-way) adjustable bezel.

Most good dive watches come with this type of bezel, but check to make sure.

The unidirectional bezel will only turn in a counterclockwise direction. This means that if you knock the bezel and it moves, it can only move in the conservative direction (opposite the way the minute hand is moving).

Thus the watch will show that you have been down for a longer period of time, rather than a shorter period of time (which would happen if the bezel moved in the other direction) if the bezel is accidentally moved.

The bezel should also be tight enough that it needs some effort to move it around the dial. You'll feel it go against the internal indents as you move it.

Test it out and make sure it is easy to hold. There are usually indentations on the outer edge of the bezel to give you a firm grasp and make it easier to move.

If you are unfamiliar with a bezel, it is a metal ring that goes around the face of the watch and has point indicators on it.

The bezel also has a zero mark to designate the starting point. To use the bezel, you turn it until the zero mark lines up with the minute hands.

To tell how much time has elapsed, all you have to do is look to the indicators on the bezel that the minute hand is pointing to.
Scuba Dive Watches: Other Considerations
Other things to consider when you shop for dive watches are:
Clear Face - A clear face is the best option for scuba dive watches. You want to be able to see the information clearly and quickly.
Screw Down Crown and Backs - A good dive watch should have a screw down crown rather than the push/pull crown that most dress (non-water) watches have. This gives the watch a better watertight seal. Backs that screw down rather than just press in also provide a tighter seal.
Luminous Dials - Luminous dials make the watch face easier to read in low vis situations and/or night dives.
These are some of the basics to consider when you shop for dive watches.
For more information, check out our other pages on watches:
Scuba Diving Watches Introduction //Best Dive Watches: Luxury and High End//Best Scuba Watches: Mid-range and Budget//Scuba Dive Watches For Women //Types of Dive Watches //Dive Watch Care and Maintenance //Cheap Dive Watch //Dive Watch Repair
Here's to a perfectly timed dive!

---
---
 Want to stay down longer and improve your buoyancy control and other diving skills? Our free report "Increase Your Bottom Time" along with our practical, weekly actionable tips will have you looking like a seasoned diver in no time. So come join us and see improvement on your very next dive!
(Click on the photo to join us now!)
---
---