Scuba Diver Watch
Guide to Types and Styles Including Automatic, Analog, Digital, Titanium and Chronograph
When buying a scuba diver watch, there are many different types and styles to choose from.
Which is best is really a matter of personal preference. And there are ALOT of choices out there.
If you have been in the market for a dive watch, you know what I mean. The listing of dive watches seems endless.
So how do you choose which is the best watch for you? A good first step is to narrow it down by the categories below. Which type and/or style appeals to you the most?
Of course, the following categories are not mutually exclusive - ie, you can have an analog dive watch made of titanium. Pick and choose.
Whichever type and function you like, chances are it is available. The choices are pretty much unlimited.
(Once you narrow down your choices, you might want to take a look at our other pages in our free Buyers Guide to Scuba Diving Watches. It also gives you our pick for best dive watches at various price points.)


Analog Dive Watch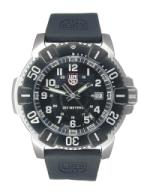 This is the most common type of scuba diver watch that I see on a dive boat.
Analog refers to the display of the watch. Rather than a digital display (discussed below), the display has two (sometimes three) hands that point to numbers on the round dial face.
Everyone knows what this is, but you may not have known what they were called.
Analog dive watches should also have a unidirectional bezel. (I discuss bezels and other features on our dive watch page here).
Digital Dive Watch
A digital dive watch is also a popular choice, especially among the cost conscious. These are typically less expensive than an analogue scuba diver watch.
This type of watch should have a backing light that is easy to use, even underwater. The light will make it easier to read in low vis conditions or if you are on a night dive.
The numbers should be large enough that they are easy to read at a glance.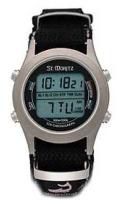 A digital dive watch, like the analogue, can come with many different options.
Choose what is important to you and how you will be using the watch (such as, is it a primary or secondary timing device?.
The stopwatch function that comes on the digital dive watch is often used to time the dive or safety stop. My husband and I both have computers and digital dive watches and we use the stopwatch to time our safety stop (a bit redundant but that's the habit we have).
Some dive watches have both an analog face and a (or more than one) digital readout. So whatever configuration you want, you are sure to be able to find it.
Automatic Dive Watch
An automatic dive watch is a self-winding watch and is designed to never need a battery. It works due to the movement of the wrist.
The movement of the wrist will cause the mechanism inside the watch to wind the mainspring. The winding of the mainspring powers the watch.
If the watch is not worn for a couple of days, the watch will no longer have power. A fully wound automatic dive watch will normally last up to 2 days if not worn.
If you exceed this limit, you will have to power the watch up again when you put it back on (by turning the crown). Because of this, companies sell watch winders to keep power to the watch when they are not being worn. An interesting device, but not a cheap device.
This type of watch is great for watch lovers who can appreciate the craftsmanship that goes into a scuba diver watch like this.
Titanium Dive Watch
In a titanium dive watch, the casing (or portion of) is made of titanium. The advantage of titanium in a scuba diver watch is that it is highly resistant to salt water corrosion.
Titanium is also hypoallergenic which may be important to certain wearers. Another advantage of a titanium dive watch is that titanium is about 50% stronger than steel (the common casing material for a dive watch) but around 30% lighter.
A watch with a casing made with all titanium is pretty pricey and if you add in a titanium band, get out another credit card! They are great dive watches though. Just not in my budget.
Chronograph Scuba Diving Watch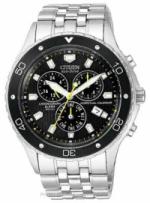 This type of watch operates like a stopwatch. A chronograph scuba diving watch has two to four (typically) smaller dials set in the watch face.
The stopwatch insets can time different events in minutes, seconds or whatever interval is designed in the watch. Most chronograph scuba diving watches can time events up to an hour.
Scuba divers use these stopwatches to time a variety of actions - bottom time, dive length, safety stop, etc.
---
Good luck buying your scuba diver watch. Whether you buy a digital, a titanium or a combination of any of the dive watch types listed above, I hope this information helps make your decision a bit easier.
For more information, check out our other pages on dive watches:
Scuba Diving Watches Introduction //Best Dive Watches: Luxury and High End//Best Scuba Dive Watches: Mid-range and Budget//Top Scuba Watches For Women //Scuba Dive Watches: A Primer //Scuba Watches Care and Maintenance //Cheap Dive Watch //Dive Watch Repair
Here's to a perfectly timed dive!
Looking for other scuba equipment and accessories? Check out our picks for best dive equipment here.

---
---
 Want to stay down longer and improve your buoyancy control and other diving skills? Our free report "Increase Your Bottom Time" along with our practical, weekly actionable tips will have you looking like a seasoned diver in no time. So come join us and see improvement on your very next dive!
(Click on the photo to join us now!)
---
---