Dive Watch Repair
Do It Yourself (DIY) or Not?
Dive watch repair can be a tricky proposition.
If you have one of the cheap dive watches (like we have) and it needs to be repaired, you are probably better off just throwing it out and buying a new one. It's not worth the time and money to have it repaired.
If you have a good quality scuba dive watch that needs to be repaired, such as needing a battery replacement, it can be tempting to do it yourself.
After all, don't you just need a screwdriver, a battery and rubber gasket (possibly)?
Well, yes. But if you do it yourself, you run the risk of voiding the warranty.
So if you change it yourself and the watch later floods, you are out of luck.
Make sure you check your warranty information carefully before you attempt to do anything yourself or have someone other than the manufacturer/authorized dealer do the work.
If the manufacturer changes the batteries or does any other dive watch repair, they will normally retest the watch and certify that it is still water resistant to whatever level applies.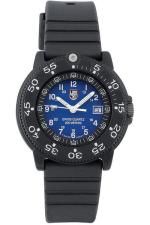 This is not to say that a qualified watch repair shop can't do the job.
I used to live in NYC and a friend of mine took her dive watch to be repaired to this little old repair shop nearby. Everything turned out fine. It's your decision but at least it will be an informed one.
From time to time you may notice condensation on your dive watch face and wonder if it needs to be repaired.
According to Citizen watch, if it goes away after a short period of time it is nothing to worry about. This is a normal occurrence and is caused by sudden temperature changes (ie, going into a cool building when it is hot outdoors).
However, if the condensation does not go away after a short period, you should have it inspected.
So that's the long and short of dive watch repair - if it's a good dive watch, you'll probably want the manufacturer/authorized dealer to handle it if you don't want to void the warranty.
A cheap dive watch? Probably not worth the bother.
For more information, check out our other pages on dive watches including our pick for best watches at different price points:
Scuba Diving Watches Introduction //Best Dive Watches: Luxury and High End//Best Scuba Dive Watches: Mid-range and Budget//Best Dive Watches For Females // Scuba Dive Watches: A Primer //Scuba Dive Watches: Types //Scuba Watches Care and Maintenance //Cheap Dive Watch
Here's to a well timed dive!
Looking for other scuba equipment and accessories? Check out our picks for top scuba diving gear.
---
---
 Want to stay down longer and improve your buoyancy control and other diving skills? Our free report "Increase Your Bottom Time" along with our practical, weekly actionable tips will have you looking like a seasoned diver in no time. So come join us and see improvement on your very next dive!
(Click on the photo to join us now!)
---
---