Tobago Diving:
Fly And Dive at the Same Time! Our Dive Guide With Information on Location, Weather, Water Temps, Flights, Hotels and More...
Tobago diving is a different kind of diving experience than many of the other Caribbean islands. It can have some strong currents and you will feel like you are flying - even more so than Cozumel.
So just go with the flow and enjoy.
The island itself is a casual, laid back affair. We stayed on the northern part of the island which is less developed than the southern tip and is home to some of the best dive sites in Tobago.

As you will read below, it can take some effort to get here. The long drive from the airport to the north side (about 90 minutes if I remember correctly) adds to the remoteness of the spot.
You can check out our map of Tobago and see for yourself.
Of course, this is what keeps the crowds away and lets you have the dive sites to yourselves. No Grand Cayman here (note - I love Grand Cayman but dive boats can get very crowded).
Is Tobago diving and the island worth the effort? I would say yes. I won't say it was absolutely spectacular diving - though we did have some very good dives. I guess I would say it's more "adventurous" diving than your typical Caribbean scuba diving destination.
Bottom line, would I go back? Yes.
So if you want to try some Tobago diving, you can start your planning here.
Lay of the Land

The Republic of Trinidad and Tobago is made up of two islands, namely - can you guess what? - Trinidad and Tobago. Tobago is the smallest of the two with an area of approximately 116 square miles. The island is 26 miles in length and 6 miles in width and is volcanic.
Although the south-west of the island is flat, the remainder of the island is hilly, with the highest point being Pigeon Peak at 1804 feet. The island has a hilly "spine" down the middle, which is known as "The Main Ridge".
The Republic of Trinidad and Tobago has a population of approximately 1.2 million (CIA Factbook 2011) but the majority of people live on Trinidad. In 2000 (latest official figure I could find), Tobago had a population of 54,084 so it's a nice, low key island.
Location
Tobago can be found all the way in the southern Caribbean Sea, to the south-east of Grenada and about 20 miles to the north-east of its sister island, Trinidad. It's not far off the coast of Venezeula.
You can check out our page of maps of Trinidad and Tobago to see exactly where it is.
Flights to Tobago
Tobago isn't the easiest island to get to and will sometimes require an overnight stay in Trinidad (as we had to do).
We have lots of information on flights as well as a great search tool to make sure you are getting the cheapest price available. You can read all about it on our flights to Tobago page.
(You might want to check out our #1 tip for cheap airfare to the Caribbean as well as our other tips for cheap airfare to help make your trip more affordable.)
Hotels in Tobago
As you plan your Tobago diving trip, you will see that you have quite a few resorts to choose from. Most of the hotels are located on the southern part of the island but we chose to stay on the northern tip.
When we made the decision to stay on the northern tip, it was influenced by the fact that the northern tip was considered to have better diving. You can read our review of where we stayed on our Tobago hotels page.
For more information, check out our page on hotels in Tobago.
Weather
Tobago has a wonderful tropical climate with year round sun and constant warm temperatures. So you can enjoy the beaches and whatever else you're into when you are not doing some Tobago diving.
The climate of Trinidad and Tobago is kept steady by the north-eastern tradewinds which mean that daytime temperatures stay at about 84-85ºF and night-time temperatures only drop to the low-mid 70's F.
The breezes affect Tobago more than Trinidad, so the island tends to be slightly cooler.
There are two main seasons, summer and winter. The winter or rainy season runs from June to December and the summer or dry season runs from January to May.
Tobago is green and lush during the rainy season and it does not rain every day, usually just 10 minute showers from time to time. Trinidad and Tobago have an average rainfall of about 40 inches.
As far as hurricanes are concerned, both Trinidad and Tobago are located south of the hurricane belt. The islands were last affected by a hurricane in 2004 when they were brushed by Hurricane Ivan, which caused some damage to trees and property and one death. Before that, the last damage was caused by Hurricane Flora in 1963.
Water Temperature

Water temperatures around Tobago are pretty constant, ranging from about 80-85ºF between November and May and 77-83ºF between June and November, making Tobago diving a real pleasure.
Most people scuba diving in Tobago during the warmer months are happy to use a 3mm shortie wetsuit. Of course, it all depends on your cold tolerance.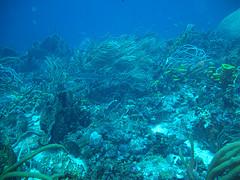 I wore 3mm shorties for all of my Tobago diving and I was fine.
The best water visibility is around Speyside, to the north of the island (except during rainy season), with Tobago diving visibility ranging on average from 50-100 feet with the norm being around 80 feet.
Our visibility when we went (January) was right around 80 feet.
Visibility is typically reduced in the wet season due to the runoff from the Orinoco River in Venezuela. You can sometimes see the 2 layers of water. Visibility in the top 10-20 feet or so can be reduced to 20-30 feet with visibility improving the deeper you go.
Reefs and Rides
Tobago scuba diving is done mainly in two areas - on the southern tip of the island and off the north coast with the majority of dive sites off of the north east coast.
Most dive sites are located a short boat ride from shore. In the north, most sites are less than a 15 minute boat ride. Some of the sites off the north west coast can be closer to a half hour+ ride if you leave from the resorts on the northeast side (around Speyside).
Tobago Diving
Tobago diving is an experience. And depending on what area you dive in, your experience will be different.
The south of the island is generally regarded as better suited for the beginner diver while the north has more intermediate to advanced dive sites.
Not that there are not appropriate sites for either level of diver in both locations, but if you are more of an intermediate+ diver you will probably be happier with Tobago diving up north.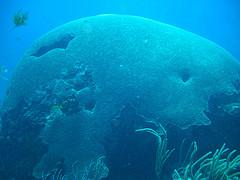 When I went scuba diving in Tobago, I only dove on the northern part of the island so that is what I will address here.
We stayed at the Blue Waters Inn in Speyside so all our diving was done from there.
Tobago diving has a reputation for having mantas, especially during the prime months of January and February. We went in January with high hopes of catching sight of one. Unfortunately, we missed out and didn't see any during our week of diving there. It appears the sightings of mantas are not nearly as numerous as they once were.
(I finally saw my first manta when we went diving in the Similan Islands off of Thailand. It was spectacular and I can't wait to see one again.)
Although conditions obviously vary day to day and site to site, there can be strong currents in the north. We had quite a few dives that had strong currents - stronger than the currents we usually experience while diving in Cozumel.
There are some fun places when you dive in Tobago where you feel like your are "flying" through a cut. The most famous one is probably "London Bridge" which looks like a bridge out of rocks, hence its name.
When we went to dive it, the surf was really pounding and the waves were splashing. The divemaster said we were going there and I thought - "You have got to be insane. I'm not doing that dive." Luckily he was only kidding. Conditions were too rough to do it that day. Maybe next time.
We saw lots of marine life during our Tobago diving - queen angels, lobsters, eels, rockfish, arrow crabs, and turtles to name a few. Not to mention some huge brain corals.
Overall, I really enjoyed Tobago diving. It's nice that it is fairly isolated so you don't get the crowds like Cozumel. There are a few dive operators in and around Speyside but it is still nothing like many of the other Caribbean islands.
If you like a laid back, slow atmosphere with no crowds and above average diving, this may be the spot for you.
Topside
If you're on the north side, don't expect alot of action while you are offgassing. It's all about taking it easy and relaxing.
On our day off of diving, our group (6 of us) hired a driver to show us around the island and visit some sites and beaches. It was a fun outing (if too long) and we went to some really nice beaches.
There is really no "must do" on Tobago (IMO) - just enjoy the island and the slow pace.
If you are staying on the north side, it is a long and windy road to the other end so don't expect to easily and quickly go to the south end for an attraction.
The most built up side of the island is the Caribbean side, where you will find beaches with facilities such as changing areas, rest rooms and nearby bars and restaurants.
If you don't want to spend your days lazing on the beach after you scuba Tobago, the island has some other attractions including:
Guided tours of rainforests and waterfalls.
"Sunday School" - Barbecue, street stalls, reggae, calypso, steelpan music, beer and rum are the ingredients of this weekend event near Buccoo Beach (on the southern side).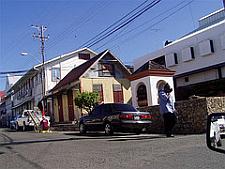 Carnival – Nothing more needs to be said. In February. Trinidad has the huge festival.
Arnos Vale Sugar Estate – Museum, waterwheel and island wildlife.
Scarborough – Visit Fort King George and its museum.
Like I said, no absolutely "must do."
This is also a spot that is very popular for birdwatching. When we were at Blue Waters, I would say there were more bird watchers than divers. Not two groups you really think of together. It adds to the different atmosphere.
If you go, we hope you have a great time doing some Tobago diving.
---
---
Have a great dive!
Photos courtesy of truello, Paul Mannix, Smabs Sputzer and Keith Rock. Thanks!
Top of Tobago Diving
Main Caribbean Diving Page
Return to Scuba Diving Home
---
---
 Want to stay down longer and improve your buoyancy control and other diving skills? Our free report "Increase Your Bottom Time" along with our practical, weekly actionable tips will have you looking like a seasoned diver in no time. So come join us and see improvement on your very next dive!
(Click on the photo to join us now!)
---
---