Hotels in Tobago:
Find the Best Deal
You'll find that you will have quite a few hotels in Tobago to choose from for your vacation. Whether you are on a budget (and who isn't these days?) or want to splurge, you can find something to fit the bill.
When we went to Tobago, it was for a scuba diving vacation with a group of friends.
(You can read more about our experience on our Tobago diving page. You'll also find general info about the island such as location, weather, water temperatures, etc. on the page.)
We stayed at the Blue Waters Inn Tobago (will open in our partner's website). This is one of a few Tobago hotels located on the north part of the island. The majority of hotels are located on the southern part of the island.
We chose to stay on the northern tip since we were there to scuba dive and the scuba diving is generally considered to be better (and more advanced) on the northern tip.
Of the hotels in Tobago on the northern tip, we chose Blue Waters since it was on a nice beach and had a dedicated dive shop right there on the property. We had also read good reviews of the hotel.
If you would like to be more near the "action" (as it may be on Tobago), you may be happier staying closer to Scarborough.
View of bay where Blue Waters Inn Hotel in Tobago is located. Great view, isn't it?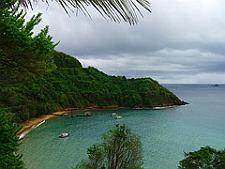 While it is not a luxury property, the facilities were fine and we would recommend it. I wouldn't hesitate to stay there again.
Since we weren't able to get to Tobago on the same day from New York, we also had to spend a night in Trinidad. We stayed at a little guesthouse that wasn't too far from the airport. Unfortunately, I cannot recall the name of the guesthouse.
If you need to spend the night in Trinidad due to connections, I think the best thing to do would be to ask the Tobago resorts you are interested in for their recommendation. Most places usually have a place they recommend on Trinidad in case their guests have to spend the night like we did.
If you are interested, the top rated hotels in Tobago are  Coco Reef Tobago (it's in Crown Point, not Speyside), Gloucester Place (on northeast coast, more b&b type accommodations) and Hummingbird Hotel.
No matter where you stay on the island, though, you will want to make sure you are getting the best deal available.

Top of Hotels in Tobago
Return to Main Caribbean Page
Return to Scuba Diving Home
---
---
 Want to stay down longer and improve your buoyancy control and other diving skills? Our free report "Increase Your Bottom Time" along with our practical, weekly actionable tips will have you looking like a seasoned diver in no time. So come join us and see improvement on your very next dive!
(Click on the photo to join us now!)
---
---