Flights to Tobago:
General Info and How to Get the Best Deal
When looking for flights to Tobago, you'll probably discover you will have to make a connection. Unfortunately, there are not many direct Tobago flights.
Beautiful water view in Tobago
Of course, this is what keeps the island somewhat less developed than other Caribbean islands - which is a good thing in my opinion.
The most common place for a connection is its sister island Trinidad, which is just a short plane ride away.
Trinidad has quite a few direct flights from other gateways so this will likely be a stop for you.


Trinidad and Tobago Airports
If you first land in Trinidad, their airport is the
Piarco International Airport (airport code POS)
, about 20 miles from the capital city of Port of Spain.
The airport on Tobago is the Crown Point International Airport (TAB), located on the southwestern end of the island and about 7 miles from the main city of Scarborough.


Flights from Trinidad to Tobago

If you do have to make a connection from Trinidad to Tobago, there are frequent flights to get you there.
The main airline making these runs is Caribbean Airlines (formerly BWIA) with over 20 flights scheduled per day.
The first departure is scheduled at 5:45 am from POS and the last flight from Trinidad to Tobago is scheduled for 9:30 pm.
The flight takes about 25 minutes.


Tobago Flights From the US and Canada
If you are coming from the US,
American Airlines
offers 2 non-stop flights daily from Miami (MIA), one in the morning and one in the evening.
If you arrive on the later flight you will have to stay overnight in Tobago since you miss the last scheduled transfer from Trinidad to Tobago.
Tobago flag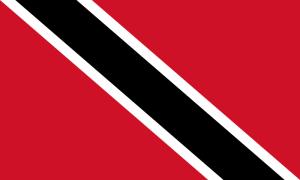 (We had to stay overnight when we went to Tobago since we were on the second American flight.
I for the life of me can't remember the name of the place we stayed. It was a little guesthouse and was close to the airport. The owner picked us up (for an extra fee if I remember correctly) and dropped us off in the morning.
If you do have to stay overnight in Trinidad, just inquire with the hotel you are staying at on Tobago. They usually have an affiliation with someplace in Trinidad and should be able to recommend a few options.)
American also offers a direct flight from San Juan to Port of Spain, Trinidad. If you get this flight, you will also have to stay overnight in Trinidad.
Continental currently offers 1 non-stop a week from Newark (EWR) on Saturday afternoon with more frequent direct service from its hub in Houston (IAH).
Caribbean Airlines also offers daily non-stop flights from Miami, New York (JFK), Fort Lauderdale (FLL) and Toronto (YYZ).
Delta is currently flying a non-stop flight from Atlanta (ATL) to Tobago on Saturday with the return flight on Sunday. Note, however, that this service is only once a week and there are reports that it will soon be canceled.
If you are coming from Canada, Skyservice offers weekly non-stop flights on Tuesdays from Toronto to Port of Spain with a return flight also on Tuesdays.
Caribbean Air offers daily non-stop service from Toronto.


Tobago Flights From Europe
If you are coming from Europe,
Condor
offers weekly non-stop flights to Tobago on Sundays from Frankfurt (FRA) with the return flight also on Sunday.
The now defunct Tobago Express. Flights from Trinidad to Tobago are now handled by Caribbean Airlines.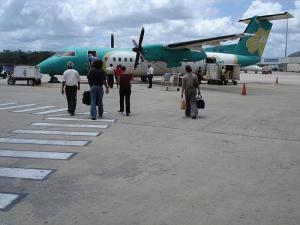 British Airways offers flights to Tobago from London (Gatwick) via Antigua on Wednesday, Thursday and Sunday.
Virgin Atlantic flies from London (Gatwick) to Tobago weekly on Thursday with return flight on Thursday also.
Monarch Airlines in conjunction with Golden Caribbean has announced they will start new weekly non-stop flights to Tobago service from London Gatwick (south terminal). The flight will run on Wednesdays and begin on December 17, 2008.


Tobago Flights From Other Points

If you are flying from another point in the Caribbean, the two major airlines offering flights to Tobago are Caribbean Airlines and Liat.
Liat flies to Trinidad from Curacao, Grenada, Antigua, St. Vincent, St. Lucia and Barbados. It offers flights directly to Tobago from Grenada and Barbados.
Caribbean Airlines offers direct service to Tobago from Grenada and Barbados.
From South America, the most flights to Tobago are offered from Caracas and Porlamar, Venezuela and Georgetown, Guyana.


So, as you can tell, it may take a bit of an effort to get to Tobago. Whether you are going for some Tobago diving or not, you will probably find that it is worth the effort.
As you know though, things can change frequently in the airline industry. So while the information is currently accurate, you will have to check to see what is still operating when you want to go. But the above flights to Tobago are good places to start.
You might find some of our other pages on Tobago useful while you are planning your trip:
Tobago Diving and General Info //Map of Trinidad and Tobago//Hotels in Tobago
Photo of plane by jscatty, water view by Keith Rock. Thanks!


Top of Flights to Tobago
Main Caribbean Diving Page
Return to Scuba Diving Home
---
---
 Want to stay down longer and improve your buoyancy control and other diving skills? Our free report "Increase Your Bottom Time" along with our practical, weekly actionable tips will have you looking like a seasoned diver in no time. So come join us and see improvement on your very next dive!
(Click on the photo to join us now!)
---
---