Prescription Scuba Mask
RX Lenses or Inserts So You Can See Clearly
If you wear glasses or contacts, a prescription scuba mask can make your dives much more enjoyable.
After all, you want to see the great sights underwater clearly. Not to mention your gauges.
Personally, I wear contact lenses and have been diving with them since I got certified over 15 year ago.
However, if you prefer not to dive with your contacts or don't wear contacts, a custom mask or inserts may be the solution for you.
And you can avoid losing a contact like I did when I took off my mask and a wave took off with one of my contacts.
Since I am pretty much blind without my contacts, I always now carry a spare pair of contacts in my dive bag. Live and learn.
(If you ned more general information on masks, take a look at our dive mask buyers' guide.)
A dive mask prescription is probably a must for divers that can't wear contact lenses. Luckily, prescription masks are pretty common today and there are many places to have it done.
With this type of mask, vendors can either replace the lens in your mask with a lens of your prescription or put in inserts behind the current lens.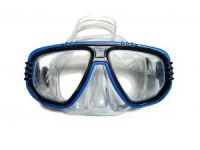 The inserts would be specifically for your eye prescription and are bonded to the lens. You can even get bifocals done for your mask and also correct for astigmatism. Your specific prescription can be fit into any dive mask that you choose so there is no need to buy a new mask.
Manufacturers also offer scuba masks with lenses already premade and the same prescription in both eyes. You choose the prescription that fits your needs. Some divers find this adequate to use underwater. The premade prescription mask would obviously be cheaper than custom made scuba diving masks.
As I stated above, I dive with contact lenses and have never had a problem with them. I wear the soft daily lenses.
I've never dove with hard contact lenses so I do not know how they would respond to pressure. If you wear lenses, you should consult your eye doctor to see what they recommend in your case before you dive with lenses for the first time. Let them decide whether you would be better off with a prescription scuba mask or diving with contacts.
If you are looking for a source for a rx mask, one site I found which seems very professional is www.prescriptiondivemasks.com. I have also seen this company at dive shows. They even have a testimonial from Cathy Church, the renowned underwater photographer, on their site.
Good luck getting a prescripton mask. I hope you have many clear dives ahead of you.
If you need more information on masks, you may want to check out other pages:
Scuba Diving Mask Introduction //Scuba Diving Masks: Basic Info //Scuba Dive Mask: Care, Maintenance, Defogging Tips //Features of a Scuba Snorkel//Choosing the Best Snorkel for You//Folding Snorkels//Dry Snorkels
Looking for other scuba equipment and accessories? Check out our picks for best dive equipment.
---
---
 Want to stay down longer and improve your buoyancy control and other diving skills? Our free report "Increase Your Bottom Time" along with our practical, weekly actionable tips will have you looking like a seasoned diver in no time. So come join us and see improvement on your very next dive!
(Click on the photo to join us now!)
---
---