Folding Snorkel
Pros and Cons and Our Pick For
Best Collapsible Snorkels
To use a snorkel or not while diving? Is the folding snorkel an answer to this age old debate?
Have you ever found yourself explaining to another diver on the boat why you are using a snorkel while you are scuba diving?
Or perhaps you heard someone snicker that you had a snorkel on your dive mask. Maybe you got caught up in or overheard a debate about the benefits of using a snorkel while diving.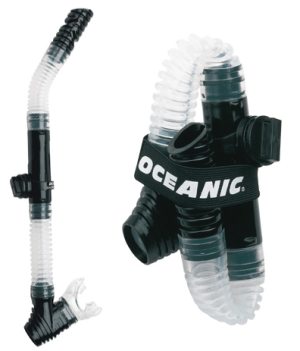 If you ever found yourself in any of these situations, you know that there are 2 camps when it comes to scuba diving and snorkels.
In one camp is the side that says they would never be caught without a snorkel during a dive. They want it on the surface in case of rough water, a long swim back to the boat, an emergency situation, etc.
In the other camp are those that say a snorkel is useless and can only create problems by catching on things, getting in the way, banging their head, etc.
Whichever side people are on, they are very passionate about their opinion.
Go to a scuba forum, ask the question whether you should use a snorkel while diving, and watch the comments fly.
Will a folding snorkel put an end to this debate? And what exactly is a fold up snorkel?
A folding snorkel is exactly what it sounds like - the snorkel is folded in half or in thirds and can then fit comfortably in the pocket of the diver's BCD.
The diver can keep the snorkel in the pocket the whole time and only take it out if needed.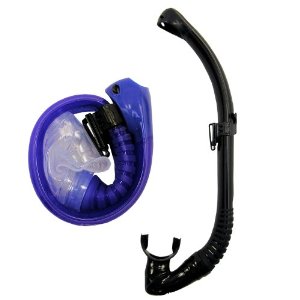 Or, alternatively, the diver wears the collapsible snorkel on the surface while waiting to descend, takes the snorkel off before or while descending and puts it back on the mask after surfacing when the dive is over.
Seems pretty straightforward.
I have never used a snorkel that folds so I can't give you a review of how they work. However, I have read many positive reviews of folding snorkels.
People that have them seem to be converted to this type of snorkel.
One thing you would want to test out before going underwater with a snorkel that folds is how easily they detach. Make sure you can do this pretty effortlessly, or you will end up leaving the foldable snorkel on your mask and defeating the whole purpose.

Where do you fall in this debate?
Which side of the debate you fall into is obviously your personal opinion.
I can see merits on both sides of the argument.
Personally, I always wear my snorkel when I am diving. I have had no major problems with it and typically use it while I am waiting on the surface - both before and after the dive.
I still use my old basic snorkel that I purchased over 15 years ago when I first started diving. As far as I remember, folding snorkels weren't even available back then.
Starting to feel old here.
There are some alternatives to this debate which can be tried if you don't like the idea of a foldable snorkel. You could attach your snorkel to your BC or put it under your knife strap if you wear one. These ideas might be a good compromise if the snorkel bothers you while it is on your mask.
Just make sure that snorkel is attached securely so it doesn't end up on the ocean floor.
So What are the Pros and Cons of a Fold Up Snorkel?
Pros:
Nothing hanging while you dive

Avoids drag and snags (good if diving in current, kelp, etc.)

Accessible in case of need

Easily fits in BC pocket; good for travel
Cons:
May not have as many features as regular snorkel

Possibility of dropping it as you transfer it from pocket

May not stay attached underwater (depends on connection)
Our Pick For Best Folding Snorkel
If you think this type of snorkel is for you, we recommend you try this Oceanic foldable pocket snorkel.

It gets top ratings and reviews from users. Reading through the many reviews, these are the pros and cons of this model:
Pros:
Easy to reattach after dive is completed

Fits securely back on mask

Compact

Comfortable mouthpiece

Resistant to flooding; though one reviewer said his was pretty wet
Cons:
May not stay attached if used during a dive

Not as many features as some regular snorkels
Although I have never used this type of snorkel, I can certainly see its merits. I may have to give it some thought. What about you?
---
Why don't you let us know what you think about this issue? We'd love to hear your opinions. Join us in the discussion below.
For more information, check out our other pages on snorkels:
Features of a Scuba Snorkel//Choosing the Best Snorkel for You//Dry Snorkels
---
---
 Want to stay down longer and improve your buoyancy control and other diving skills? Our free report "Increase Your Bottom Time" along with our practical, weekly actionable tips will have you looking like a seasoned diver in no time. So come join us and see improvement on your very next dive!
(Click on the photo to join us now!)
---
---