The Dry Snorkel:
How it Works, Features, Advantages/Disadvantages Plus Our Picks For Best Dry Snorkel 
Updated for 2020
You've heard of a dry snorkel but aren't sure if it is for you? We'll take you through the pros and cons of this snorkel and hopefully make that decision a bit easier.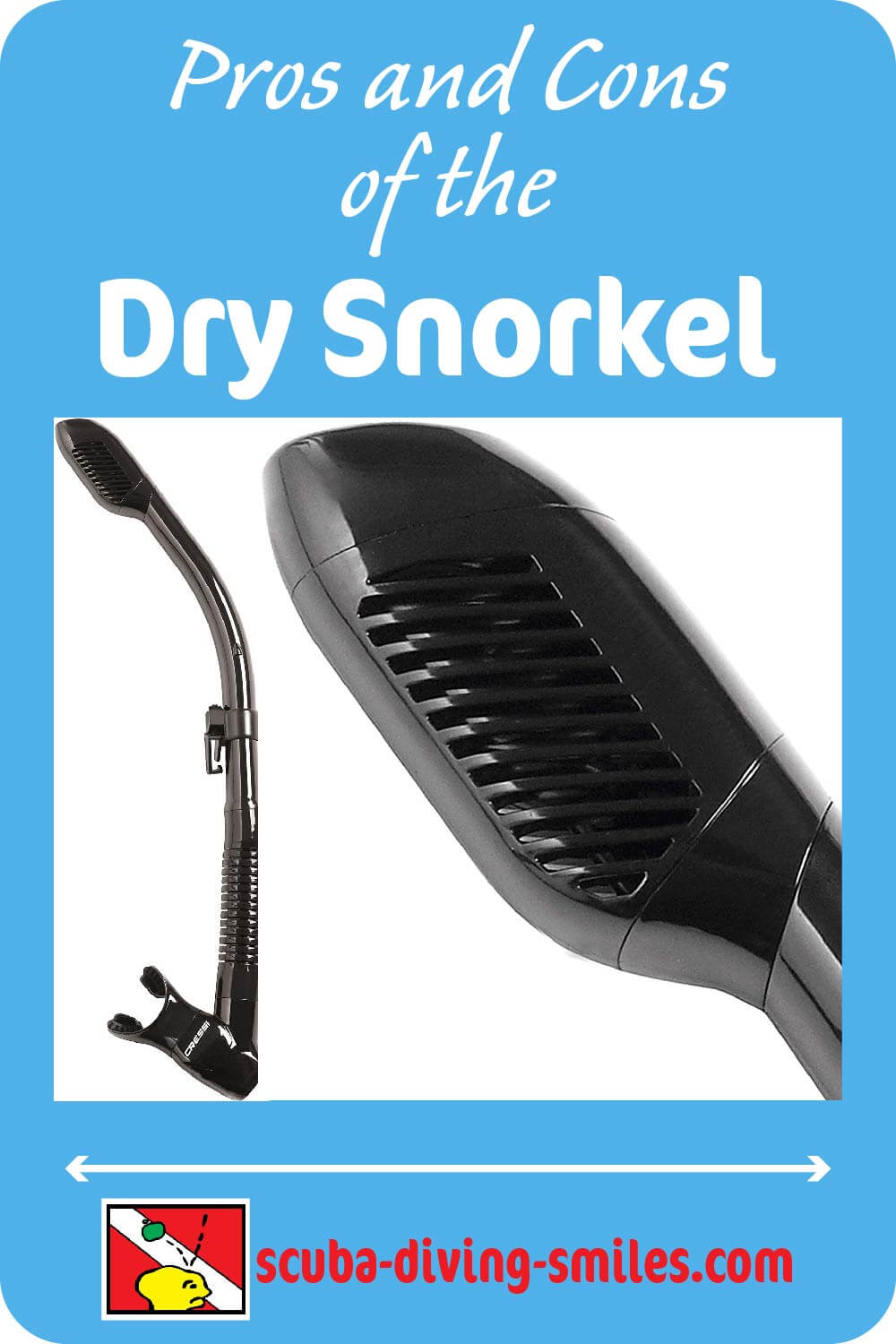 If you've been shopping for snorkels, you know there are tons of styles and features out there.
When you think about it, it's pretty amazing there are so many out there since the snorkel is the most basic piece of scuba gear you can find. But now there are lots of bells and whistles you can choose from in a snorkel.
(You can read our page on all the features of a scuba snorkel available to choose from for more information.)
OK, let's start with the basics - what is a dry snorkel?
It is a snorkel that has a mechanism that lets a minimal (or no) amount of water into the snorkel. This includes when you accidentally submerge the snorkel or when the snorkel goes underwater while you are skin diving or scuba diving.
If some water does get into the snorkel tube, it is channeled out of the tube so it does not interrupt the flow of breathing.
There will be some type of float valve mechanism on the top of the snorkel that will close when the snorkel is submerged and open when the snorkel is on the surface.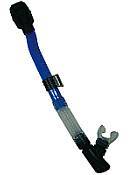 With this type of snorkel the diver should never have to clear the snorkel of water. This will save some energy and should make for a comfortable surface swim.
So what are the advantages of a dry snorkel?
No Water
Obviously this is the biggest advantage of these types of snorkels. If they work properly you should not get that mouthful of water which inevitably happens with other types of snorkels.
Saves Energy
These snorkels should allow the snorkeler to conserve some energy and swim more efficiently. The person won't have to forcefully blow air out the tube or raise their head to clear out the snorkel. Ideally, it will be one uninterrupted swim.
What about the disadvantages of a dry snorkel?
Possible Air Blockage
Some people have reported that sometimes the valve on the snorkel will close when it is not supposed to, making it difficult to get a breath. Of course, all you have to do is raise your head to get air but this pretty much defeats the purpose of this type snorkel.
Buoyant Underwater
I have also read reviews from scuba divers who complain that the snorkel bangs them in the head underwater and "floats" around. Of course, this can, and does, happen with any type of snorkel.
Bulk/Drag
Many of these snorkels come with other bells and whistles, making it bulkier than the plain jane snorkels. This can cause more drag and may cause it to pull on your mask more than a streamlined snorkel.
Reading about people's opinions and reviews of these types of snorkels online, there seem to be 2 themes that reoccur.
The first is "I absolutely love this snorkel" and the second -"I haven't used it in a long time, want to buy it?"
I found more positive opinions of the snorkel when people were using them for pure snorkeling and not for scuba diving. This may be something to take into consideration if you are thinking of using this type of snorkel while diving.

---
Best Dry Snorkel Recommendations 2020:
---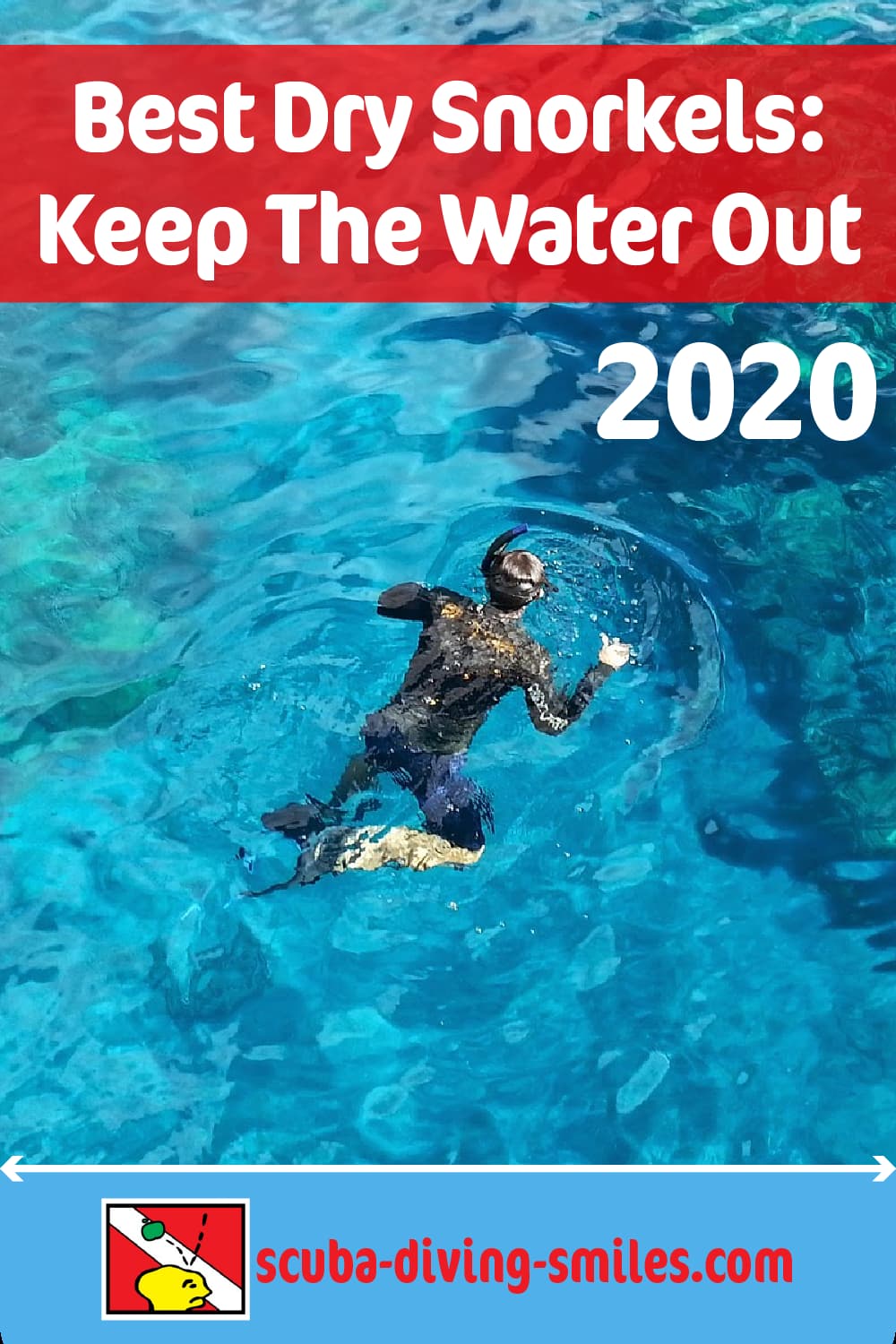 We have updated our list for 2020 so you have all the most up to date choices out there. This year we have added a second choice for best dry snorkel (because who doesn't like options) and also added our pick for Best Value dry snorkel (because who doesn't like to save money). I think all these choices are good solid options and will serve you well whether scuba diving, snorkeling or swimming laps.
Choice #1: We have looked at and read many reviews and ratings of the dry snorkels that are available. Given the pros and cons of each snorkel and the overall satisfaction of users, this model has once again maintained its spot as our #1 pick in 2020. 
This Cressi model continues to get great reviews from users and has earned a rating of 4.7 out of 5.0. This rating is up from last year and comes from over 1,700+ reviewers, so obviously a popular model. Can't get much better than that.
The snorkel has a soft silicone mouthpiece and a flexible tube making it very comfortable for users. It also has a large purge valve at the bottom which makes it easy to expel water, a key consideration in any snorkel.
It does a great job of keeping water out of the tube while you are snorkeling in all conditions.
After reading through the numerous reviews, I see the pros and cons of this best snorkel as follows:
Pros:

Comfortable and flexible mouthpiece
Purge valve works well
Keeps water out well

Lightweight, comfortable in mouth

Tube soft and pliable
Attaches easily and securely to mask
Great value

Cons:

Water gets in when freediving (several users)
Top mechanism got stuck, not letting in air (several users)

Mouthpiece on small side (a few reviews)

Overall, we thought this snorkel earned the top spot since it gets very high marks for comfort, resistance to flooding and its purge valve. All of these are important features in a dry snorkel and they will help make your snorkeling experience that much more comfortable. And as an added bonus, the price is very reasonable.
---
Choice #2: The #2 dry snorkel recommendation has flipped a bit for 2020. This was our pick for Best Value Dry Snorkel last year and it retains that title in 2020. However it has also pulled ahead of our #2 pick in our overall list from last year as it has garnered a strong following and a large increase in the number of positive reviews during the past year.
For our #2 overall pick in 2020 we have an Aegend model. It scores an impressive 4.6 out of 5.0 based on 650+ reviews (last year when we reviewed this model, it had under 40 reviews!)
This model boasts a quick release clip which gets great reviews from most users. It is easier than the standard clip as it opens wide to put your strap in.
The Aegend also has a flexible mouthpiece that is replaceable if you have any problems with it down the road. Like our other 2 picks, it also has a purge chamber at the bottom of the tube making it easy to expel any water that may get in.
This model also comes apart making it easy to pack and a great travel snorkel.
The pros and cons of this best value pick after reading the reviews are:
Pros:
Fits well
Keeps water out
Good quality
Easy clip
Good length
Inexpensive/great value
Comfortable
Cons:
Clip does not swivel
Mouthpiece too large (3 reviews)
A bit heavy and not flexible (2 reviews)
Mouthpiece too small (3 reviews)
---
Choice #3: Our pick for #3 was edged out of the #2 spot for 2020. It did come in close scoring a strong 4.6 out of 5.0, same as our #2 pick. However, the number of reviews (600+) for the Aegend model (our number 2 pick) gave it the edge. Nevertheless, this Phantom model has an excellent score and a very respectable 240+ reviews which I think it makes a good solid choice.

This Phantom model features a quick release buckle which makes it easy to detach from your mask. And if you have every struggled with a clip you are sure to appreciate this feature.
It also has an angled mouthpiece making it comfortable to use in the water. The mouthpiece can also be replaced if it starts to wear after lots of use - saving you money in the future.
The Phantom also has an easy purge system with a generous sized self draining chamber which is what you want in a dry snorkel. An easy self draining purge of any water that may get in.
After reading the many reviews of this model, here are my list of pros and cons:
Pros:
Comfortable mouthpiece
Keeps water out well
Easy to use/breathe
Good quality
Streamlined/good alignment
Great value
Cons:
Float got stuck (a few reviewers)
Noisy when breathing (2 reviewers)
Let water in (several reviewers)
Tube too narrow, harder to breathe when under exertion (1 reviewer)
---
Best Value Dry Snorkel Recommendation 2020
Last year when we first gave a pick for Best Value Dry snorkel, our pick didn't make the list for  best overall dry snorkel. As I wrote above, however, that has changed for 2020.
Our pick for Best Value Dry Snorkel in 2020 is the Aegend model which continues to forge ahead and has also won the #2 spot on our list for best overall dry snorkel. 
So if you are in the market for an inexpensive yet well performing snorkel you can read all about our pick for best value in the section above in the #2 spot, the Aegend snorkel. 
So once again it has been shown that you don't have to spend a boat load of money on a snorkel to get the job done.
---
---
For more information on masks and snorkels, check out our free guide here.
---
---
 Want to stay down longer and improve your buoyancy control and other diving skills? Our free report "Increase Your Bottom Time" along with our practical, weekly actionable tips will have you looking like a seasoned diver in no time. So come join us and see improvement on your very next dive!
(Click on the photo to join us now!)
---
---