Scuba Snorkel Features
Basics About This Breathing Tube For
Diving And Snorkeling
A scuba snorkel comes in very handy on the surface. While you are waiting to descend, you can float easily on the surface and take a look at all the sights below - without raising your head or using the air in your tank.
And conserving air is a priority for just about every diver.
We have probably all experienced those days when it seems like we are waiting an eternity for all the divers to get in the water.
I, for one, would rather use my air underwater than on top. While it may not be a huge amount, I want all the air I can have underwater.
A snorkel can also save you a significant amount of air if you are doing some shore diving. If the conditions warrant it, save those scuba regulators for the dive itself.
A good idea?
As a diver, I think it is always a good idea to have a snorkel or a regulator in your mouth while you are on the surface. You never know when an unexpected wave will catch you.
Of course, that is only my opinion and the question of whether to use a snorkel while scuba diving is a heated topic.
There are strong opinions on both sides of the argument. It all comes down to personal preference so do what is best for you and what makes you the most comfortable.
So what do we need to know about dive snorkels?
Scuba Snorkel Basics
At it's most basic, a snorkel is simply a hard tube that lets a person breathe when they are facedown in the water.
A simple snorkel is usually hard and inflexible and is the shape of a "J". This is usually the model you will receive when you sign up for snorkel trip on a cruise or at a resort.
It can get the job done but it is usually not very comfortable or efficient.

Luckily, there are now many more options available for a snorkel that makes it more user friendly and comfortable to use.
Here are some of the features to consider when you are looking to buy a snorkel:
Purge Valves
Some snorkels have a purge valve which clears water that gets into the snorkel. It is a thin membrane at the bottom of the mouthpiece and is a one way valve. This way water can get out but water can not get into the snorkel.
Some purge valves work automatically and will drain the water as it collects while others drain upon exhale.
If there is no purge valve, a snorkel may have a little reservoir where water can collect so the diver doesn't breathe it in. Water is expelled by either tilting the head back, forcefully blowing the air out or taking the mouthpiece out of the mouth and draining the water.
Flexible Barrels
Many dive snorkels today have flexible sections which connect the main barrel to the mouthpiece. This flexibility makes it more comfortable to hold the mouthpiece in your mouth as opposed to the simple rigid "J snorkel."
It also has the added advantage of allowing the mouthpiece to fall away from the divers mouth when he releases it. This avoids contact with the regulator or regulator hose.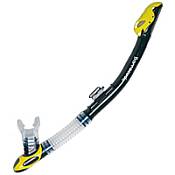 Rotating Mouthpieces
Some scuba snorkels have a mouthpiece that rotates with your movement thus reducing jaw fatigue.
Open Top/Semi-dry
The simplest top of a scuba snorkel is simply an open hole. There is nothing to block water from going into the snorkel if you are hit by a wave or accidentally submerge the snorkel.
Many snorkels now come with a splashguard which will prevent some of the water from entering the snorkel tube.
If a wave hits you, most of the water should not, theoretically anyway, enter the tube. This type of snorkel does not block water from entering the tube if the tube is submerged.
Dry Snorkel
This type of snorkel does not allow water to enter the tube either on the surface or when the snorkel is submerged. You can read our page about dry snorkels for more details (see link below).
Now that you have an idea of what features are available on a scuba snorkel, hopefully your purchasing decision should be easier.
Continue on to our page about choosing the best snorkel for you.
For more information, check out our other pages on Folding Snorkels and Dry Snorkels.
Looking for other scuba equipment and accessories? Check out our picks for best dive gear here.
---
---
 Want to stay down longer and improve your buoyancy control and other diving skills? Our free report "Increase Your Bottom Time" along with our practical, weekly actionable tips will have you looking like a seasoned diver in no time. So come join us and see improvement on your very next dive!
(Click on the photo to join us now!)
---
---