What is the Cost of Scuba Diving?
How Much to Get Certified, The Price of Equipment And The Price of Dives
Well, as you can imagine, the cost of scuba diving and certification is one of those areas that does not have a precise answer. There is a wide range that scuba diving prices can fall into depending on where and when you scuba dive.
However, I will try and give you ballpark figures so you'll have some idea what you might be in for.
I will say one thing though - it is not the cheapest hobby we could have picked! But all that fades away once you underwater and enjoying the beautiful scenery and marine life.
So what will you have to spend to get under? Let's take a look.
The Cost of Scuba Diving Certification
To begin with, first you need to get certified.
As I discuss on my certification page prices for the course and pool work portion of your scuba diving certification can range anywhere from around $200 to several hundred.
I think $250-$350 is probably about average for the course and pool portion.
If you take the book portion online through PADI, the course currently costs $195. You still have to pay for your in water training and open water dive portions of the course.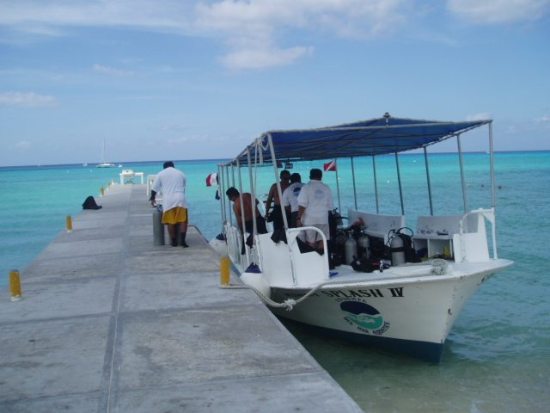 The price of your open water certification dives vary depending on where you take them. For instance, looking on the internet, two operators in Grand Cayman (one of the more expensive places to dive in the Caribbean) were charging $325 and $349 for the 4 certification dives.
I also checked some prices in Cozumel which is usually less expensive. However they seem to have caught up with Cayman :(. Looking up 4 dive shops, the 4 open water referral prices ranged from $297 to $325.
So I checked in Roatan, Honduras, another place I have done quite a bit of diving and which usually has some inexpensive prices for diving. Looking a few dive shops there, I saw a range of $220 to $280, so not cheap but cheaper than the other locations.
So scuba diving prices for your 4 open water referral dives can vary fairly widely depending on where you go. Estimate about $225-$325 or so on average.
So figuring in the cost of your book, pool and open water certification dives, total cost of scuba diving certification will probably be about $450-$650. Using the same operators I mentioned above as an example, the total cost of scuba diving certification (book, pool, open water) through them would be $475 and $675.
Another Scuba Cost: Dive Equipment
Adding to your scuba cost is the the fact that you will probably want to get (or will be required by your course instructor) to get your own mask, fins and snorkel (I discuss this further on my explanation of scuba gear page.)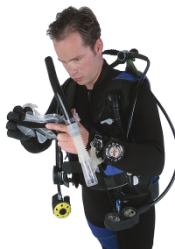 There is a wide amount of leeway here but figure about $200-$250.
If you want to get a full set of good quality gear (the above plus BCD, dive computer and scuba regulator), it can easily run you over $1,000.
But here (especially the regulator) is not the place to save money. After all, this is your life we are talking about.
Then you can get into buying all other sorts of accessories such as wetsuits, watches, dive bags, etc.
You can spend as much or as little as you want on these other items. Whatever works for your wallet.
Just be assured you don't need to buy every piece of equipment, especially when you are just starting out. In fact, I would recommend against it.
When you begin, I would recommend just buying your mask, fins and snorkel.
Then dive for awhile and see how you feel about the sport and how much diving you will actually be doing. Some people stop after a few dives so there is no sense in making a large monetary investment right away. Give it some time.
In the meantime, you can use rental gear and see what features you like and dislike about a particular product. If you decide that diving is for you, you will be that much more familiar with the equipment and have a better idea of what works for you.
So go and enjoy your dives and don't worry about the equipment right away. Once you get acclimated and know you will be diving regularly going forward, then you can start thinking about buying your own scuba gear.
Scuba Diving Prices - Going Underwater
Once you are certified and diving in the tropics, the most common dives are 2 tank boat dives. As with the certification dives, the cost of your dives varies depending on the island and the operator.
As a ballpark, in the Caribbean you can expect to pay anywhere between $75-$130 for a 2 tank boat dive with closer to $100 more the norm.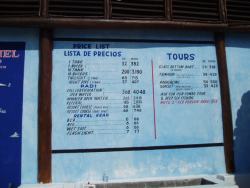 However, on our last dive trip (to Roatan) we paid $50 for a 2 tank boat dive so it was relatively cheap (they had a discount for doing 10+ dives with them). Looking online it would now be $60 for the 2 tank dive (with a discount for off season) plus $5 dive for rental gear. For our full report on our Roatan dive trip click here.
If you want to rent your gear (BC, regulator, computer) a set of rental gear for the day will be in the ballpark of $25-$50. Some operators include it in the price (not the norm) and some have a discounted price for week rentals.
So the real answer to the question "what is the cost of scuba diving?" - not cheap! (But it is worth it.)
See our page on getting started in scuba diving for more information.