Scuba Diving Bags Guide
Types and Styles – How to Choose a Dive Gear Bag
Choosing scuba diving bags can be a challenge. I know, like many things in diving, right?
The challenge here comes in the many different kinds of bags available to lug your dive equipment - from backpacks (some rolling, some not) to duffel style gear bags to hard case bags to mesh bags and more.
Not to mention the wide range in prices for different kinds of gear bags.
Plus, with all the travel restrictions on baggage these days, if you like to bring your own gear on your dive trip, you want a bag that will fit your needs and still be able to pass through that luggage check with no problems.
Which one is best for you pretty much depends on how you dive and where you plan to use the bag.
But before we get to that, let's first review the different types of scuba gear bags available and what to look for when buying a dive bag.
Types of Scuba Diving Bags
Back Pack Style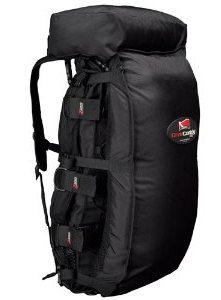 This style of bag is arguably one of the more comfortable styles. You sling it on your back and have your hands free for other pruposes.
I find this type of bag more comfortable than a duffle type bag (see below) since the weight is distributed evenly over your shoulders rather than over one shoulder.
Some back pack style scuba diving bags also have wheels so you can have an additional carrying option.
Of course, there are other features you can find in this style and, as with most things in life, the more features - the more money. No surprise there.
Pros:
 

Comfortable, weight evenly distributed; hands are free
Comes in many styles and sizes – including with wheels
Usually has outside pockets for storage and better organization
Soft sided so can be manipulated when traveling
Cons:
Can be more expensive than other soft sided models
If traveling with full dive gear can get heavy on back
Duffel Bag Style
This is the old tried and true type of dive gear bag. It is essentially just a big compartment where you can stuff all your gear into.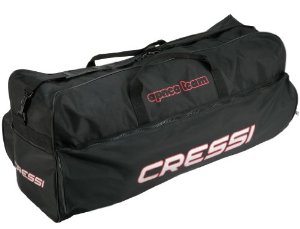 Like the backpack style, some duffel gear bags also come with wheels to make it easier to transport.
You can also find bags with other features – such as separate compartments, pockets, etc. All of which, of course, will add to the price tag.
We used a plain old black duffel bag for our dive gear when traveling for many years. It finally succumbed to the abuse with broken zippers and torn handles (we will cover what to look for in these areas below).
Pros:
Simple construction
Comes in many styles and sizes – including with wheels
Can find many inexpensive models
Roomy, large compartment so can fit lots of stuff
Soft sided so can be manipulated when traveling
Cons:
Can get heavy with full dive gear and other items stored away
Some styles are big open area with no compartments to organize items
Roller Bags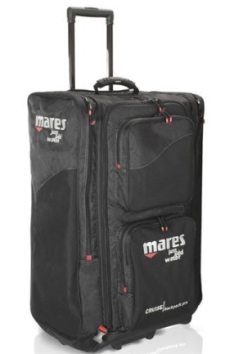 As noted above, these types of scuba diving bags can come in both backpack style bags or duffle bags. So it is more of a hybrid of the above two types of bags.
Whether it is a backback or duffel style gear bag, the wheels make it very easy to move that heavy dive equipment around.
This style is very versatile and is available in an infinite number of configurations.
Pros:
Many varieties and styles available
Can find items at all price points
Easy to transport a large amount of weight
Usually soft sided so can be manipulated when traveling
Cons:
Depending on wheel configuration and weight distribution, may tip over
If using as a backpack, wheels add to the weght of the bag
Hard Case Style
This is like the armored truck of scuba diving bags. The hard case dive bag can usually handle a lot of abuse.
These types of gear bags are usually used for more sensitive dive equipment such as cameras and housing, computers, etc.
Given their construction, hard case kits are usually the most expensive style of those listed here.
Pros:
Can take lots of abuse
tems well protected and secure
Cons:
Usually the most expensive type of gear bag
Hard cover so no room for manipulating size
Heavier than soft sided, size for size
Other Popular Types of Scuba Diving Bags
The above bags are primarily used to store all your main gear (wetsuit, BC, etc.) when traveling.
In contrast, the following types of gear bags are not your typical dive bags to check on the plane (with the possible exception of a large mesh bag).
The dive bags below are used primarily on the boat (mesh and dry bags) or to transport one piece of gear (regulator bag).
Mesh Bags
You can find many different types of mesh bags. Some are small and are good for carrying mask, fins, snorkel and other small items onto the dive boat.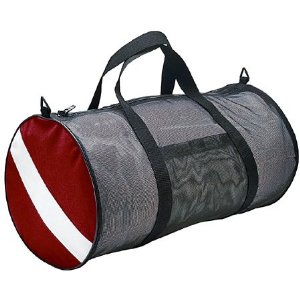 Others are big enough to bring all of your gear onto the boat. So whatever your preference is, it is available.
The mesh allows the water to drain out of the bag and allows air circulation in, helping the drying process.
We always carry a mesh bag that holds our mask, fins, snorkels, regs, etc. when going on a boat dive. We usually just carry our BC's since they both won't fit in the bag and it has worked out fine. Ours has a pocket on the outside that holds our lens drops, emergency repair kit, etc.
And, if you remember to take the stuff out of any pockets it may have, you can dump your whole bag in the rinse tank, a nice convenience if you are in a hurry.
Regulator Bags
This is probably the most popular type of specialty dive bag out there. As its' name implies, it is designed to just hold and protect your diving reg. It is usually padded and zippered.
Although you could pack it in your regular checked luggage, many people put it in their carryon since it is an expensive and sensitive piece of gear.
We don't have a regulator bag and typically just pack our regulator in our regular carry-on protected with clothes, etc.
Dry Bags
Dry bags are great for boat diving as it will protect items from getting wet. They come in many different sizes so you can find one that fit your needs.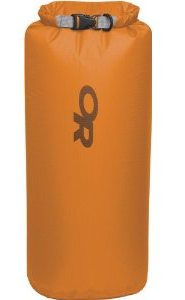 For instance, if you just want to protect your wallet, sunglasses, etc. a small one will suffice. However, if you like to have a nice dry towel after a dive, you can easily find large ones that will accommodate your needs.
We have several dry bags in various sizes and usually have one with us on every boat dive. It depends on the weather, where we do surface interval, etc. as to what size bag we will take with us.
One thing to consider is a clear dry bag, especially if you are using a larger size. Digging through a large dry bag is no easy task and it can be hard to locate items since you can't see what is in there.
It is not unusual to see the contents of our large dry bag all over the place as we hunt that one elusive object.
Of course, the downside of a clear dry bag is that if you have something valuable in there, other people can see it also. Nevertheless, when it comes to purchasing another dry bag I will probably opt for a clear model. Just a matter of preference.
Features to Consider When Buying Scuba Diving Bags
Construction
Your primary scuba gear bag will probably be carrying a lot of weight around. You want to find one that has heavy duty material and reinforced stitching.
As I mentioned earlier, we used to use a generic duffle bag for our dive gear but the stitching on the straps and zippers eventually gave out. We did get our money's worth out of it, though, so I can't complain.
Material that is waterproof would be a bonus. If you don't plan on bringing the bag on the boat, waterproof material isn't as important and eliminating this feature could save some money.
If you have a soft sided bag and thin material, chances are you will notice some rips and tears sooner rather than later.
Zippers
Zippers are an important element on scuba diving bags and you want the large gauge size. They should also be corrosion resistant if not corrosion proof (though I am not sure there really is such a thing!).
Your regular type of zipper will eventually rust, split or just stop working. I know, I am speaking from experience here. And not just on dive bags; we have a boat and the effects of salt water on zippers are not pleasant!
So make sure the zippers are high quality. Because once they give out, say goodbye to your bag.
Straps/Handles
Just like the material, the straps on your gear bag should be heavy duty with reinforced stitching. They will be taking a big load when fully packed and you want them to hold up to the rigors of your gear.
If it is a wheeled bag, does it have a sturdy, telescoping handle?
Wheels
We discussed this above but wheels are a plus when it comes to scuba diving bags. It will make it much easier to lug your gear around. Bags with four wheels would be a bonus since it is easier to manipulate and stand up.
Drainage
Drainage holes are a plus since it will give the water from all your gear somewhere to go. Otherwise you can have a nice, smelly puddle in your bag – which isn't a good thing.
Pockets/Compartments
A bag with at least few different pockets and/or compartments will make it easier to stay organized. As the saying goes, "Everything has a place and everything in its place" – at least that's how I think it goes. But you know what I mean.
A well-organized dive bag will save you the frustration of hunting down that item every time you need it.
A waterproof pocket is a bonus and can come in handy if your bathing suit, etc. hasn't finished drying by the time you have to pack up and leave.
Size
Though you may be tempted to buy the biggest size out there, that may not be the best choice. Many airlines these days have a 50 lb. weight limit on luggage.
If you stuff that large scuba diving bag full of your equipment and other odds and ends, it could easily exceed the weight limit.
You will probably have to pay an extra fee for the airline to check that bag – on top of all the other fees, of course! So don't buy a HUGE bag since you probably won't be able to use all that room anyway - unless you are willing to pay extra.
---
So there you have it, things to consider before buying scuba diving bags. Hopefully this guide will make your purchasing decision a little easier.
Now, though, when all is said and done - do you really need a scuba gear bag?
The answer is no. As I stated above we went for years with just a generic type of duffel bag for our dive equipment.
It may not have been the prettiest or the easiest to lug around but it got the job done.
Obviously the choice is all yours. If you find benefits to a specialty gear bag, by all means go and buy one. But if you are content with a generic bag, that is perfectly acceptable also.
By and large, looking at other diver's luggage when I am traveling, I think it is pretty close to being split down the middle whether thay have specialty luggage or not. I think a small majority might use gear bags. Just my observation - for what's its worth.
Whichever way you choose, I hope you have some great dives out of your bag!
If you need other dive accessories, take a look at our accessory page here.
If you are in the market for other dive gear, you can see our recommendation for best scuba equipment here.
---
---
 Want to stay down longer and improve your buoyancy control and other diving skills? Our free report "Increase Your Bottom Time" along with our practical, weekly actionable tips will have you looking like a seasoned diver in no time. So come join us and see improvement on your very next dive!
(Click on the photo to join us now!)
---
---