Scuba Gear Reviews
Scuba equipment can be a big investment. So it is always good to read scuba gear reviews before you plunk down your hard earned cash.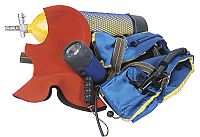 Whether it is about a top end regulator or a low end BC, we would love to hear your opinion. Your experience is valuable to fellow divers. Maybe your love affair with your computer will convince us to go out and get the same model - or perhaps your dive watch that flooded after one dive will help us avoid that experience.
Whatever piece of equipment it is, please join in and write a review. We can all benefit, and maybe save some money.
We are even running a contest, so you may win free stuff by sharing your review(s). So come on and join in.
Have a Great Piece of Scuba Gear? Or a Lemon? Tell Us About It.
Do you have some scuba gear you just can't leave home without? Or are you willing your dive computer (or other piece of scuba gear) to break so you can buy a new one?

Share your experiences with your scuba diving equipment. Whether it's a rant or rave, we would love to hear it.

You'll also be helping other divers out with an unbiased review of what to buy or not to buy with their hard earned money.



Your Scuba Books and Magazines Reviews
Read scuba gear reviews by fellow divers and what they loved or hated about their equipment. Just click on the links below.


Top of Scuba Gear Reviews

Go to main Scuba Dive submission page

Return to Scuba Diving Home
---
---
 Want to stay down longer and improve your buoyancy control and other diving skills? Our free report "Increase Your Bottom Time" along with our practical, weekly actionable tips will have you looking like a seasoned diver in no time. So come join us and see improvement on your very next dive!
(Click on the photo to join us now!)
---
---