Jost Van Dyke Scuba Diving:
Dive Report And Information on Weather, Water Temperature, Visibility, Flights, Location And More
I love Jost Van Dyke.
This is the place to come to get away from it all. The BVI's are beautiful and Jost is our favorite of all the BVI islands. In fact, it is the one island we keep coming back to.
Our charter boat moored in the BVI's
We've rented sailboats and cruised through the BVI's several times but Jost is the island we come to when we want a land based vacation.
And to top it all off, Jost Van Dyke scuba diving has a different feel than diving some of the more well known islands. No cattle boats here.
You can walk everywhere, people are friendly, beaches are beautiful, views are incredible, diving is good - what more can you ask for?
If you like a more laid-back island and don't need high end accommodations, lots of action or lots of glitz and glamour, you might want to give it a try.
Or maybe not - we don't want it to get too popular :).
Lay of the Land

Jost Van Dyke is the smallest of the main British Virgin Islands (BVI's) which include Anegada, Virgin Gorda and Tortola. (You can check out our British Virgin Islands maps and maps of Jost here.)
Known as "Barefoot Island" because of its casual lifestyle, Jost Van Dyke is the perfect island getaway – a great escape from the usual rat race of life. No traffic jams here.
View of White Bay on Jost Van Dyke (does it get any better?)
Jost Van Dyke is only four miles by three miles and has a population of around 200.
This is where you will find those picture postcard perfect unspoiled beaches fringed with coconut palms. On Jost, it's all about the beach and water.
In fact, White Bay on Jost was even named by Conde Naste Traveler Magazine as "one of the 10 best beaches in the world."
Step back from the beach and you will find a rugged mountainous, volcanic landscape with its highest peak, Roach Hill, climbing to around 1,054 feet.
There are 3 main harbors on Jost.
Little Harbour, furthest to the east, is home to a few restaurants and has moorings for all those sailboats that ply around the BVI's.
Next is Great Harbour, also with moorings, which is the main town and center of activity (such as it is on Jost).
View of Great Harbour on Jost Van Dyke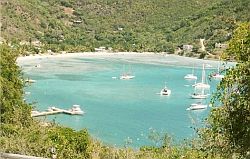 Its' one main road is sand and runs right next to the water. This is where you will find the world famous Foxy's Bar, not to mention several other bars and restaurants (including Corsair's which is one of our favorites).
Further on over the hill you will come to White Bay. This is what those postcards are made for. First is a small beach with some private villas and Ivan's Stree Free Bar and Campground. This is where we always stay and I can't wait to go back.
Climb over the rocks and the next little hill (they have since leveled out the rocks so it is easier to get over) and you come to the main White Bay beach, home of the Sandcastle Hotel and infamous Soggy Dollar Bar and Painkiller drink. Of course we can't forget to mention Jewel's Snack Shop and One Love Bar - two of our favorite places on Jost and where we always head to first when we get back on the island.
Location and Flights
Jost Van Dyke can be found on the northern archipelago of the Virgin Islands, surrounded by the Caribbean Sea and Atlantic Ocean. It is about 5 miles north of Saint John, 5 miles north-west of Tortola and 9 miles from St. Thomas.
You can check out our maps of Jost here.
There are no direct flights from the US to Jost - namely because Jost does not have an airport! You have to come by boat or ferry.
If you want to dive Jost Van Dyke, the easiest way of getting to Jost is to fly to one of the other Caribbean Islands, such as Puerto Rico, St. Thomas or St. Martin.
Our "home" at Ivan's Campground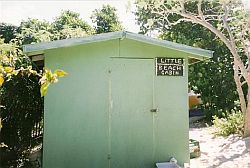 Flights from Miami to San Juan, Puerto Rico (SJU) take about 2 1/2 hours with American Airlines. From San Juan, it is possible to take connecting flights to the main airport on Tortola, the Terrence B Lettsome Airport (EIS). Airlines serving this route include Cape Air, Seaborne Airlines, Air Sunshine, Fly BVI, American Eagle and American Airlines. This flight lasts only 30 minutes.
From EIS you would catch a taxi (about $50) to the West End on Tortola to get the ferry. Jost Van Dyke is then about a 30 minute ferry trip from Tortola.
Ferries generally run from Tortola to Jost Van Dyke from 7am to 5pm, but check this on the ferry schedule as you may need overnight accommodation on Tortola - see www.bvitourism.com - interisland ferries.
From Puerto Rico you could also take a connecting flight to St. Thomas or St. Martin. Alternatively, you could take a direct flight from the U.S. to St. Thomas and then take a cab to catch the ferry to Jost. For ferries from St. Thomas, see the same schedule as above at www.bvitourism.com.
(You might want to check out our #1 tip for cheap airfare to the Caribbean as well as our other tips for cheap airfare to help make your trip more affordable. You may also find our discussion on different types of scuba dive vacations helpful also.)
Weather
The climate of the British Virgin Islands is tropical and pleasant, with summers being hotter and more humid than winters. Summer temperatures range between 79ºF and 90ºF, with an average of 85ºF. Sea breezes will help you to feel cooler in the day. At night, temperatures drop to the low 80ºs.
Ivan's Stress Free Bar on White Bay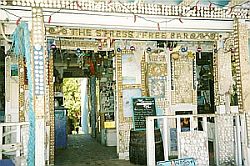 Winter temperatures range between 72ºF and 82ºF, with an average of 77ºF.
The rainy season runs from late summer to just before Christmas and an average of 40 inches of rain falls each year.
Hurricane Season in the British Virgin Islands (BVI) runs from 1st June to 30th November, with August to mid October being the most common time for hurricanes. Hurricane Lenny was the last hurricane to hit BVI and that was back in 1999.
Water Temperatures and Visibility
The water temperatures of the BVI range from about 79-80ºF in January to 84-85ºF in July. These temperatures, combined with a visibility that can reach 100 feet, make BVI scuba diving a pleasant experience.
I will note, though, that during one of our times diving at Jost (it was February), the visibility was only around 40-50 feet.
Many divers dive Jost Van Dyke's waters without any wetsuit, but you may prefer to use a 3mm shortie if you tend to get cold. When we do some Jost Van Dyke scuba diving we only wear a skin since we do not get cold too easily.
Reefs and Rides

Jost Van Dyke Scuba company has marked and protected over 40 diving sites, all within 6 miles of Great Harbor. So your boat rides here are not very long.
They can also arrange dive trips to other BVI dive sites, such as the Rhone or the Chikuzen, which would obviously entail much longer boat rides.
Just so you know, Jost Van Dyke Scuba is the only dive operator on the island. I told you it was a small island!
We were on Jost when JVD Scuba were making their new brochure. If you go to the home page of their website, Tim and I are the couple standing and waving on the top deck of their dive boat. What timing!
Diving
Diving Jost Van Dyke will probably be one of the more personal diving experiences you will have. Since the island is so small there are usually not many people diving so you feel like you have your own personal charter.
Queen Angelfish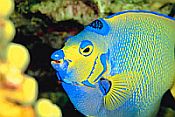 At least, that has been our experience when we were there. There is, of course, the possibility that there might be groups from other islands or boats/ships that are diving. And I know I read about a dive group (16 people) going and staying on Jost which might fill the boat(s). You may want to call JVD Scuba and check availability just to make sure.
Diving on Jost Van Dyke is good for beginners to the more experienced. Most dive sites are in the 40-80 foot range according the the JVD Scuba Co. website.
We have never done shore diving on Jost and I have never seen anyone else do shore diving either. While you can do shore diving, it is not the thing to come to Jost for, IMHO. Not to mention all the boat traffic in and out of the harbours - which is where you would enter the water.
Time it right and you can see dolphins, sea turtles, spotted eagle and manta rays and much more.
Dive sites include sites around Jost, Little Jost Van Dyke, Great and Little Tobago, Pelican Cay and Green Cay to name a few.
Jost Van Dyke is the closest island to the Puerta Rican Trench (the North Drop), the deepest part of the Atlantic Ocean. Jost Van Dyke Scuba also offers open ocean blue water diving around the Trench. They recommend June-October as the best time to do this type of diving since it is very weather dependant.
We have never done these dives here - if you have, we would love to hear about it. Drop us a line and tell us your experience doing some Jost Van Dyke scuba diving.
Topside
View of White Bay from beach at Ivan's Campground on Jost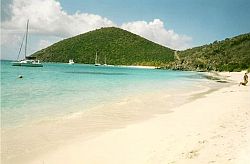 Jost is all about relaxing, hanging out and just enjoying the island and it's beaches and amazing views.
It's time to lay on the beach or, if you are feeling energetic, stroll the beaches - and of course stopping off for a quick hello and a Red Stripe or Painkiller or...you get the picture.
Just relax, enjoy and give thanks you are in paradise and not at a j-o-b.
---
Top of Jost Van Dyke Scuba
Return to Main Caribbean Diving Page
---
---
 Want to stay down longer and improve your buoyancy control and other diving skills? Our free report "Increase Your Bottom Time" along with our practical, weekly actionable tips will have you looking like a seasoned diver in no time. So come join us and see improvement on your very next dive!
(Click on the photo to join us now!)
---
---