Antigua Map
Maps of Antigua and Barbuda to Help Plan Your Trip
If you need an Antigua map to see where you're going, we have a few for you. Antigua is a fairly big island so it is a good idea to get the lay of the land before you touch down.
Even if I don't think Antigua diving is the best, I still really like the island. It has some magnificent views and great beaches so you should have a great time on that getaway.
OK, on with the maps of Antigua.
The first map of Antigua is really an overview map, to show where Antigua and its sister island, Barbuda, are located. 
Then we go to a more detailed Antigua map so you can see where the major destinations on Antigua can be found.
Now comes the fun part - the interactive maps of Antigua. The first is a basic road map of the island. The second interactive Antigua map gives you the satellite overview of the island.
All you have to do is put your cursor over the squares and the name place will show up. You can also zoom in and out to see a closeup view of the area you are interested in.
Going to Sandals Resort in Antigua? Just zoom in and see where it is located and what it looks like from above. Want to visit Nelson's Dockyard? See where you have to go by getting an overview here.
Wherever you go in Antigua, I hope you have a great time. Of course, how bad can it be if you have 365 beaches to choose from?

Maps of Antigua and Caribbean
These are the overview maps I mentioned earlier.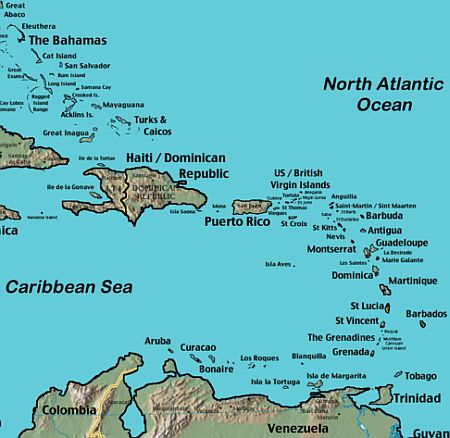 Next up is a general map of Antigua and Barbuda. OK, I know its not the best, but what the heck. The best is yet to come so hang in there.
Here is a nice overview map of Antigua and is courtesy of
WorldAtlas.com
.
Now here are the fun interactive maps I mentioned earlier. The first is the basic road map. The last is my favorite. Just click on the arrows and zoom in on where you want to go. I could spend hours fooling around with this. Give it a try, it's alot of fun! See where you are going before you get there.

Interactive Antigua Map

Have a great vacation in Antigua - and don't get lost!


For more information, check out our other pages on Antigua:
Antigua Diving and General Info
Return to Main Caribbean Diving Page


---
---
 Want to stay down longer and improve your buoyancy control and other diving skills? Our free report "Increase Your Bottom Time" along with our practical, weekly actionable tips will have you looking like a seasoned diver in no time. So come join us and see improvement on your very next dive!
(Click on the photo to join us now!)
---
---