Cuba Scuba Diving
This article on Cuba scuba diving is a guest article and was written by divers and writers at LiveAboard.com. I haven't been to Cuba yet - but it high on my list. The diving sounds very good so it is something to look forward to. I hope you enjoy the article!
With over 5500km of coastline to explore and a variety of dive sites for all levels, Cuba is an idyllic Caribbean dive destination off most divers radars.
The extensive reefs and mangroves support diverse life and are known for their healthy shark populations, with nearly 100 different species of sharks.
Read our guide to Cuba diving to find out more.
Cuba's Top Dive Areas
Cuba has an array of dive spots to discover but is best-known for the UNESCO-listed Jardines de la Reina or 'Gardens of the Queen'.

This marine protected area is a chain of 250 coral and mangrove islands that support abundant marine life, including numerous sharks.

With diver numbers restricted each year, the reefs are in excellent condition and offer many dive sites.

Diving there is like stepping back in time to how the Caribbean used to be.

The Canarreos Archipelago is another top Cuba dive area. It consists of around 350 islets and offers diverse diving including easy options without currents, making it perfect for beginners.
Cienfuegos the 'Pearl of the South' is usually visited as part of longer Cuba liveaboard cruises and is tucked away 250km south of Havana.

The waters are known for being clear at Cienfuegos and there are over 30 dive sites, with new ones still being discovered.

It's a great area to visit no matter your experience level, thanks to the shallow dive sites. If you visit in winter you might see whale sharks.
JARDINES DE LA REINA
One of the main attractions for Cuba scuba diving is that the waters are home to nearly 100 sharks species, including lemon, nurse, bull, silky, and Caribbean reef sharks.

It is one of the best places to dive in Cuba to get your shark fix. As well as sharks, you can also see turtles, eagle rays and a variety of coral formations.

Just be sure to book early. It's a popular destination that focuses on conservation by limiting the number of divers permitted there each year.

Pipin

This is a great dive site for new and experienced divers, offering a reef at 15m, several caves and some easy dive areas.

Be sure to check out the giant gorgonian fans and black corals, plus keep one eye on the blue for eagle rays. They are commonly seen there alongside turtles and jacks. You might event see a hammerhead shark or two.

Farallon

This unique dive site consists of a huge coral mountain than rises from 29m up to 17m below the surface.

One of the best features of this dive site is the tunnels through the coral mountain. You can swim through them and enjoy the sunlight pouring in from overhead.

It's a good site for spotting Caribbean reef sharks, often see near the bottom, and silky sharks are seen there in large numbers.

Vicente

Vicente is the place to go for drop-offs, which plummet into the depths. Thankfully the water visibility over 40m makes it easy to explore the drop-offs without needing to go too deep.

The corals include black coral formations and you can also spot hammerheads in the blue.
Black Coral I & II

As the names suggest, these sites are famed for their black coral colonies. Both sites also have an abundance of other corals as well as numerous reef fish.

There's a healthy population of reef sharks at both sites and you can often see stingrays on the sand.
CANARREOS ARCHIPELAGO
Being far offshore and with a number of dive sites, Canarreos is often visited as part of Cuba liveaboard diving safaris.

The dives sites there are very diverse and include shipwrecks, sheer walls, caves, reefs and swim-throughs.

Cayo Largo

This is one of the most well-known dive sites in Cuba, thanks to its exceptional biodiversity combined with easy dive conditions.

You can go night diving and see sleeping sharks or explore in the day to your heart's content.

There are coral mountains covered in brain and star corals, plus high numbers of reef fish such as parrotfish, snappers, angelfish and surgeonfish.

You can also see whale sharks there during the Cuban whale shark season, with November being one of the best months for sightings.
Isle De La Juventud

Cruises to Isla de la Juventud usually focus on the marine park of Punta Frances; a remote area of Cuba and the second largest Cuban island.

Known locally as Treasure Island, there are gorgeous white-sand beaches and great scuba diving.

Large fish are common at Punta Frances, including giant Tarpon up to 2 meters length. You can also see turtles, eagle rays and sharks during some dives, plus schools of barracuda and Nassau groupers.

Cayo Sigua

This is a good choice for experienced divers as there are vertical walls dropping dramatically to the seafloor. There is plenty of marine life to see, plus an underwater cave and blue hole to explore.
WHEN IS THE BEST TIME TO DIVE CUBA?

December to April has the warmest waters. It is also high season though, which is more expensive.

The cheaper low season is worth considering as it still has great dive conditions.

WHO IS CUBA DIVING SUITABLE FOR?

One of the best things about Cuba is the diving is suitable for all experience levels and there are plenty of options for snorkellers as well.

TOP TIPS FOR TRAVELLERS
Spanish is the main language of Cuba, but English is spoken in tourist areas
Bring some cash (Euros, Pound Sterling, Canadian Dollar) and exchange it for Convertible Peso on arrival. Exchanging US dollars can be done but it is expensive.
Jardines de la Reina liveaboards depart from Jucaro Port
Canarreos Archipelago liveaboards depart from Trinidad and Cienfuegos ports
Most liveaboards operators will collect you from the capital Havana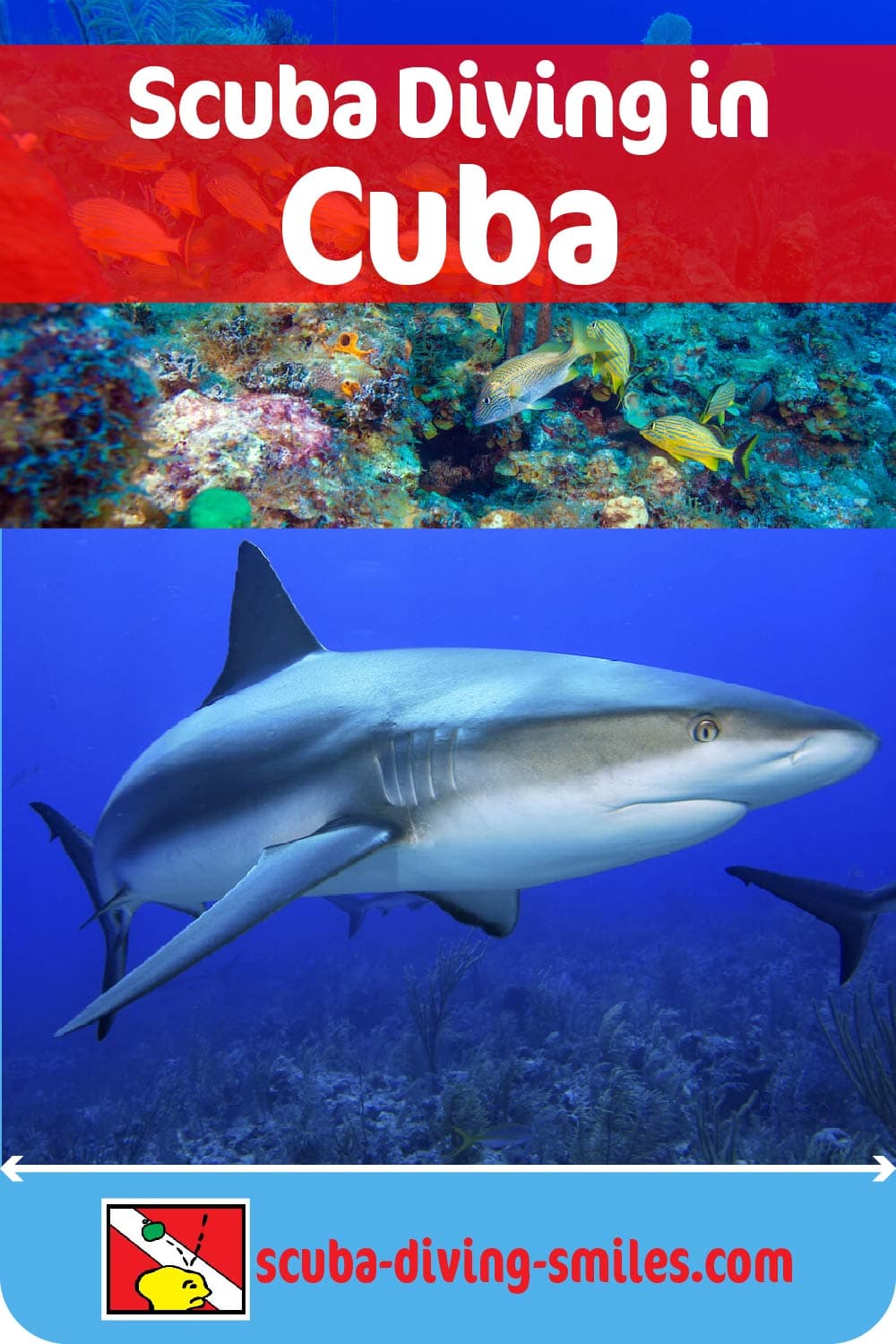 ---
---
 Want to stay down longer and improve your buoyancy control and other diving skills? Our free report "Increase Your Bottom Time" along with our practical, weekly actionable tips will have you looking like a seasoned diver in no time. So come join us and see improvement on your very next dive!
(Click on the photo to join us now!)
---
---