Scuba Gear Store
Scuba gear can make or break a dive. The last thing you want is for some piece of equipment to fail underwater.
Ask me. I know. Unfortunately from experience.
Forget about ruining a dive, it can put you in a very dangerous position. I was lucky and I was still descending when the mouthpiece came out of my rental regulator.
Not a good feeling.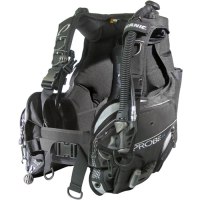 We all need to maintain our dive equipment and if something is in poor condition we need to replace it before it puts us at risk while diving. After all, we are doing this for fun so let's make sure it continues to be that way.
OK, paying for it is no fun but unfortunately I don't know anyone who is giving it away. If you find someone - spread the word.
So if you are looking for your first piece of equipment or need to upgrade/replace a current piece of scuba gear, you should be able to find a suitable replacement here. Whether it's a dive computer, scuba fins, a dive watch or anything else for your dive.
Guides to Buying Scuba Gear
If you are not exactly sure what you are looking for, we also have free buyers guides for each piece of equipment to help make your choice of scuba gear easier. Also, when you navigate to a category below, you will find our available buyers' guide for that piece of gear listed on the page.
We also have a page of our picks for best scuba gear to get you started. It may be just what you wanted or at least it gives you a place to start if you are feeling overwhelmed.
(Disclosure: You will find affiliate links on these pages that will earn us a small commission if you purchase through them. If you do, we absolutely appreciate it and thank you. Please note that it will not cost you anything extra to purchase through us. We only recommend companies we have dealt with and are confident in their ability to provide great products and service to our readers. If you like what you find on this website and decide to purchase through our link, we say a very grateful and heartfelt "Thanks!")
Best Price Guarantee +5%: Our partner has guaranteed that you will pay the lowest price on every item we sell. It's easy and straightforward. Here's how it works: find any identical item priced lower on any website, and they will beat that price by an additional 5%. It doesn't get much better than that.
Pressure Free Fit Guarantee: Our partner also takes away the uncertainty in this part of the decision. They offer a pressure free fit guarantee on many items. If you try on that BC, wetsuit, fin, etc. and it doesn't fit quite right, you can exchange it for another size - without any additional shipping costs! They'll keep doing this until you find the perfect fit. So shop without worrying and try it on with confidence. Just look for the PFF logo after you click on the item you are interested in.
Have a great time shopping - and an even better time diving with that new piece of scuba gear!
And what's a diver without some jewelry to show off their passion? I have quite a lot of diving/marine life jewelry which I love and wear all the time. Judging by the amount of jewelry I see being sold at the dive shows, it must be popular - and understandably so.
If you want to browse and see what is available, take a look at our offerings of dive cufflinks and scuba necklaces.
---
---
 Want to stay down longer and improve your buoyancy control and other diving skills? Our free report "Increase Your Bottom Time" along with our practical, weekly actionable tips will have you looking like a seasoned diver in no time. So come join us and see improvement on your very next dive!
(Click on the photo to join us now!)
---
---