Grand Cayman Resorts and Hotels:
Narrow Your Choice and Find the Best Deal
There are lots of Grand Cayman Resorts and Hotels to choose from. You will find most of the resorts located on Seven Mile Beach.
And why not? It is an absolutely gorgeous stretch of sand and is hard to beat.
There are a couple of Grand Cayman hotels located on the more remote East End of the island also.
We have stayed on both ends of the island.
Which is better?
It really depends on what you're in the mood for and how much activity you want topside. If you want quiet and isolation, go for the East End. If you're in more of a party and socializing mood, Seven Mile Beach and the west side of the island would fit the bill.
(On a side note: Diving is good at both spots. You can find out more info on our Grand Cayman diving page. You'll also find general info about the island such as location, weather, water temperatures, etc.)
When we stayed on Seven Mile Beach, we stayed at Marriott Grand Cayman Beach Resort. It occupies a gorgeous spot on Seven Mile Beach (of course, a bad spot is hard to come by).
We had a great time there and can recommend it. There are watersports activities right there along with pretty much anything you need.
I won't say it is the cheapest place to stay but we got a good deal and were happy with the accommodations. One of those Grand Cayman resorts we would be glad to return to anytime.
Beautiful Seven Mile Beach in Grand Cayman. Doesn't get much better.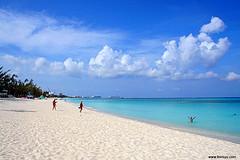 The second time we stayed on Grand Cayman we stayed on the East End at Morritts Tortuga Club.
This was pretty much a scuba diving vacation with a group of friends. Plus my friend had a timeshare we could use for only the transfer fee. So how could it be bad?
This was a different type of Grand Cayman lodging than we had at the Marriott since we stayed in a 2 bedroom condo. The accommodations were very nice and we enjoyed our stay here.
But as I said before, if you want some nightlife or some action, I wouldn't recommend this location since there is not alot in the area. The drive to Seven Mile Beach is fairly long so it's not like you are a 15 minute drive away from the action.
If it's restaurants, action and nightlife you are after, stay on - or at least closer to - Seven Mile Beach.
Those are the two Grand Cayman resorts we have personal experience with. A women I used to work with stayed at the Westin Casuarina Resort several times and always raved about it.
Another Grand Cayman hotel I have heard great things about was the Ritz Carlton. Of course, how could the Ritz be bad? It's out of my price range but if you can afford it, go for it!
Obviously there are alot of lodging options to choose from. So how do you narrow your choice and get the best deal out there?
Find the Best Deal on Grand Cayman Resorts
One good place to start is with this list of
hotel deals on Grand Cayman
from our partner. See what specials are currently running and get the most for your money. If you prefer a package, you can also check out the
air and hotel packages
available from our partner. You never know what type of deal you many find.
Another good place to look is the free search tool below.
It will search 30 of the largest hotel accommodations sites at the same time and come back with the best price from each site (sites include Priceline, Hotels.com, Orbitz and many more).
That way you will know you are getting the best deal available at the time. You will also be able to view photos, details, maps, reviews and more of each hotel you are interested in.
All in one search. You'll also be able to narrow your choice by star rating, price, etc.
It saves alot of time. Not to mention money. So give it a try. There's always a deal somewhere. Here's to finding yours.
Grand Cayman Resorts and Hotels Search


Have fun searching and I hope you have a great vacation. Why don't you let us know how it went when you come back? We'd love to hear from you.




Top of Grand Cayman Resorts
Return to Scuba Diving Home