Resorts in Jamaica:
Get the Best Deal Available
There are tons of resorts in Jamaica to choose from - from a boutique hotel to one of the mega all inclusive resorts that line the beaches.
Which one you choose is, of course, a personal preference. There are advantages and disadvantages to both types of hotels (you can read my take on all inclusive Caribbean resorts here).
The first time we vacationed on the island, we ended up staying at one of the all inclusive resorts in Jamaica since we went with a large group.
The Starfish Trelawny Beach Resort to be exact. It is part of the Superclubs, Breezes, Grand Lido and Hedonism chain.
This resort is located in the Falmouth area on the north coast of Jamaica. It is about a 30 minute drive from Sangster International Airport. Since we were only there for 5 days, we didn't want to have a long drive to one of the other beach areas.
Everyone had a nice time at the Starfish. It is not a top end hotel and you pretty much get what you pay for. So go with realistic expectations and you should be fine.
Starfish Trelawny Resort in Jamaica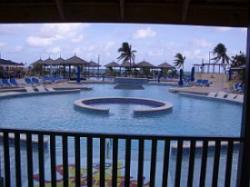 The food was good, not great, and you had a few restaurants to choose from. There were lots of activities to keep you occupied if you wanted to be busy, including pool tables in the pool which is pretty unique.
The beach areas of Montego Bay, Ochos Rios and Negril have many more resorts in Jamaica to choose from than Falmouth. These 3 areas are the most popular vacation destinations in Jamaica and understandably so with their beautiful beaches and range of accommodations.
When we vacationed the last time, we ended up staying at a couple of the Sandals resorts in Jamaica - the all inclusive Sandals Grande Riviera Resort in Ocho Rios (formerly known as the Sandals Grande Ocho Rios) and Sandals Montego Bay.
They were much more upscale than the Starfish and we had a wonderful time. You can read our detailed review of this Sandals resort in Jamaica (Grande Riviera) here and our detailed review of Sandals Montego Bay Jamaica here.
I have read many reviews of resorts in Jamaica and in these popular beach areas in particular. It sure makes me want to go there and enjoy other areas of Jamaica. If you are heading to these spots, I have highlighted the top rated and reviewed hotels in each area. I'd be glad to go to any one of them! If you do go, please let us know how you made out. We would love to hear from you.
The top rated hotels in Negril according to reviews on our partners website are The Caves, Catcha Falling Star, and Westender Inn.
The top rated hotels in Ocho Rios are Jamaica Inn, Royal Plantation and Couples Sans Souci.
The top rated hotels in Montego Bay are Iberostar Grand Rose Hall, Iberostar Rose Hall Suites and Round Hill Hotel & Villas.
But how do you know you are getting the best deal once you choose from the many hotels in Jamaica?


Get the Best Deal on Hotels in Jamaica
A great place to start is this list of
hotel deals in Jamaica
put together by our partner. See what specials are currently running. Since there are so many hotels in Jamaica you can often get a great deal.
They also show air and hotel deals to Jamaica if you want one stop shopping for good prices.
Another good resource is the free tool below.
It will search more than 30 of the biggest accommodation booking sites simultaneously for the best resort deal and bring back all the prices for you.
That way you can make sure you get the cheapest deal available.
It searches all the big name sites including Hotels.com, Orbitz, Travelocity, Priceline, Cheaptickets, Intercontinental, Holiday Inn and many more.
Think of all the time and frustration of sifting through all the different websites it will save you.
Not to mention money.
You'll also be able to view more details, photos and reviews of the property. All in one search.
I've divided it into the popular vacation destinations in Jamaica so you won't have to sift through hotels in areas you are not interested in. You will also be able to refine your search more once you get your initial results.
So give it a try. There's always someone offering a special deal somewhere! And this tool finds it for you. Have fun finding that deal on resorts in Jamaica.


Jamaica Resorts Search
Just put your info in the search box for the area you are interested in. Or just click on the "See all hotels in "x" city at the bottom of the box.
For more information, check out our page on
scuba diving Jamaica
which includes info on location, weather, water temperatures and more. We also have
maps of Jamaica
to help you plan your trip.
Top of Resorts in Jamaica
Return to Main Caribbean Diving Page
Return to Scuba Diving Home