Aruba Resorts:
Find the Best Deal

There are alot of Aruba resorts for you to choose from. You can stay in anything from a small guesthouse to one of the big all inclusive resorts in Aruba - complete with a casino!
Divi tree on Baby Beach, Aruba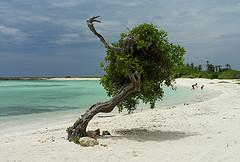 Which type of accommodation you choose is all about personal preference.
When we went to Aruba, we were with a large group so we stayed at the Tamarijn Aruba Beach Besort (link will open in a new window for Tripadvisor) an all inclusive resort in Aruba.
Who wants to worry about who is buying the next drink?
Definitely one of the advantages of staying at an all inclusive.
As far as the Tamarijn goes, it was a nice hotel. It is a smaller 2 story resort with all the rooms pretty much right on the beach.
The beach had some damage from storms when we were there but our friends just returned and said it is much better now.
You are also allowed to used the facilities of its' sister resort, the Divi Aruba Beach Besort which is located right next door.
You can either walk over to the Divi or they have a tram running to shuttle people back and forth between these two Aruba resorts.
The Divi is a bit nicer and a little more "upscale" when compared to the Tamarijn (in my opinion, anyway). The Divi also has a bigger and nicer beach than the Tamarijn.
That being said, I wouldn't hesitate to go back to the Tamarijn if I was looking to stay at an ill inclusive hotel in Aruba. I liked the smaller and more intimate feel of the hotel when compared to some of the huge all inclusives you can find in the Caribbean.
Just don't expect a 5 star hotel (you get what you pay for after all).
And of course we also did some scuba diving in Aruba. I would recommend doing some diving, especially if you are into wreck diving. Aruba is the king of the wrecks.
And it's a good break from all that Aruba sun.
Most of the hotels in Aruba are located along Palm Beach and Eagle Beach on the west side of the island (the Tamarijn is just south of these beaches).
And once you see those beaches you will know why. They are absolutely beautiful and what we all come to the Caribbean for.


Aruba Resorts: Deal or No Deal?

So how do you know you are getting the best deal there is for a stay at one of the resorts in Aruba?
Just can use the free search engine at Tripadvisor to find an Aruba hotel that will meet your requirements. You can find the latest offerings and reviews of pretty much any hotel on Aruba.
It will search some of the biggest accommodation booking sites simultaneously for the best Aruba hotel deal and bring back all the prices for you.
That way you can make sure you get the cheapest deal available.
It searches big name sites including Hotels.com, Expedia, Orbitz and Travelocity.
It will save you a ton of time and the frustration of sifting through all the different websites out there.
Not to mention the money it will save you.
You'll also be able to view more details, photos and reviews of the property. All in one search. I love this tool.
So give it a try. There's always someone offering a special deal somewhere! And this tool finds it for you. Have fun...


Top of Aruba Resorts
Return to Main Caribbean Diving Page

---
---
 Want to stay down longer and improve your buoyancy control and other diving skills? Our free report "Increase Your Bottom Time" along with our practical, weekly actionable tips will have you looking like a seasoned diver in no time. So come join us and see improvement on your very next dive!
(Click on the photo to join us now!)
---
---