Caye Caulker Hotels:
Get the Best Price Available
While there is a range of Caye Caulker hotels available, you aren't going to find any big resort type accommodations here.
Caye Caulker is a nice, laid-back island where it's all about relaxation (and diving!). You can read more about our experience on Caye Caulker and diving here.
We really enjoyed our time on the island.
When we went there, we were backpacking around Central America (that's a whole 'nother story). Thus we didn't know what our schedule would be and arrived with no reservations during the high season.
We arrived by boat from Belize City and since it was pretty late we started looking for some Caye Caulker lodging right away.
Since the first few places we asked at were full, we took the first thing available. We were getting tired and didn't want to spend the night on the beach.
That first hotel was just off the beach and called Popeye's Beach Resort. It was, in our opinion, overpriced at $75 per night. While it had air conditioning, the room was pretty dark and depressing and we thought we could do better.
The next day we started asking around. Most hotels were full. We ended up talking to the owner of Treetops Guesthouse. (which looked like a very nice place; they were full but we will try them next time) and she called around and got us an apartment at Caye Caulker Apartments for $50 per night.
It was a few blocks away from the water but they provided bikes so it was no big deal. And it was fun riding around the island - small as it is.
Unfortunately, after we came back from our day of diving, the room was an inferno. There was no a/c and no breeze. Sleeping was impossible. Ended up taking a shower in the middle of the night to cool off.
Ok, onto another hotel. Amazing - 3 hotels on one island. This had never happened to us before. But what are you going to do?
Our third and last (finally!) Caye Caulker hotel was Rainbow Hotel. which is in a great spot facing the water. It was $52 per night.
Our "last" hotel on Caye Caulker was the Rainbow hotel - the blue one at the end of the pier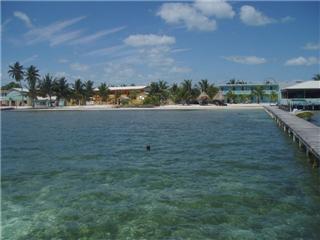 While it was not luxurious accommodations by any means, it had a/c and the price was right. We ended up spending the rest of our time there.
And very happily if I may say so.
So lesson learned: if you arrive in the high season without reservations, don't expect to get your first choice of hotels. You will probably be able to find something but you will have to be flexible.
If you have definite dates you are going to be on the island, especially during high season, I would recommend making a reservation. It will save you some traipsing around.
I know we will be making reservations the next time we go.
But how do you know you will be getting the best deal?


Get the Best Deal for a Caye Caulkers Hotel
You can start your search with this list of
Caye Caulker hotel deals
from our partner. See what specials are currently running.
You can also check out their deals on vacation packages - air and hotel included.
Another option is the search tool below.
Just input your dates and the engine will search 30 of the biggest accommodation booking sites on the web.
It will bring back all the prices for you, so you can make sure you get the cheapest Caye Caulker hotel deal available.
And it does this all in one search.
It also gives you more details, photos and reviews of the accommodation you chose so you can make an informed choice.
Think of all the time this saves. Not to mention money.
I now use this tool all the time when I am planning a vacation.
There's always a deal somewhere so give a try. Have fun and have a great vacation!


Caye Caulker Hotels Search
Top of Caye Caulker Hotels
Main Caye Caulker Page
Go to Main Central America Diving Page
Return to Scuba Diving Home