Antigua Resorts and Hotels:
Find the Best Deal For You
Search for Antigua resorts and hotels, and you will find many options for your stay. From a small boutique hotel to a high end private resort to a mid-range resort, they are all available on Antigua.
No matter where you choose to stay, Antigua has some great beaches and is a nice place for some relaxation and sightseeing.
In fact, it lays claim to having 365 beaches, one for each day of the year,
(Unfortunately, it's not the best for scuba diving as you can read about on our Antigua diving page. You'll also find general travel info on that page such as location, weather, water temperatures, etc.)
When we first went to Antigua, many moons ago, we stayed at the Barrymore Beach Club on Runaway Bay. We loved this Antigua hotel since it was on a quiet beach but within walking distance of Dickenson Bay where Sandals and other resorts are located. Thus it was easy to get more action if you wanted it.
Since we have been there though, the Barrymore Beach Club has been redone and it appears to be a more upscale lodging choice. Since I haven't been there since the renovation, I can't comment on it but I'll give a thumbs up to the beach and location.
The next time we went to Antigua, we got married at Club Antigua (70 of our friends joined us, but that is a whole 'nother story; rest assured it was a great time).
But guess what? This Antigua resort has also been redone and is now known as the Jolly Beach Resort. Things can change quite a bit in the Caribbean.
Relaxing on the beach outside the Barrymore Beach Club Hotel in Antigua. Doesn't get much better.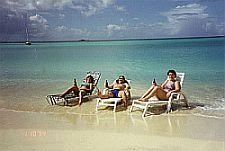 Again, I won't give my review since I haven't seen the renovation but I will say it was a nice beach and good location.
My sister, though, has since been back to Antigua and stayed at the Grand Pineapple Beach Resort and gave it very good reviews.
Another popular place to stay on Antigua is the St. James Club. We have friends that have been there several times and can't say enough good things about it.
We will warn you though that this is one of the more expensive Antigua resorts.
These, of course, are just a few of the many accommodations available to you. For more information you can check out what other travelers have to say about Antigua hotels. I always read reviews before I book a place - that way there should be no surprises.
So with all the choices out there, how will you know you are getting the best deal available for Antigua resorts?


Find the Best Deal on Antigua Resorts and Hotels
A great place to start is with the list of hotels and the free search tool from Tripadvisor.
It will search the biggest accommodation providers simultaneously (including Travelocity, Hotels.com, Orbitz and Expedia). You know you are getting the best deal out there since it will show you the cheapest price available at that time from all the different sites.
I love this tool since I now no longer have to input the same info in countless search engines. It's a great time saver and money saver.
You'll also be able to view more details, photos and reviews of the property.
So give it a try. There's always someone offering a special deal somewhere! And this tool finds it for you. Have fun...

For more information on Antigua, you can take a look at our other pages:
Antigua Diving and General Info//Antigua maps//Flights to Antigua



   Go to Main Caribbean Diving Page


---
---
 Want to stay down longer and improve your buoyancy control and other diving skills? Our free report "Increase Your Bottom Time" along with our practical, weekly actionable tips will have you looking like a seasoned diver in no time. So come join us and see improvement on your very next dive!
(Click on the photo to join us now!)
---
---