Placencia Map
Heading out to Placencia, Belize? Lucky you! We have a Placencia map to help you find your way. Actually we have a few maps for you to use, including an interactive one.
Placencia is a nice little town located on the end of peninsula in southern Belize. You can do some good scuba diving there, although the reef isn't as close as it is from Ambergris Caye or Caye Caulker.
Placencia has a nice laid-back atmosphere and it makes for a good base for a scuba dive vacation, especially if you are with non-divers.
So on with the maps of Placencia Belize.



Maps of Placencia
The first map gives you a reference for where Placencia is located within Belize (you can also take a look at our
Belize maps.)
The next map zooms in on the peninsula and shows the village of Placencia.
The last map is the fun one - an interactive map of Placencia and the peninsula. You can zoom in on the area you want to see. Or you can zoom out to see more of the country. Whatever you want to do. It's alot of fun.
The first two maps are courtesy of travel-center.com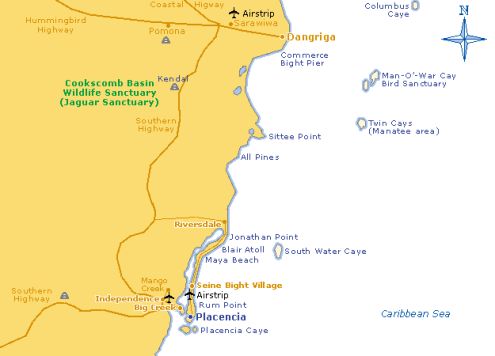 Now we get into the village of Placencia.




This is the interactive map I referenced earlier. Just click on the arrows to zoom in on the area you want to see. Put your mouse over the white squares and it will give you the place name. Try it, it's alot of fun.



We hope you have a great vacation in Placencia Belize.
Top of Placencia Map

Go to main Placencia Scuba Diving page
Main Central America Diving Page
Return to Scuba Diving Home