Map of Trinidad and Tobago:
And Where Are These Islands Located?

Looking for a map of Trinidad and Tobago before you head down there to do some scuba diving? We have several for you.
As you'll see, it's way down in the southern Caribbean, right off the coast of Venezuela. So get ready for some flying (actually, both in the air and in the water if you are going there to dive).
The first map we have is a map of the Caribbean, so you can see where Trinidad and Tobago are located. Look all the way down south, in the southeast corner of the Caribbean. Yep, all the way down there.
The next maps of Trinidad and Tobago show the islands in increasing detail. We follow with just a map of Tobago so you can see where you are going for that scuba diving trip!
Speyside which is generally considered to have the best diving and where we stayed, is located on the opposite side of the island from the airport. If you go, get ready for a long and windy ride.
Next, we get the the fun part. The interactive Trinidad and Tobago maps. You can click on the arrows to zoom in on the area you want to see. Give it a try, it's alot of fun.
We have 3 interactive maps for you. The first is a map of Tobago alone. You can zoom in and see Blue Waters Inn and their dock in Speyside.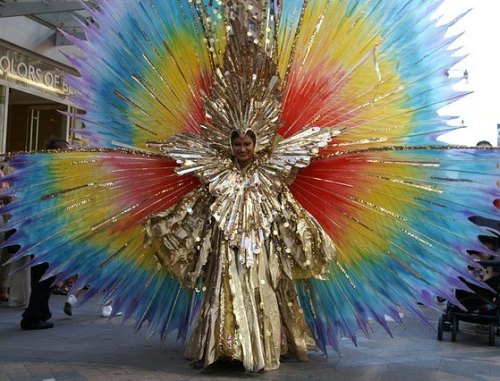 Like this costume, Carnival is huge in Trinidad and Tobago. I know it's not a map but it's fun.

Next we have 2 interactive maps of the islands. The first map Trinidad and Tobago is a road map and the second is a satellite view of the islands.
So zoom in and see where you are going. I could spend hours fooling around with these maps - it's pretty cool.
If you need some general information on Tobago (weather, water temps, hotels, flights, etc.), you can check our introduction to Tobago here.
---
Maps of Trinidad and Tobago

---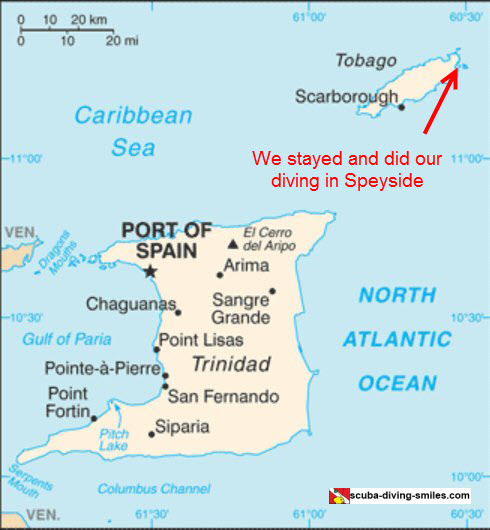 This detailed map of Trinidad and Tobago is courtesy of www.gfmer.ch.
This Tobago map is courtesy of Ministry of Tourism for Trinidad and Tobago.
Here are the interactive maps I mentioned earlier. Give it a try, it's alot of fun!
This first is an interactive map of Tobago alone.

Next up we have the interactive road map of the islands:
And last, but not least, here is an interactive satellite map to try:
Have a great trip to Trinidad and Tobago! Drop us a line and let us know how your trip went. We would love to hear.
In addition to our general information page on Tobago, you might also find our page on getting to Tobago and page on hotels useful also.

---
---
 Want to stay down longer and improve your buoyancy control and other diving skills? Our free report "Increase Your Bottom Time" along with our practical, weekly actionable tips will have you looking like a seasoned diver in no time. So come join us and see improvement on your very next dive!
(Click on the photo to join us now!)
---
---
Top of Map of Trinidad and Tobago
Picture of Carnival by Ulrich Berkner. Thanks!