Scuba Diving Stories:
Believe It or Not
We all have those scuba diving stories that we keep retelling. Some are funny, some are outrageous - but they are all entertaining.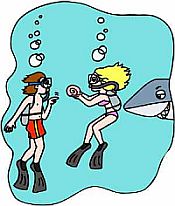 We would all love to hear your diving stories. Pretend you are finished with a day of diving, you are having a cold one on at the beach bar and you start talking with the guy next to you. You know it - that story is eventually going to come out of you. Let us know what that story is.
Whether it is the time you didn't realize you didn't have a weight belt on until the safety stop or the time the diver did a backroll onto you - please do tell. We can always use some entertainment.
We are running a contest so you may even win free stuff by sharing your photos and/or vides.
So come on and join in.
Have a Great Scuba Diving Story to Share? We Want to Hear It.
Whether it was the shark that almost got you or the diver who lost his bathing suit underwater, we want to hear your story.

It can be outrageous, funny, sad or anywhere in between. We all have some dive story we keep on retelling. What's yours?

Your Scuba Diving Stories
Read scuba diving stories by fellow divers and get a few laughs (or shed a few tears). Just click on the links below.


Scuba Divers Life Not rated yet
It's a beautiful sunny day, birds are singing, colorful flowers pointing their faces towards the sun and a soft warm breeze touching your skin. I'm wondering.. …
Top of Scuba Diving Stories

Go to main Scuba Dive submission page

Return to Scuba Diving Home
---
---
 Want to stay down longer and improve your buoyancy control and other diving skills? Our free report "Increase Your Bottom Time" along with our practical, weekly actionable tips will have you looking like a seasoned diver in no time. So come join us and see improvement on your very next dive!
(Click on the photo to join us now!)
---
---