Riviera Maya Maps
Where the heck is the Riviera Maya? We have some Riviera Maya maps for you to pinpoint that place. And no, it's not near France (OK, I knew you knew that, but I couldn't resist).
The Riviera Maya is a stretch of land on the east coast of the Yucatan peninsula that begins south of Cancun and continues south to Tulum. It is a popular tourist destination and seems to be growing in popularity every year. Between towns on the Riviera Maya, the beach is lined with resorts - many of them are all-inclusive resorts.
There are some beautiful beaches in this area and it is no wonder that it is so popular. On our latest trip, we stayed at the Barcelo Maya. You can read about out latest Riviera Maya scuba diving vacation here. It was a great time and the water was beautiful.
But before you go, you'll want to look a a map of the Riviera Maya to get a feel for the place. Our first couple of maps of the Riviera Maya Mexico are to give a general overview of where the Riviera Maya is located (you can also check out our maps of Mexico).
Then we have a map of Riviera Maya that shows the towns located along the coast. Next we have the fun interactive maps. You can zoom in on any area that you are interested in. It's pretty neat so you should give it a try.
So let's get started:


Riviera Maya Maps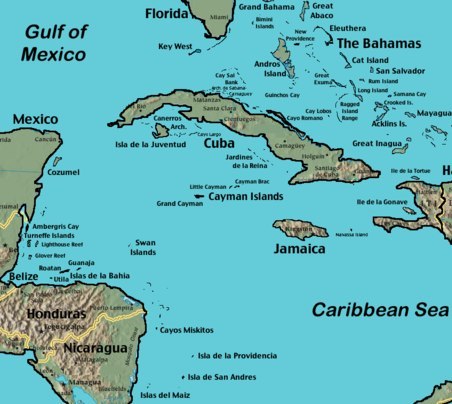 This map is courtesy of travel-center.com.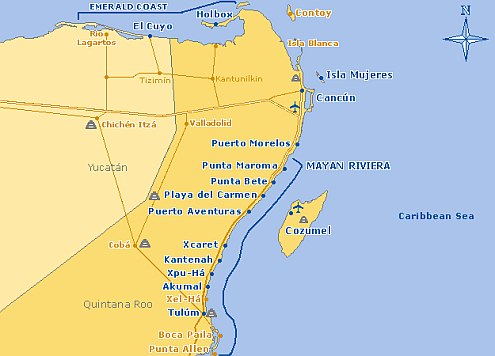 This is the fun interactive map that I was talking about earlier. Just click on the arrows to zoom in on the area you want to see. If you mouse over the white squares, it will give you the place name. Give it a whirl, it's alot of fun.
We hope you have a great time in the Riviera Maya!
Top of Riviera Maya Maps
Go to main Scuba Diving Mexico page
Return to Scuba Diving Home