"Smile In Cozumel 2011"
Cozumel Travel Guide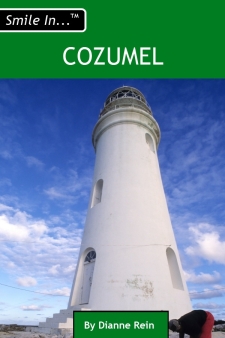 We love Cozumel. We keep on going back for the great diving, tasty food, interesting culture and an all-around great time. We do so much research for our trips, we decided to put together a Cozumel Travel Guide for our readers to use.
Whether you are on a limited budget or can afford to be in the lap of luxury, this new guide will help you find your way. This "Smile In Cozumel" travel guide is geared to give you choices in all categories and at all price points so your trip can be individually tailored based on a budget or a whim.
With all up to date information, including prices, admission hours, website addresses and reviews, this guide gives you all the information you need to plan a fun and enjoyable vacation.
Among many others, you will find recommendations on:
things to do if you aren't content with just sitting on the beach all day
where to dance the night away and the dancing "must see" event
what food establishments are worth your hard earned money, no matter what your budget
a different way to see the island and get that "local" flavor
top sights on the island - and which may not be worth your time
the different hotel zones and descriptions that will let you choose the best one for you
Throughout the Cozumel Travel Guide book we also give you "Smile Tips" - hints and tips to put you in the know so you will be able to get the most from your trip – and your money.
This new compact guide is packed with all the information you need for your trip including the nuts and bolts (weather, getting there, getting around, etc.), where to wine, dine and have a good time, Cozumel's Top 10, ways to play, shopping tips, notes for cruise shippers and much more.
When we couldn't find the type of guidebook we were looking for (practical, high quality information that was complete but not overwhelming and offered at a reasonable price), we decided to write our own. Thus was born our "Smile In.." series of travel guides. These guides are designed to give travelers an economical (OK, cheap) choice of guides without compromising on content or quality. Hence our motto:
"Top shelf quality at a bottom shelf price."
So take advantage of our pricing experiment (or our stupidity, whichever you prefer) and get your copy of the "Smile In Cozumel" travel guide for only $0.99! Yes, that's right, just 99 cents. Well, I did say we were running an experiment.
Just click on the "Buy Now" button to get your copy and start planning your great vacation today!
Have a Kindle
or a Nook or other ereader? You can also buy it at Amazon or Barnes & Noble and download it to your readers (click on the links or images below).
If you want it on another ereader, you can get a copy of "Smile In Cozumel" in just about any format over at
Smashwords
.
Of course, you can just download it to your computer by clicking below:
Back to Top of Cozumel Travel Guide