How Many People Scuba Dive?

It's Not an Easy Answer to Find!
OK, "How many people scuba dive?" is the million dollar question and one of those scuba diving facts that is hard to pindown. The long and short of it? No one really knows the exact answer.
If you looked for the answer to this question on the internet, you know what I mean.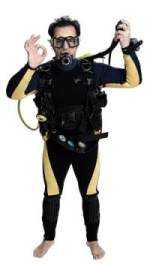 All sorts of figures are out there but who knows what the source of that information is and how reliable it is?

By far the best discussion I found on the subject of how many people scuba dive in the US was in the May 2007 issue of Undercurrent magazine. Some highlights from that story:
From DAN (Divers Alert Network): "There's really no true number for certified divers because this is not a regulated industry, so it will always be a squishy figure. We've quoted the 1 to 3 million number on our diving fatality reports.
"Numbers are still hard to find and certify because dive organizations are tight-lipped about their data, refusing to share it with the public and even with each other."
"Until this spring, PADI's website addressed the question "How Many Active Divers Are There in the US?" by noting that it is one of the most frequently asked questions PADI America receives. The most recent estimates posted (for the calendar year 2000) ranged from 1.6 to 2.9 million, but they were recently taken off the site (PADI did not respond to multiple phone calls we made to discuss these numbers). Nor does NAUI, SDI/TDI or SSI list figures on their web sites.
So what is Undercurrent's best guess to how many people scuba dive in the US?
They state that "If you define active as taking five or more dives a year, which seems reasonable, we think 1.2 million, plus or minus 15 percent, might hit it pretty close." And then of course the tongue in cheek closer: "And we will be pleased to publish any data to the contrary."
You can read the full Undercurrent report for yourself here.
Another example of an estimate I've found - just one of the many other statistics I've read - comes from The University of South Carolina's scuba diving club. They report an estimated 2.5-3.5 million Americans participate in recreational SCUBA diving. They also state another 500,000 become certified each year in the United States. There was no source cited for these figures. So who knows?
So worldwide, what is the best guesstimate of many scuba divers are there out there? I've read 3-6 million. Take your pick!
Whatever the answer is to "How many people scuba dive?", I hope you are, or become, certified so you too can enjoy this great sport.
(Check out our pages on scuba diving information and scuba diving basics for an introduction about scuba diving.)
Here's to diving, no matter how many of us do it!
---
---
 Want to stay down longer and improve your buoyancy control and other diving skills? Our free report "Increase Your Bottom Time" along with our practical, weekly actionable tips will have you looking like a seasoned diver in no time. So come join us and see improvement on your very next dive!
(Click on the photo to join us now!)
---
---