Riviera Maya Resorts and Hotels:
It's Now Easier to Find the Best Deal
Riviera Maya resorts and hotels line the beach from Playa del Carmen to Tulum.
And with good reason. Who can resist the white sand beaches and turquoise blue water? This stretch of coastline is home to some beautiful spots.
No matter what your preference is - from a smaller boutique type hotel to one of the mega all inclusive resorts, you can find it on the Mayan Riviera.
We've stayed in this area several times. Our latest was a group trip so we chose to stay an one of the Riviera Maya all inclusives - the Barcelo Maya Beach Resort to be exact.
With a group our size, it is just easier to go the all inclusive route.
You can read our trip report to the Riviera Maya Mexico, including scuba diving here. You will find info on the hotel as well as general info and scuba specific info on the page.
We have also stayed several times in Tulum, which I absolutely love. It has the most gorgeous stretch of beach and is a quiet and laid back area.
The Riviera Maya resorts here are smaller and some do not have electricity 24 hours yet since they are run on generators. It's a different experience than the Riviera Maya resorts located a bit further north. Both are nice and have advantages and disadvantages - it just depends on what your preference is.
Beach at Barcelo Maya Beach Resort in the Riviera Maya, Mexico. Not too shabby.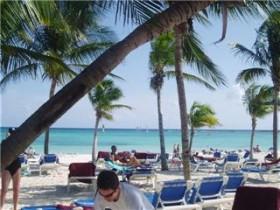 One place we stayed in Tulum that does have electricity 24 hours is the Cabanas Los Lirios Hotel. It is a nice, small hotel.
If you choose to stay here, try and get a top floor (well, there are only 2 floors anyway) room.
There buildings have huge palapa roofs so you get an even better feeling of spaciousness. The rooms are large and each has its own balcony or terrace.
The restaurant leaves a little to be desired but you can always walk down the beach to restaurants in other Riviera Maya hotels.
We have also stayed a few times at Cabanas Tulum. When we stayed there it did not have electricity 24 hours yet and was in need of some renovation.
However the price was right and the location is wonderful. It is right next to Los Lirios and the rooms at Cabanas Tulum open right onto the beach.
Cabanas Tulum has now been leased to another hotel group and has undergone renovation. I will say the place looks great and has gotten great reviews. Of course, it comes with a price. We used to pay about $50/night - now it is about $150-$200 night. There goes our cheap hotel in Tulum. Oh well.
Whatever your preference, there are tons of Mayan Riviera hotels to choose from - starting from before Playa del Carmen and ending at Tulum (you can take a look at our Riviera Maya maps to get a better feel for the location.)
So how do you narrow your choice and know you are getting the best deal available on Riviera Maya resorts?


Riviera Maya Hotels Search
One good place to start is this list of
hotel deals on the Yucatan Peninsuls (including Riviera Maya)
from our partner. See what specials are currently running. You might find a gem.
If you want air and hotel together, you can also look at this list of vacation packages to the Riviera Maya from our partner.
You can also check out the free search engine below. It will search over 30 of the biggest accommodation booking sites at once and return the best price available. So you know you will be getting the cheapest price available at that time.
No more inputting the same information in search engine after search engine. Think of the time it will save you. Not to mention money.
You will also be able to view details, pictures, reviews, etc. on the Mayan Riviera hotel you are interested in. It certainly helps in narrowing down your choice.
There is always a deal somewhere so give it a try and see what's out there.


We hope you find a great deal on the
Riviera Maya resorts
of your choice. And have a great trip. Let us know how it goes, we would love to hear from you.
Top of Riviera Maya Resorts
Return to Scuba Diving Home