Placencia Hotels:
Get The Best Price
Once you reach the end of the peninsula, you will find numerous Placencia hotels to choose from.
You can stay in a modest bungalow or you can choose a higher end beach hotel in Placencia. What you won't find are the huge mega all inclusive type resorts you can find on some Caribbean islands.
Placencia is a laid back town and its lodgings reflect that (you can read more about our experience in Placencia and diving here.)
As this area has become more well known, your range of lodging options has increased also.
When we first went to Placencia, we rented a treetop bungalow across from Kitty's Place.
We went a right after a major hurricane hit and there were no tops left on the trees; we wanted to support them so we went anyway. Understandably there weren't alot of tourists there then but I'm glad we went. The business was needed.
Since then, Kitty's has changed hands twice (that I know of); it was Saks at Placencia and is now called Los Porticos Villas Placencia.
The new owners have renovated the resort (some work is still ongoing, so be sure to check). I haven't seen all the renovations so I can't comment on these accommodations now.
I will note that this resort is a little out of town. You can walk to town or take a short bike ride though so it's not too bad. It has a nice beach and is a good place to get away from it all.
The second time we stayed in Placenia we stayed in town at Cozy Corner ($52/night).
It has a nice location on the beach and is close to everything (of course, Placencia isn't that big so nothing is far away). This hotel, while nice, wasn't luxurious by any means but we enjoyed our stay. I wouldn't hesitate to stay here when we return to Belize.
These are the two Placencia hotels we are most familiar with. Of course, you will have quite a few options for your stay. Which accommodation you choose is a matter of personal preference. I'm sure you will be able to find something to your liking.
Two of the top rated hotels in Placencia are Laru Beya Resort Villas and Singing Sands. Although I haven't stayed there, they look wonderful and I will have to check them out on our next trip to Placencia.
Hanging out on the beach in front of Cozy Corner - our hotel in Placencia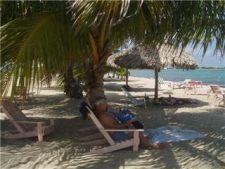 But how will you know you are getting the best deal?


Find the Best Deals on Placencia Hotels
A good place to start is with this list of
deals on Placencia hotels
from our partner. See what specials are currently running. They also offer
hotel and air packages
if that fits your needs.
You can also try out the search engine below.
It will scour over 30 of the biggest accommodation booking sites on the internet. All at the same time so you only have to input your information once.
As you can see, it is a great time saver - as well as a money saver.
This tool will return the best available prices from all the different search engines so you can easily compare offering.
You will also be able to view more details, photos and reviews of the hotels you are interested in so you can make an informed choice.
There's always a deal somewhere so give a try. Have fun and have a great vacation!


Placencia Hotel Search