Pictures of Scuba Gear -
All the Gear You Need to Dive
Scuba diving is a fun sport - here are some pictures of scuba gear to help you get started if you are not familiar with the equipment. Scuba diving does require a bit of gear - after all, we are not meant to breathe underwater!

"From birth, man carries the weight of gravity on his shoulders. He is bolted to earth. But man has only to sink beneath the surface and he is free." Jacques-Yves Cousteau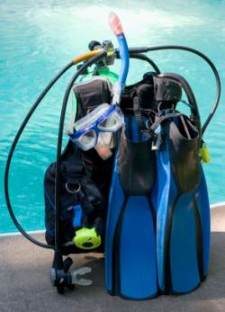 Some of the gear may look complicated at first, but it will soon become second hand. It really isn't all that difficult. Once you go through your
certification course
, you will know it well.
If you take a resort course you will get a nice introduction to the equipment but you'll probably need some more time to become really familiar with the gear. And if you want to know "How does scuba gear work?", I explain scuba gear here.
(To see some pictures of scuba diving, and pictures of scuba divers with fish just click on the links.
You can also check out my gear guides and scuba diving equipment information.

So, enough already, let's get started:

Pictures of Scuba Gear -
Necessary Scuba Diving Equipment
OK, we'll start with the basics - scuba diving mask, dive fins fins and snorkel. I do recommend purchasing a mask, fins and snorkel.
Fit is important for these pieces so it is good to have your own. When you take a scuba certification course many dive shops require you purchase your mask, fins and snorkel. Courses usually include the use of the rest of the equipment needed.
Scuba mask and snorkel: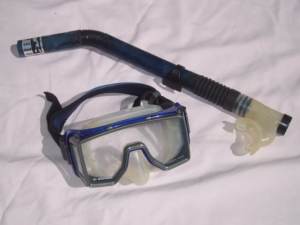 Scuba dive fins: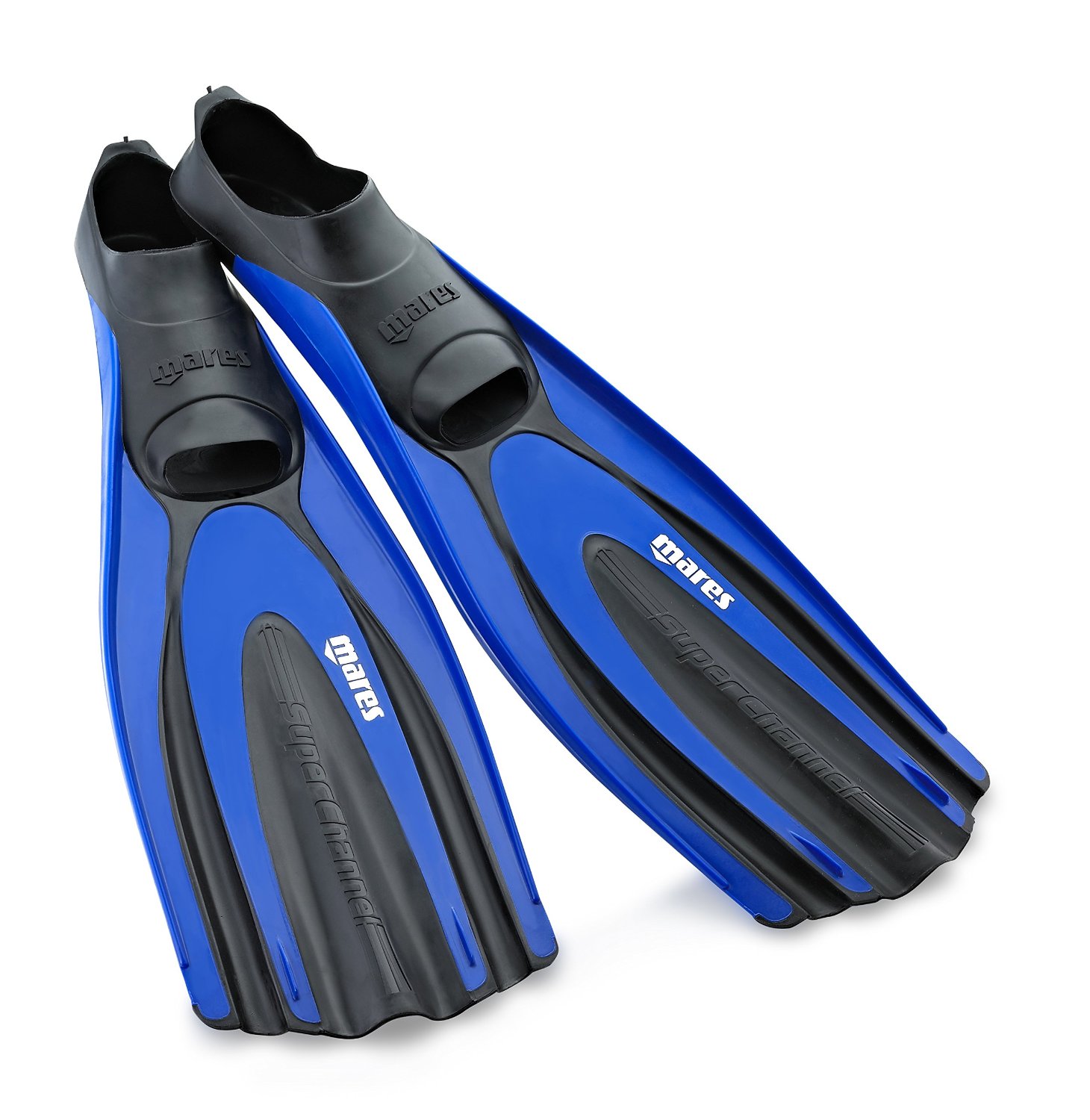 More Scuba Gear Pics -
Recommended to Rent First
While the scuba regulator, buoyancy compensator and scuba diving computer are more necessary scuba diving equipment, you might want to rent these before you make a huge money investment. Make sure diving is something you are comfortable with and want to continue before making any big purchases.
Scuba buoyancy compensator: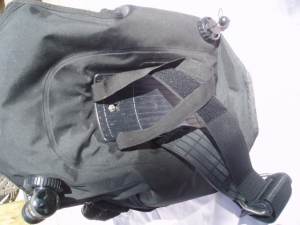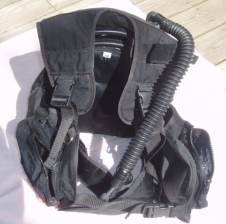 Dive table: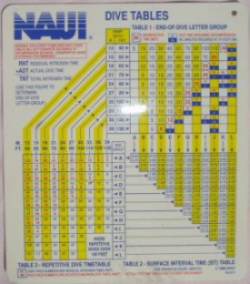 Here are some closeups of the regulator attached to the tank and the gauges on the regulator (betcha' can't tell I didn't take these pictures of scuba gear!)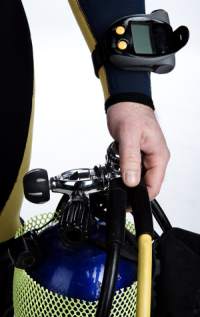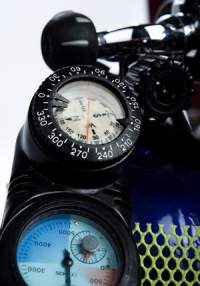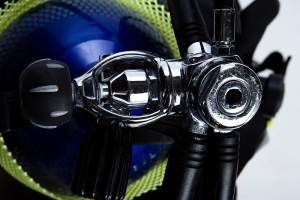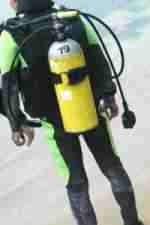 Scuba Gear Pictures -
Scuba Diving Accessories
The following pictures of scuba gear are not essential to have on every dive. These are all accessories and what you take with you is really a personal preference. I usually take my tank banger and slate on most dives - I want to be able to get my husband's attention and then be able to communicate easily with him. Pantomime can get old (not to mention frustrating) after a while!
Most people also use a scuba diving wetsuit. It's really a personal preference and depends on how cold you get.


Tank bangers, knife and dive slate: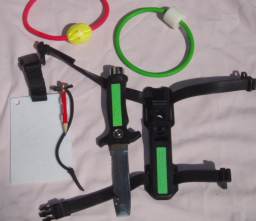 Scuba diving gloves: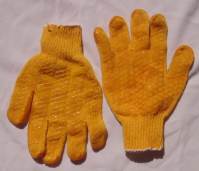 Dive light: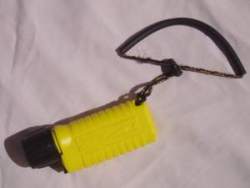 Scuba safety aids (mirror/inflatable):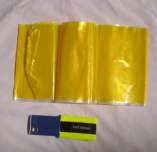 Mesh dive bag: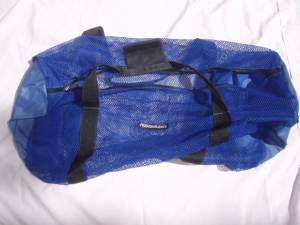 And for the grand finale, pictures of scuba gear on the diver so you can see how it all goes together (another spot where you can't tell I took the pictures - ha, imagine that!)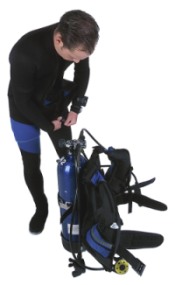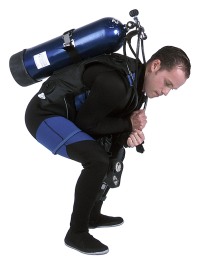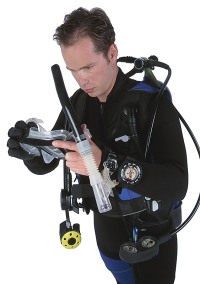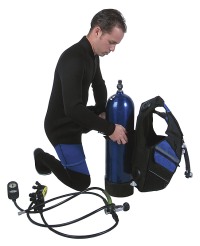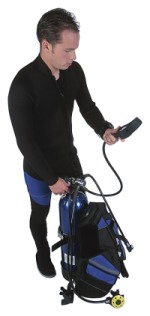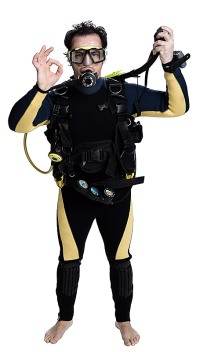 So there you have it, all the gear you need to dive. Hopefully these scuba gear pics and explanation of "How does scuba gear work?" have made you a little more comfortable with scuba diving. It's a great sport and I hope you try it out. You won't regret it.
Here's to getting underwater!