Hotel in Cozumel:
Find the Best Deal
If you are looking for a hotel in Cozumel, you will find alot to choose from. From a simple guesthouse stay to a villa/apartment to some large all inclusive Cozumel resorts.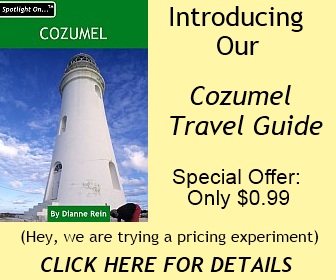 So if you are on a budget or price is no matter (lucky you!), you should find some Cozumel lodging that is right for you.
If you have read our page on scuba diving in Cozumel, you know that we love Cozumel. It is one of our favorite dive destinations.
And it also makes for a very nice vacation even if you don't dive or have people with you that don't dive.
You can read our trip report from our Cozumel scuba diving vacation here.

Cozumel Hotels We Stayed In
The first time we went to Cozumel, we stayed at the
Fiesta Americana Cozumel Dive Resort
.
We had friends that stayed there and they recommended it to us. We liked the resort and the dive operation was good.
Since this hotel in Cozumel is located somewhat out of town, the boat rides were alot shorter to the dive sites than some of the Cozumel hotels closer to town (of course, the taxi ride into town was longer and more expensive).
The man-made beach is across the road but it is no big deal - to me anyway. It is not a major road and there is little traffic.
Relaxing at the Occidental Grand, Cozumel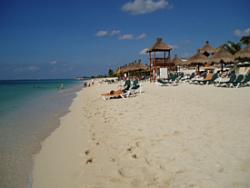 My sister stayed there a few years after us and she also had good things to say about the Fiesta Americana.
The next time we went, we stayed in town at the Plaza Las Glorias. This has since changed hands, been renovated and is now the Cozumel Palace, I believe.
I liked staying in town though and it was an easy walk to everything. The drawback, of course, were the boat rides. It took quite awhile and the boats we were on were slow, slow, slow!
If you to opt to get a hotel in Cozumel in town, ask how long it will take to get to the dive site. You definitely want a faster boat then we had.
Our next stay was at the Hotel Cozumeleno Beach Resort.
This is one of several Cozumel all inclusive resorts. We stayed here since we were with a large group and it makes life alot easier if you don't have to worry about who is buying the next drink!
We had a nice time here but don't expect 5 star luxury (you do get what you pay for).
The drawback if you are diving is the distance from the dive sites. We ended up taking a van to the boat so we wouldn't spend all day on the dive boat. If I were doing a dedicated dive trip, I would probably pick a hotel closer to the sites.
On our most recent trip to Coz, we stayed at the Occidental Grand Hotel in Cozumel.
We ended up staying at this hotel Cozumel since my sister had a good deal. It is another all inclusive resort. I would say it is nicer and more higher end than the El Cozumeleno.
It is also one of the smaller all inclusives and doesn't have that crowded, activity pushing feel that you can find at some all inclusive resorts.
And the best part was its' proximity to the dive sites. You would literally get on the boat and you were there in a few minutes for some of the sites.
Doesn't get much better than that.
So that's our experience with Cozumel resorts. If none of these appeal to you, you have many other options.
But how do you know you are getting the best deal out there?

Find the Best Deal for a Hotel Cozumel
A great place to start is list of
hotel deals in Cozumel
from our partner. See what specials are currently running. You may get a bargain - or get an idea of a place you would like to stay.
They also have a list of vacation packages to Cozumel if you want to book your air and hotel together.
Another good option to start searching is by using the free search engine below.
Since it searches more than 30 of the biggest accommodation booking sites simultaneously it will save you a ton of time.
No more going to multiple search engines and putting in your request for a hotel Cozumel. You only have to do it once and it will show you all the best prices available at that time.
It searches all the big name sites including Hotels.com, Orbitz, Travelocity, Priceline, Cheaptickets, Intercontinental, Holiday Inn and many more.
So you know you are getting the best deal out there. It's a great time and money saver.
You'll also be able to view more details, photos and reviews of the property. All in one search.
So give it a try. There's always someone offering a special deal somewhere! And this tool finds it for you. Have fun...


Search for Hotels in Cozumel Mexico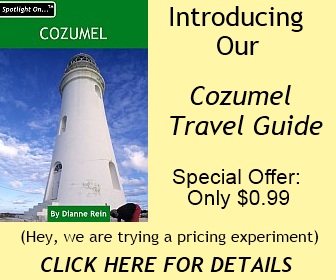 Top of Hotel Cozumel
Return to Scuba Diving Home