Ambergris Caye Map:
 Maps to Help Plan Your Trip
Heading out to Ambergris Caye Belize? We have an Ambergris Caye map for you so you can start planning your trip. We even have an interactive map for you try out.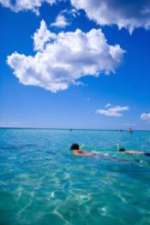 If you're going to do some scuba diving in Belize, I'm jealous. It's a great place to dive and  diving in Ambergris Caye is alot of fun. Great reefs, walls and short boat rides. What more can you ask for?
To get a bigger perspective, you can check out our Belize maps. Then come back here to look at a map of the island of Ambergris Caye to start that vacation planning.
Ambergris isn't a big place, so it's almost impossible to get lost. Just keep the Caribbean on your right or left side, depending on which direction you want to go.
It's easy to combine an Ambergris Caye scuba diving vacation with a trip to the mainland. As you can tell from our maps of Belize, it is not a big country. So a trip from the islands to a Mayan ruin on the mainland is just a plane ride away.
We have spent quite a bit of time in Belize including diving in Ambergris, Caye Caulker and Placencia. We have enjoyed all 3 places and wouldn't hesitate to go back to any of them.  (For more information on Belize in general or any of these 3 destinations, just click the link below.)

The first Ambergris Caye Belize map gives you a general overview of the island. The next  map is the fun one. It's an interactive satellite map. You can zoom in on the place you want to see. So let's get started and have fun!

(For a list of all our pages on Ambergris and Belize, click here.)

Ambergris Caye Maps

This is just a general view of Ambergris to give you a feel for the island. This map was done by S.J. Mazullo.
(Also take a look at our Belize maps for more information.)




The following map is courtesy of travel-center.com.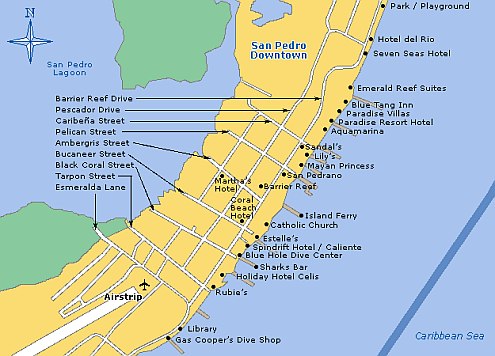 This is where the fun starts. Just click on the arrows to zoom in the area you are interested in. Mouse over the white squares and it will give you the place name. Try it, it's pretty cool.


Interactive Ambergris Caye Map
So go and have fun and enjoy your trip to Ambergris Caye.
Go to main Ambergris Caye Scuba Diving page
Go to Home of Scuba Diving in Central America
---
---
 Want to stay down longer and improve your buoyancy control and other diving skills? Our free report "Increase Your Bottom Time" along with our practical, weekly actionable tips will have you looking like a seasoned diver in no time. So come join us and see improvement on your very next dive!
(Click on the photo to join us now!)
---
---